31 Ways To Increase Your Ecommerce Website Conversion Rates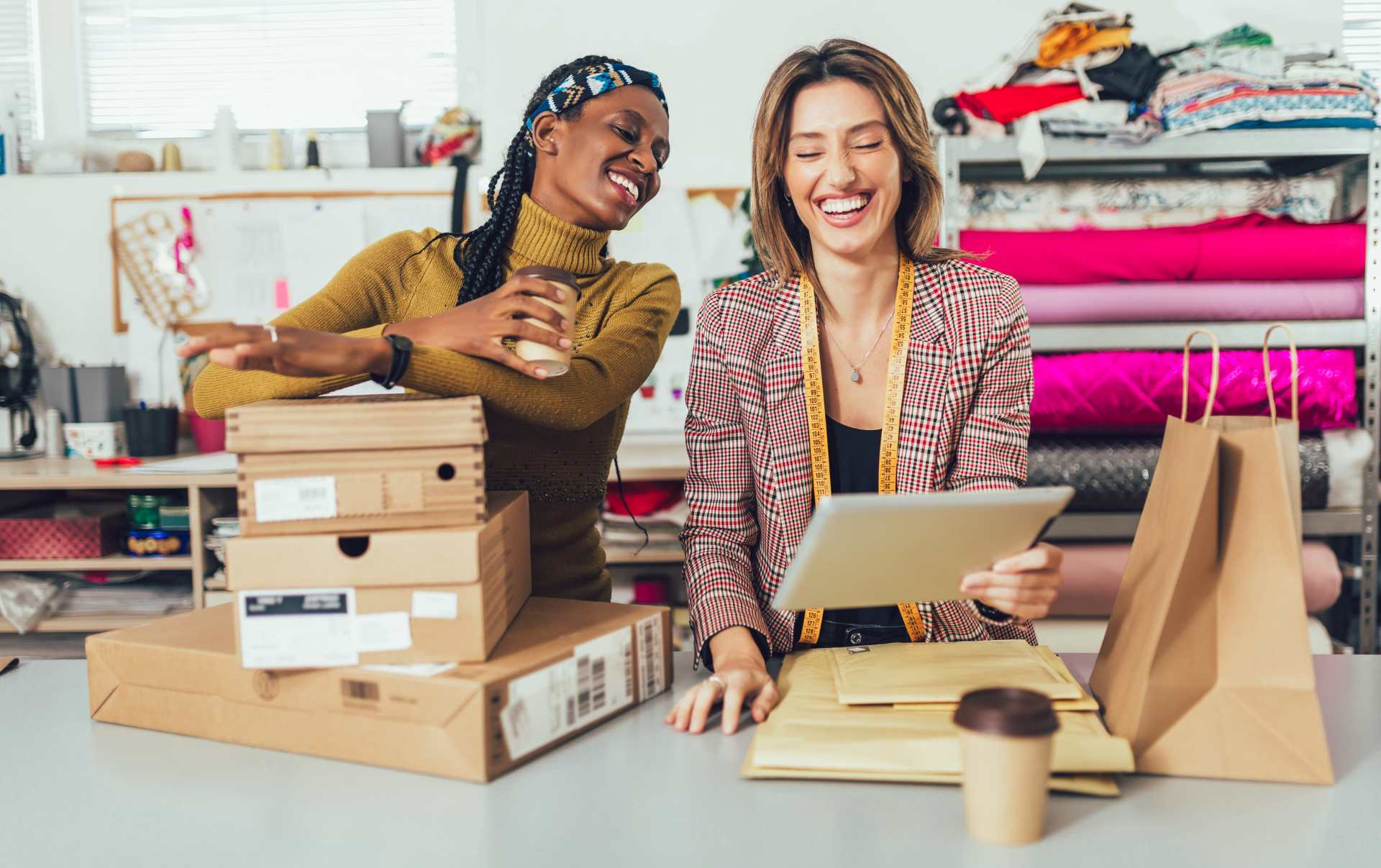 As an online retailer, driving traffic to your website is only half the battle to growing your conversion; the other half is getting those visitors to take action and make a purchase. In this article, we will share 31 effective strategies to help you optimise your Ecommerce site and boost conversion rates. From improving your website's speed and user experience to crafting compelling web pages and trialling A/B testing, these tips can help you turn more visitors into paying customers.
1. Optimise Your Product Pages For Conversion
Make sure your product pages are optimised to encourage visitors to purchase. Start by creating detailed product descriptions that highlight the benefits of your product instead of focusing solely on the features and technical details.
Next, ensure you have plenty of high-quality, web-optimised photos on your product pages to really show off your products. If you can, a video can also really improve conversion rates too, especially if it's high-quality and demonstrates the product's capabilities.
On each product page, you need to be able to answer all of the most common questions or concerns people might have before committing to purchase the item. So adding an FAQ or Q&A section can really help, as well as adding sizing guides for clothing, delivery information, and making your returns policy clear – these can all help overcome the objections in the mind of your shoppers.
Finally, include product reviews on each product page to give confidence and build trust with your customers.
2. Optimise Your Category Pages For User Experience
Category pages are like the shopping aisle of your website – and they need to make it easy to browse products, so customers can find what they are looking for.
Making sure your products have good feature images and clear product names helps a lot on these pages, as well as including any key features including price, brand, colours available, material, etc.
Allowing users to sort products by price or by other attributes is helpful, as is adding the ability to filter products. Other good user experience features to include on your product category pages are a way of easily navigating to other categories (a breadcrumb trail or a side menu for example), and being able to add products to the cart right from the category page.
3. Make Your Checkout Process Quick And Easy
The checkout process should be as easy and hassle-free as possible to encourage sales. Amazon's 'One Click' checkout transformed the world of Ecommerce, and while not every business can go to this extreme, the principle can be followed for any Ecommerce store.
Reduce the steps in the checkout process as much as you can, and only ask for essential information in the form fields. Include an option for guests to check out without having to create an account and add a "remember me" option to make it easier for customers to come back in the future. A progress bar is a useful way of encouraging people to complete their checkout too.
4. Provide A Variety Of Payment Options
It's important to give customers different payment options so they can pay in their preferred way. Consider adding popular payment gateways such as PayPal, Apple Pay, Amazon Pay, and Google Pay. These payment methods can also save time and reduce friction in the checkout process, making it quicker and easier for people to buy.
5. Allow Credit – Using Klarna, Paypal Credit, Etc
Also, consider employing apps like Klarna or PayPal Credit that allow people to pay for products in instalments. This could be a great way to get customers to buy who are not comfortable paying the full price upfront. The more payment options you offer, the more likely customers are to complete the purchase.
6. See What Works Best – With A/B Testing
A/B testing lets you see which elements of your website are working and which ones need improvement. You can A/B test different product page designs, checkout flows, and even pricing plans to see which ones perform better.
The key to successful A/B testing is to focus on one variable at a time and analyse the results carefully. For example, you could test different product page designs and see which one encourages more visitors to purchase.
7. Find Out Why People Aren't Buying – With Surveys And Polls
Surveys and polls allow you to collect feedback from customers or people who have opted not to purchase from you, as well as from your current customers. By understanding their reasons for not buying, you can make changes to your website and marketing strategies to better appeal to them.
Tools like Hotjar and Lucky Orange allow you to collect real-time feedback from your website visitors, and you can create more in-depth surveys with tools like SurveyMonkey, Typeform, and Google Forms.
Also, when designing your survey, make sure to avoid leading questions that give you what you want to hear. You want to get honest, unbiased feedback, so ask open-ended questions wherever possible.
8. Demonstrate That Your Site Is 100% Secure
When customers make online purchases, they want to be sure their personal and financial information is safe. Make sure you add trust signals such as a secure lock icon, a privacy policy page, and an SSL certificate to show customers that you take their security seriously.
9. Live Chat
You should add a live chat feature to your website so customers can quickly get help if they have any questions about a product or run into any issues during the checkout process. Without this help, some of your buyers will just leave and buy elsewhere – so being fast and responsive to live chat makes a big difference. It also gives people great confidence that if they have any problems, they'll be able to get help quickly and easily, which generates trust.
10. Collect And Display Reviews
Customer reviews and ratings make people more confident about making a purchase decision. Developing a system to collect and display these reviews is very effective, and it is worth looking into review services like Feefo, Trustpilot, Yotpo or Reviews.io.
With these services, you can build up and display your reviews on your website and Google, either for your business as a whole or for the individual products you sell.
11. Testimonials And Video Testimonials
Independent, third-party reviews are generally more trusted than written testimonials that appear on your website – but a good testimonial can provide a more in-depth endorsement.
For high-value products and services, video testimonials are worth investing in as they can be a very persuasive conversion drive for people looking at your product.
12. Celebrity Endorsements
The more 'social proof' you can show, the more comfortable customers will feel about buying from you. Well-known and/or trusted people endorsing your products is memorable, creates a positive association in the minds of your customers and gives people more confidence to click the 'add to cart' button.
13. 'As Featured In' Media Endorsements
As with celebrity endorsements, your business or your products featuring in the media is another trust signal for potential customers. You may have noticed some products advertised with 'as seen on TV', for example. Add on your product page an 'As seen on…' label with where in the media your product can be found.
14. Certifications, Accreditations And Trademarks
Certifications and accreditations provide a certain level of quality assurance, so display the relevant logos on your website. If you have designed and manufactured your own product, you may also want to look at getting the product patented and the product name trademarked. This not only prevents competitors from easily copying you, but it also demonstrates the unique nature of your product.
15. Awards
Any awards your business or your products have been nominated for or won should be featured clearly. Being able to call your product 'award-winning' carries with it an extra prestige that increases conversions and can also improve word of mouth too. Winning awards is time-consuming, and many awards charge you to enter but it's worth looking at what you could go for as part of your marketing strategy.
16. Offer A Guarantee
When deciding whether to make a purchase, consumers are fighting the 'what if this goes wrong' internal monologue. Offering a guarantee like a 30-day money-back guarantee, a satisfaction guarantee, or a price-match guarantee can significantly reduce the risk of making a purchase for your would-be buyers.
17. A Simple, Clear Returns Policy
Customers always want to know that they are protected if something goes wrong with their purchase, so make sure to include a good returns policy on your website. Having a no-quibble returns policy can increase returns – but it can also increase sales.
18. Abandoned Basket Nurturing
Abandoned carts are a huge problem in Ecommerce, with many shoppers leaving an online shop without completing their purchase. To reduce the number of abandoned carts, you should set up a cart abandonment sequence that sends automated emails to shoppers who don't complete their purchases the first time.
These emails should include reminders about the items in the cart as well as any discounts or special offers you have that can help them complete the purchase. You can also set up opt-in SMS messages to remind them about their cart and encourage them to complete the purchase.
19. Abandoned Basket Pop-Ups
As well as email reminders, having a pop-up before someone leaves your site that reminds them that they still have items in the cart can also lead to additional sales.
20. Remarketing/Retargeting Ads
Set up retargeting ads on social media and search engines to advertise the products they have been looking at on your website. This can act as a reminder/prompt for people to go ahead and complete the purchase, and with video retargeting, you can also sell people more on the benefits of the product.
21. Build A Subscriber List
Building an email marketing subscriber list is one of the most powerful digital marketing tactics, providing access to an engaged audience who are interested in what you have to offer. You can collect email addresses from your website, blog, or social media accounts in exchange for a discount code – for example using a pop-up form which says 'Subscribe to get 10% off your first order.'
22. Buyer's Guides
For more complex or higher-value products/services, people will often mull over their purchase decision. They may want to research a product before committing, so creating buyers' guides can be a great way to educate and build trust with people considering your product(s). These can be in PDF format, and 'gated' on your website - allowing you to collect the name and email address of your potential buyer to send them their guide. This way you can follow up with more useful information about the product via email to help answer their questions and hopefully persuade them to go ahead and make the purchase.
23. Automated Email Nurturing
Once people are subscribing or downloading your free guides, email them regularly with offers, discounts, and relevant content to keep them engaged. This is a great way to build relationships with customers and encourage them to shop with you more often.
24. Tell Your Story
Your 'About Us' page can be one of the most important pages on your website – and it's an afterthought for many Ecommerce businesses, with all the time and attention going to the products instead. Many shoppers though, especially first-time buyers, want to know who they are buying from, not just about the products.
An authentic 'About Us' page which tells the story of the business can build the all-important trust needed for people to buy from you. Include pictures or videos of your founder(s), a brief history, and the mission/purpose/values behind the business.
25. Improve Your Website Load Speed
A study by Portent in 2019 showed that for every extra second it takes your website to load, your conversion rate drops by 4.42%. The slower your website, the more people will give up and drop off. The faster your website loads, the higher the engagement and conversion rates will be – and you're also much more likely to rank well in Google too.
26. Time-Limited Sales And Special Offers
While you probably want to avoid constantly discounting and running special offers, seasonal offers (for Black Friday, for example) or other timed sales can truly maximise sales during periods of high activity.
27. Exclusive And/Or Limited-Edition Products
One of the reasons for people NOT buying on your website is that they buy elsewhere. If you have products which can't be bought anywhere else, you eliminate this. Finding unique products to sell, or creating limited edition versions of best-sellers can give people a reason to buy from you.
28. Sell Gift Cards
You may have buyers who want to give your products as a gift but don't want to make a mistake in buying the wrong product, wrong size, or wrong colour. Giving the option of buying gift cards can solve that problem for some of your customers and can mean you get fewer returns and more satisfied customers.
29. Expand Your Product Range
Another reason people leave your store without buying is not finding what they were looking for – increasing your product range can ensure you have what they want.
30. Optimise Your Site Search
Linked to point 29, the more products you have, the more important it is to make it easy for people to find your products. Having a fast, intuitive site search feature makes a big difference. Most site search features are predictive now, suggesting results before the user has even completed typing in their search. You also need to consider which product attributes are searchable, as people may search by brand, product name, or part number. You can also spend time reviewing what people have been searching for on your site – it can give you great insights about products people are looking for which you don't sell, and what keywords they use.
31. Analyse Heat Maps And Visitor Session Recordings
Big businesses will invest in focus groups and user experience testing to improve their websites. For smaller Ecommerce businesses, you don't necessarily have those resources – but you can use tools like Hotjar and Lucky Orange.
These user experience tools give you heat maps for key pages of your website (to see where your web visitors have been clicking) and also give you anonymous video recordings of people using your website (you can see just the screen, not the person!).
Watching these videos back shows you how people have been using your website and allows you to see your website through the eyes of a shopper. You'll also spot lots of ways to improve their experience and make it easier for them to buy.
Get In Touch
If you're interested in boosting your Ecommerce sales, download our complimentary guide or contact our Ecommerce Digital Marketing experts for personalised assistance with your business growth.
Image Source: Canva