As a marketing agency, most of our clients actually want more sales – rather than just better marketing for the sake of it, or to simply look better. And to increase your sales, you will need effective marketing and lead generation – but the leads need to be converted and this means improving your follow up, your sales process and potentially improving the sales skills of you and your team.


Is Sales Holding Your Business Back?
A strong sales culture in your business is more than just having great salespeople – it is about having great sales systems and processes. Most small and medium-sized businesses, however:
Have no consistent method for prospecting for new business, relying only on word of mouth/referrals for new business
Do no follow up as effectively as they could – with busy busines owners and salespeople only dealing with the most immediate/urgent sales enquiries and not working the database
Have no defined, measurable sales process for converting leads into customers
Have no ongoing professional development or training for salespeople, meaning sales results do not improve over time
Without effective sales, your marketing will not get as high a return on investment as it could. Lost sales opportunities also cost you time, and most importantly of all - market share.
Improving your sales results, on the other hand, goes straight to your bottom line and makes your business more successful. Improving the systems in your business, and the skills of your team, can give you long term benefits which make your business more successful long into the future.
How JDR Group can help you increase your sales
JDR Group are unique as a marketing agency in that we can help you increase your sales as well as improve your marketing. We have been developing sales systems and providing training for salespeople for businesses like yours since 2004, and have four main programmes designed to help you increase your sales:
The Definitive Guide To
Selling Better And Faster
In order to grow your organisation, a steady stream of income is required. Download this FREE guide to selling better and faster and learn more about:
>> The secret to accelerating sales growth
>> How using a CRM effectively can rescue your business
>> How to ensure nothing falls through the cracks
>> How to cement your sales process
>> How to eradicate time-consuming data entry
>> How to find "good fitting" prospects in record time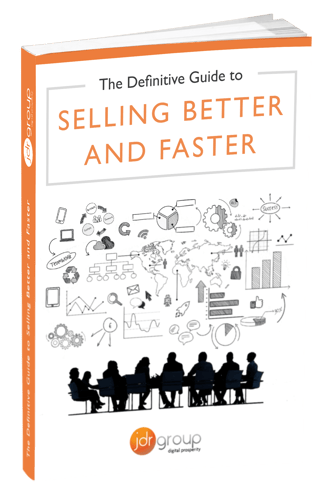 Tailored To Your Needs, Your Goals and Your Business
Every business is different, and we know you'll need a plan that is tailored to your business – based on your market, your team and your goals.