Get
More Traffic, More Enquiries & More Sales

From Your Website With

SEO

Search Engine Optimisation (SEO) is one of the best marketing investments you can make. SEO helps you:
Get targeted enquiries from people looking for your products/services
Get long lasting results – the benefit of good SEO work can last for years
Get excellent return on investment from your marketing spend
JDR Group are an experienced SEO agency in Derby, established 2004. We can get SEO to work for your business - to find out more make an enquiry or book an online meeting with one of our SEO experts today.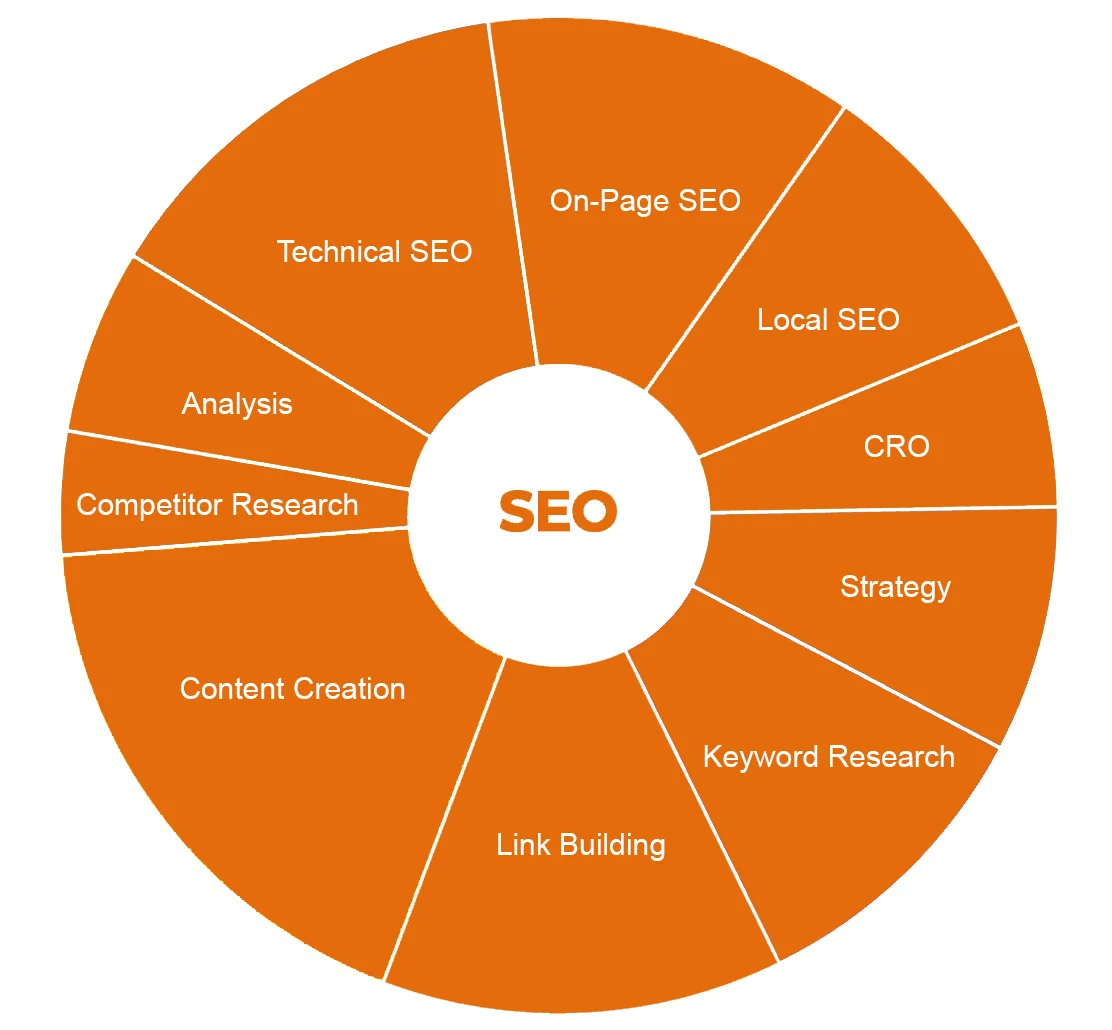 VIDEO: OUR SEO SERVICES EXPLAINED
SEO Explained
WHAT IS SEO?
SEO stands for search engine optimisation, and is sometimes also called organic search marketing. It is the process of adapting your website so that you get found when potential customers search for you, your products or your services online. The focus is usually Google, as the UK and the world's largest search engine. It can also include Bing, Yahoo, as well as smaller search engines and some country-specific search engines like Yandex and Baidu.
WHY IS SEO NEEDED?
Your website won't
automatically
come up in Google or other search engines. Without investing in SEO your website won't show up as high, or for as many different keywords/searches as it could.
When we run SEO reports, we often see websites which are missing even the basics of SEO. Business owners are often surprised that their website designers haven't done these. But designing a website and getting a website found in Google are two different skills.
UNDERSTANDING THE GOOGLE ALGORITHM
When you search for something in Google, you'll
be given
thousands, even millions of results. Google organises this list in order for you in a fraction of a second. The way it decides which website to list first, second, third and so on
is based
on its 'algorithm.'
This algorithm is not public knowledge, although Google do provide guidelines. It is also
regularly
changing and
being updated
. It is the job of SEO companies to understand this algorithm and help your website meet Google's criteria.
RELEVANCE & AUTHORITY
The purpose behind the algorithm is to ensure that when we search Google, we find what we are looking for.
The two main criteria Google use are :
Relevance - how relevant your page and your website is to what the searcher is looking for, and;
Authority - how well known and trusted you are.
SEO services ensure the pages of your website are as relevant as possible to the keywords people are searching
. This is done by 'onsite SEO', which involves optimising the 'tags' and on-page content of your website).
They also involve building your online 'authority.' This is usually done by getting more links/backlinks to your website
. To find out more, you can read about
link building
as a service.
USER EXPERIENCE AND OTHER RANKING FACTORS
More recently, Google are also factoring in user experience. If people click through to your website, do they have a good experience? In other words, does the website load fast - and do they stay on the site? Or do they leave immediately and try and find another website?
Other ranking factors include:
- Technical/quality issues with your website
THE CHALLENGE WITH SEO
SEO was once
relatively
simple.
Today though, Google is looking at thousands of different factors when evaluating and ranking your website
.
To get the best possible SEO results, combine SEO with other digital marketing activities including:
How much does SEO cost?
Our programs range from a few hundred pounds per month to several thousands of pounds – it all depends on the results you want, the complexity of your site, and whether you want to target just your local area, or internationally.
To get an instant quote, read our guide to digital marketing costs and pricing, and use our free campaign budget calculator.
How long does SEO take to work?
While there can be some quick wins, SEO is a long term and ongoing investment – and is best approached as such. Read 'How Long Does SEO Take' for a more in-depth explanation.
What is actually involved in SEO?
Google looks at thousands of individual rankings factors, including backlinks, on-page optimisation, signals from social media, technical factors, website load speed, and visitor behaviour. SEO involves working at all of these areas to give you the best possible chance of ranking for your target search phrases.

Andrea Rodney
JDR have been managing my digital marketing for a few years now and I have always found them to be efficient, effective and highly professional. Their design and implementation of our new website was great and resulted in a large amount of positive feedback from old and new customers. I would highly recommend their services.

Alan MacDonald
We are using JDR for our marketing requirements. FB,LNKDN and google advertising, SEO and more. They are very professional and very switched on. They are also very malleable when it comes to changing aspects of their services even at the drop of a hat. We consider them an extension of our company as if they were in an house department. Highly recommended.

Victoria Parkinson
We have been working with JDR for 2 years now and they have helped bring our business forward immensely. From creating & implementing a solid marketing strategy, to building a new website for us.
Download Your FREE Guide:
How To Get Customers Coming To You
Marketing has changed but has your marketing strategy adapted? How can you attract your ideal customers… without having to chase after them? In this guide you'll learn:
>> Why your buyers have CHANGED - and what to do about it
>> How to generate leads and enquiries from your website - even while you sleep!
>> How to build a loyal following of prospective customers that know, like and trust you
>> How to build an automated pipeline of enquiries that will grow your business in a measurable, predictable and consistent way
>> How to position your business as the EXPERTS in your industry