Elite UK HubSpot Partners
Are you using, or considering using HubSpot to improve your sales and marketing? HubSpot is possibly the best software available for SME's to manage their website and online/digital marketing, and also an easy-to-use (and free) CRM system, with powerful sales tools and a fast-developing customer service platform.
Like any tool, however, it is how you use it which matters, and JDR Group are one of the UK's Elite HubSpot agencies.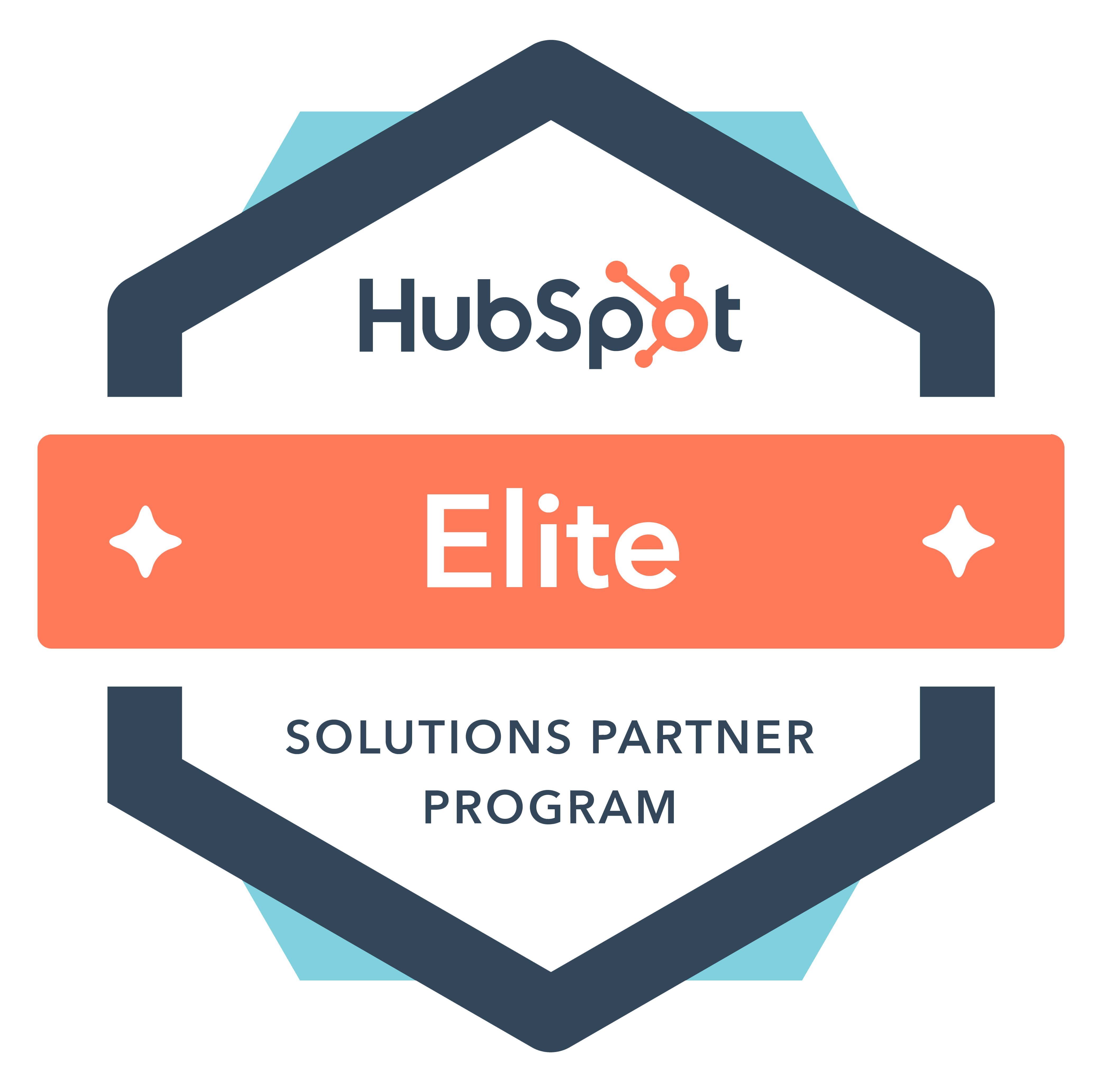 OUR HUBSPOT AGENCY SERVICES INCLUDE:
Why Use HubSpot?
HubSpot provides a free CRM system, as well as digital marketing software, sales software and customer service software. It is a lead management system, and allows you to manage and measure every step of your sales and marketing process. There are 4 good reasons to use HubSpot:
You want to track and measure your sales and marketing more effectively
Thousands of small and medium sized business owners spend money on marketing blindly, with no real way of knowing what is and what isn't working. HubSpot can integrate with your website to tell you where every single website lead and enquiry comes from, and what happens to them so you can see what is working and properly measure return on investment from your marketing.
You want to get a CRM system
If you are using excel to track your sales quotes, and have all of your important business contacts saved only in your email address book, it may be time to get a CRM system for your business. The HubSpot CRM system is free, and can be set up in minutes. It's easy to use from any device, and gives you access to a wide range of powerful sales and marketing features.
You want to improve your digital marketing
To make it more personalised, more automated and to get more insight and better reporting. HubSpot's marketing hub gives professional marketers cutting edge tools to get ahead of the competition – including a website CMS system, conversion rate optimisation, SEO, social media marketing, automated workflows, campaign management and email marketing.
You want to automate your sales processes
HubSpot's sales tools allow you to manage your sales team and sales processes more effectively. The sales hub includes sales workflow automation, email templates, calendar booking, quotes, eSignature and a wide range of activity and pipeline reports.
In addition to its own huge range of features, HubSpot also offers third party integrations with hundreds of other software tools. With many of our clients, they have been able to replace several other software subscriptions by switching to HubSpot, meaning they save money and more importantly have everything in one place.
HubSpot ROI Calculator
See How HubSpot Can Add Value To Your Business
Why Work With A HubSpot Partner Agency?
There are three questions to ask yourself to know if working with a HubSpot partner is right for you or not.
Do you have the time to implement everything HubSpot has to offer?

Do you have the time to learn the system from top to bottom?

Do you have the digital marketing skills, and enough strategic know-how of sales and marketing to get the best possible results from it?
If the answer to any or all of these questions is 'no', then you should explore working with a HubSpot partner. There are no differences in the cost of the HubSpot software when you purchase it via a partner, in fact you may even save money by being better advised about which modules you really need, and by not requiring the HubSpot onboarding fees.
We've been working with HubSpot since 2012, our entire marketing team are trained and certified on it, and we also use it extensively in our own marketing as well as with dozens and dozens of clients – so we know how to use the tools to maximum effect.
We also have the team, the experience and the systems to be able to take care of the marketing activities for you – to do the SEO, write the blogs and articles, do the social media and email marketing and to optimise it all so you get a return on investment.
Enquire About Our HubSpot Services Here:
Why Choose JDR As Your HubSpot Partner?
There are few HubSpot partners in the UK who have been working with the platform for as long, and with as many different businesses (we're one of only a handful of Diamond level partners in the UK). There are fewer still that specialise in working with SMEs.
However the things that make us stand out as a HubSpot agency are:
HubSpot Agency Services, Training, Support & Implementation: Reviews
Here is a small sample of the reviews we get for our HubSpot agency services:

Victoria Parkinson
We have been working with JDR for 2 years now and they have helped bring our business forward immensely. From creating & implementing a solid marketing strategy, to building a new website for Cabin Master.

Since then they have created 4 more websites for us and helped educate our team on the vast uses of Hubspot. Having a CRM that works for all our staff has been a turning point for us and having JDR on hand to advise, and also implement changes, has been key in moving our businesses forward. Working with Leanne has been great and the team at the Derby office are not only helpful but courteous and efficient. We look forward to working with them on other new projects in the future.

Emma Cole
JDR Group have provided us with excellent services, marketing suggestions and full HubSpot support during our 5 years of working together. Their ability to navigate us through HubSpot has been an incredible benefit to our company and their knowledge and customer services has been second to none.

Mark Taylor
We've worked with JDR Group for 2 years now, they act as our go to partner for digital marketing and help manage our HubSpot portal and website. During the time we've worked with them we've had great service and found them to be professional, knowledgeable and helpful. They've helped to bridge the gap between sales and marketing and given us a clear marketing plan going forward. We are increasing traffic and leads, and are winning new customers as a result.

Chris Lawes
When I approached JDR for help with my lead nurturing plan I had a good idea of what I wanted practically mapped out on a word document, but no idea of how to set it up in HubSpot and make it work the way I wanted it to. With the nature of the business we have a big focus on lead generation and seasonal offers so it was imperative that I had a robust way of making sure we kept in touch with people regularly and enticed them to buy. Being just one salesperson dealing with many leads It was not possible to do this manually. JDR helped me to set up my lead nurturing workflow. Not only did they set it up to function the way I needed it to but they also trained me on how to edit the content of the emails so that I could keep it up to date and insert new offers as and when I wanted to. Working with JDR on this project helped me to systemise my marketing and sales process and saved me a lot of time. One thing I can definitely vouch for is their knowledge and experienced use of the HubSpot platform.

Phil Whitting
Until I started working with JDR, I had been sporadically using separate CRM and email clients in my business. I say sporadically, because it was not an easy process to manage on my own, and it didn't get used more than a handful of times per year. JDR installed and configured HubSpot for me and showed me how it should be done! It was integrated into my website and configured by JDR to collect all messages that came in through the site. This is probably something that the previous CRM could do, but HubSpot is a "complete" system that does a lot more than just collect email addresses. It has allowed me to compile lists and send out professional looking messages to my client base. It also lets me follow the progress of each contact through the sales system. Other plugins were added from the HubSpot portfolio, including a chat facility on the website and call tracking that uses dynamic number insertion to monitor the source of all incoming calls. Overall this has helped me to gain control over the process of recording and following up leads, thanks to JDR's expertise in this field.

Jess Langley
We worked JDR to onboard our business with Service, Sales and Marketing. We had no CRM system at all previously and were moving some of our marketing platforms. We were hoping JDR would guide us through some of the features which we might have missed without their help. The marketing team needed full training and their existing mailing list moving from one platform over to HubSpot, we also needed the Magento 2 website connecting properly to improve communication and increase retail sales. The sales team needed to automate their processes and improve their ability to manage and develop B2B sales leads. The service team were the main part of the process, moving from no formal CRM and some of the team having never worked with one. We needed some automation and processes to keep the whole system as simple and intuitive as possible. Training them was key to the success of the project. We also have an ERP system which we've found impossible to integrate with any other platform, we were hopeful JDR would be able to succeed where we had failed with this integration. JDR listened to our needs very carefully, we felt that they'd perfectly understood our needs and tailored a plan around our business and around our team's needs. They began with the marketing team as the integration was simple for them (I should stress, this was done very quickly and, frankly, we would have been struggling months down the line without them). The integration was successful and the training with the team was very effective, JDR remained in communication with the marketing team whilst they found their feet with HubSpot and helped tweak reports and functionality to perfectly suit our business. Sales and Service followed, the integration with our ERP system was difficult but JDR managed it, I was part of the 3 way meetings between JDR and our ERP providers and would not have achieved this without JDR Group being involved. We were able to reach all of our aims and having JDR Group involved gave us a confidence to dig deeper into HubSpot than we might have done otherwise. The training was very good, as JDR had listened to our concerns, they set the pace very well for our teams, asking just enough to stretch them but not so much they were overwhelmed. The service provided was excellent. The whole team were great to work with, they were very responsive to any queries we had and bridged a lot of gaps between jargon (IT jargon and HubSpot terminology) and helped us understand how to move forward with the CRM for our business. We could tell from the start that JDR were there to help us, we were a little wary that a company "onboarding" us might do the onboarding and we'd then be stuck relying on them for support afterwards, but we shouldn't have worried, JRD were open about everything they'd done for us and showed us how to work with the system on our own in future. They left us feeling very capable at growing with HubSpot alone. That being said, due to how good they were, we are already looking at how we can utilise their services in future and are looking forward to an ongoing relationship in other areas of our business.
Case Studies & Example Results
This case study is from the professional services sector - a small, specialist firm of consultants. The background of the business was a group of partners that had performed a management buyout a few years ago - and while they are subject matter experts, they are not experts in sales and marketing and had no method (other than word of mouth) of winning new accounts.
This case study comes from a specialist machine manufacturer who sell products worldwide and wanted to improve their digital/online presence, to compliment the sales they achieve through trade shows/exhibitions. They have a technical product, which involves a large capital investment from customers, so there is a long sales cycle. We have been working with them since June 2016 to develop their marketing... this is their story.
This client is a manufacturer who sell via resellers and to trade customers, but decided to open up an E-commerce website in 2013 to allow them to sell direct to the general public. The new website provided a useful source of additional leads as well as sales with better margins and better cash flow, but did not take off so after a frustrating experience with a previous marketing agency, they decided to start working with JDR in 2017.
Over the course of 14 years we have worked on hundreds, even thousands of marketing campaigns - ranging from traditional outbound campaigns (telemarketing, direct mail, events etc) to modern inbound techniques (SEO, content, social media etc). In the past two years we have developed something which goes beyond a campaign, or individual marketing tactics - we've developed an entire system for sales and marketing that helps businesses grow.
When people are considering working with us, the main question is 'what results can I expect?' In the marketing industry, false hopes are a problem - marketing agencies often over promise, which leads to customers becoming disappointed and even disillusioned with marketing as a whole. At JDR, we try to paint a realistic picture and also to avoid making specific forecasts - but we can share examples of other clients' results. We do this through our marketing case studies, but in this article we can share the average results that our customers get - and even track these results over a three year period.
Wrendale Designs is a giftware company, selling B2B and B2C, who have experienced massive growth over the past few years. Unfortunately, their technology stack hadn't kept up with the speed of their growth and they were outgrowing their systems. The various platforms marketing, sales, and service were using were cobbled together and all data was siloed. Marketing was fractured across MailChimp, their website, and their ERP, with no sync between the three platforms. They wanted to monitor their marketing success and better communicate with their customers.
FREE: HubSpot CRM Guide
Discover how To get the most out of the world's best free CRM systems with this FREE guide.
Download your copy of The HubSpot CRM Guide today and find out:
Whether HubSpot CRM is the right platform for your business

How you can get the most out of HubSpot for your sales, marketing and customer service

The 5 most underused HubSpot tools which can make you money

A guide to HubSpot's packages & paid options
And much more!
To get your copy, just confirm your details in the form and get instant access.
By working with JDR Group as your HubSpot Partners, you can:

Get A Marketing System
Over the past ten years, we have created a comprehensive 6-step sales and marketing system which we use and follow in our own business as well as with many small and medium sized businesses around the UK.

GET A CLEAR MARKETING STRATEGY
We can help you develop your messages, your USPs, your branding and develop a wider marketing strategy including your website, SEO, email marketing, lead generation and more.

GET AN EFFECTIVE SALES STRATEGY
We can help you improve your sales systems and processes to convert more leads and enquiries successfully.

WEBSITE DESIGN & DEVELOPMENT
To get the best results, you may need to develop, improve or even redesign your website – this is something we can do for you.

CONTENT CREATION
We write articles, guides, eBooks and blogs for a wide range of different businesses in a variety of different industries, as well as creating videos, and visual content (like infographics). We can create content for your business too – so you can have this content 100% 'done for you'.

CRM
It's vital not to let a single lead slip through the net, and also to track how every lead is dealt with – this requires a good CRM system and it to be used effectively by you and/or your salespeople. We advise business owners on cost-effective (often free) CRM systems, and set up and implement CRM for them as well as providing training so that you and your team actually use it effectively.

FOLLOWING UP LEADS
Not all leads will buy straight away, you'll need to follow up effectively and persistently in order to get the best possible results from any lead generation activity and marketing investment. We can help, with use of CRM system, but also email marketing, retargeting, and using automated follow up systems using marketing automation software.

MEASUREMENT & TRACKING
As a client of JDR, you'll know where every single lead, enquiry and sale has come from, so we know which marketing efforts are working and which ones are not. We set up systems to track inbound phone calls, emails, form submissions and online transactions/sales via your website, and then to track what happens to every new contact past the initial enquiry or purchase.