The Complete Guide To Web Design Budgets, Costs & Comparisons In 2023
Website projects are hard to budget for. There are lots of variables, and lots of different approaches. If you get quotes for a website project, you'll often get wildly different figures which can be very confusing - how can the same website cost £800 with one company, and £8,000 with another?
With 16 years of website experience, thousands of website projects behind us and hundreds of websites currently being managed, we wanted to distil that experience into a pricing and budgeting guide for you. On this page, you'll discover what affects the costs of your website, both initially and the ongoing costs. You can use our calculator, read the questions you need to ask when considering a website project, and get an idea of our own website pricing. We also a have a website brief form, if you want us to quote for your own website project.
You can learn more about JDR Group's web design services here.
What Affects Website Costs?
In summary, there are 8 different types of costs associated with a website:
Design cost - logo design, page design, custom images, etc
Technical costs - domain name, SSL certificate, etc
Platform costs - theme, apps, subscriptions, etc
Content costs - photography, video, copywriting, etc
Development costs - custom features, integrations, etc
Marketing costs - SEO, conversion rate optimisation, strategy
Hosting costs
Maintenance and support
Some of these are up front, some are ongoing. Let's get started with the first major decision that affects your budget: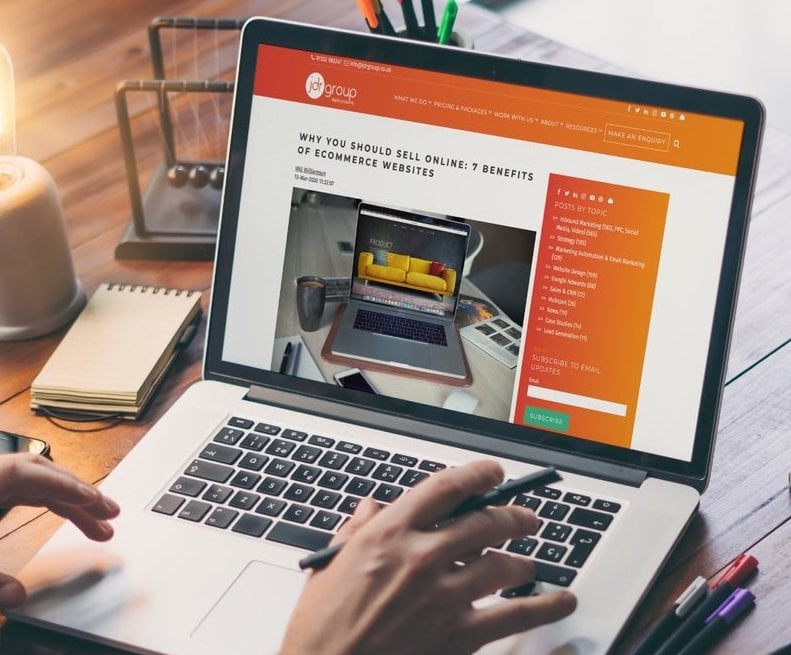 'Build Your Own' vs Built For You
There are lots of good website builders on the market, including HubSpot CMS, Wix, Squarespace, Weebly & GoDaddy. With a subscription (usually between £10-50 per month) to one of these platforms, you can build your own website. This is a good option if you are a start-up, need to keep costs down, and have the time available to do the work.
Your business may also employ one or more designers, marketers, and copywriters with the capacity to do it as well. Most businesses don't have this luxury, and it won't make sense to try and take on doing the website alone. It is, after all, your single most important marketing asset.
The key advice here is this: if you don't have the expertise in-house, then outsource the project!
Custom Design vs Theme
Most popular website platforms offer a range of pre-designed website 'themes.' A theme is essentially a design framework for a website including common elements like the header/footer of the website, plus the fonts, colours and branding. By choosing an off-the-shelf 'theme', you can choose an already part-built website which you can then edit/amend to match your own needs.
With a custom design, you'll have a website theme as well - the difference is that the theme will be custom designed and built to your own specifications and needs. Choosing an off-the-shelf theme cuts out a lot of design work and is a significant shortcut. It reduces the cost and also timescale of your website project significantly, so is a good option when you're on a budget and in a rush.
There are lots of good themes to choose from - here is where you can browse popular HubSpot themes, Shopify themes, and WordPress themes.
There are three main problems with themes, however:
1) Limitations - we've had customers who have chosen the theme route, and then been disappointed to learn that certain features have not been available within their theme. What you gain in speed and cost by choosing a theme, you lose in the ability to have your website 'your way.'
2) Site speed - many themes also come with a lot of features that you don't need, and therefore extra website code. This can slow down the load speed of the site, affecting your SEO results and conversion rates.
3) Security - with open source platforms like WordPress, themes are also a potential source of website hacks (this is not a concern with HubSpot or Shopify which are cloud-based platforms).
Freelancer vs Web Design Agency
Once you've decided that you aren't going to build your website yourself, the next decision is what type of company you want to do it for you. You could find a web design agency (like JDR Group) that has many different employees - or find a single freelancer to do it for you.
A freelancer will generally be cheaper, but there is a risk of them letting you down. We've met many business owners over the years where this has happened - for example one Ecommerce business where the designer left abruptly to go and live in Bulgaria, leaving them with no way of accessing or updating the website they relied on for their income. With a web design agency, there are more likely to be contingency plans if an individual leaves, and more likely to be robust systems and procedures in place to manage your project.
There are also many different skills involved in designing and building a website, including design, development (coding), copywriting, search engine optimisation, user experience and conversion optimisation, and photography. Your website is your single most important marketing asset, so understanding of marketing strategy is also very important when building your website - for example getting the messaging right to position your business against the competition.
It is unlikely you will find a single freelancer that has all of these skills - whereas a good agency will have a team of people with these specialist skills to work together.
What Else Affects The Cost Of A Website?
After deciding who is doing the work, the biggest factor is the scope of the website itself. This includes:
Size - how big is the website? A 10-page website is a simpler project than a 500-page website. Each additional page on your website means additional time from your web design company - designing page templates, uploading content, sourcing images, optimising the layout, performing checks on different devices and browsers.
Functionality - what does the website need to do? Is the website a 'brochure-style', information-only site or an e-commerce website? Are there any additional features you need - for example calculators, a search feature, password-protected areas, or interactive features such as a product builder? Additional functionality can either mean custom development time needs to be factored in, or that you'll need to purchase additional apps or plug-ins.
Integrations - does the website need to connect with any other business systems? For example, if you are a recruitment agency you may need the website to connect with your Applicant Tracking System. If you are an estate agency, you may need your website to integrate with your property management system.
Content - do you have all your copy and images ready to hand over to a web design agency? Or do you need the following:

Photography - you may need professional photography - or if not, the website may still need some custom graphics to be designed for the website, or some stock photography to be sourced and purchased for you.
Copywriting - good website copy can really help sell your business and your services, and sometimes it is worth having this outsourced or done for you as part of a website project.
Video production - video is a great way of showing what you do, and if you want to use video to bring your site to life you may want to get this done professionally.
CGI & Animation - some websites include custom animations or technical drawings to demonstrate products.

Branding - do you need a rebrand as well as the website design? Branding can be a lot more than just logo design - it can include consultancy, rethinking your entire business identity, development of straplines, brand guidelines and brand positioning.
Technical - there are some technical costs to a website, including domain name (if you need that to be purchased), and SSL certificate (a security certificate for your site).
Marketing - Getting A Result From Your Website
In addition to the scope of the website, there are a number of marketing factors which would affect the cost of your project. This includes:
Strategy and planning - the strategy for a lot of website projects is simply to copy the sites of competitors. This doesn't usually lead to the best results, and good web design agencies will spend time on your strategy with you.
USP and messaging - very few companies have a clear point of difference from their competition. Standing out from the crowd helps create sales, so it's worth spending the time and getting expert help to ensure the messages on your website cut through.
Conversion rate optimisation and user experience - building the website with a plan of how to maximise leads and sales from the website visitors you get.
Search Engine Optimisation (SEO) - SEO is often done once a website has been built, but ideally it should be part of the planning and building of the site.
Many cheap website projects don't include any of the above - a web design agency will ask you what you want and then design the site based on your brief. Unless you are a marketing expert, however, you are not going to be able to give them a brief that leads to a website that really delivers results. The best web design agencies will be able to advise you and make recommendations in each of the above areas, and factor this into the cost.
Case Study - How Leaving WordPress Helped Us
JDR have been a HubSpot Partner since 2012, and have used their marketing, CRM and sales software extensively over the years in our own business as well as with clients. So when we were looking at our next website design, building on the HubSpot CMS platform was the obvious choice.
The move from WordPress to HubSpot should have a significant impact on your website traffic and your wider business operations – it did for us here at JDR Group.
We will show you what the migration from WordPress to HubSpot means for us and how that impacted on how we do business.

How Much Does It Cost To Host A Website?
Once your website is built, there are usually ongoing costs, which include:
Hosting - website hosting means paying for the storage of your website files. This can be as little as £10 a year, but will cost more if you have faster servers (which will mean your website loads faster) and for a dedicated server (rather than a shared server where your website is stored together with many other sites).
Support - who do you call if there is a problem with the site, for example if it gets hacked? Companies like GoDaddy will provide website hosting, but you won't get any support for your website.
Maintenance - websites built on some platforms require regular updates to the latest version of the software (the differences between platforms is covered more in the next section). If your website is built using 'plug-ins' (additional, third-party pieces of software used for specific reasons in your website, for example forms or SEO), then these will also need to be updated to the latest versions whenever they are released. This requires ongoing management - not just to implement the updates regularly but also to fix any problems that occur (sometimes updates to a plug-in affect or break other things on the website).
Updates/changes - most businesses will need to update their website from time to time. With a good content management system, you or your staff can do this in-house - but there are some changes that you'll need your web designer to make for you.
These costs vary enormously depending on the website platform your site is built in. With a cloud-based platform like HubSpot CMS, you pay a monthly subscription and you won't need to pay anyone for website hosting or maintenance. The world's most common website platform is currently WordPress, and with a WordPress website you'll need all of the above.
Here's a typical range of costs for website hosting for small business websites:
Online hosting company (eg GoDaddy, 123-Reg, LCN, Ionos) - £50-£300 per year for the website hosting (server space) only
Website hosting company (usually a web design agency or IT support company) - £25-£200 per month for hosting, support, maintenance and updates
Cloud-based website platform (eg HubSpot and Shopify) - £20-£30 per month for their starter/entry-level subscriptions with no additional hosting, or maintenance needed (you may still want additional website support or updates from a web design company)
As websites grow, these costs will increase. Bigger, more complicated websites require more maintenance and support. With more traffic, the demand for more frequent changes and updates grows and you also need more powerful hosting. Huge sites like eBay, for example, can't be hosted on a GoDaddy account - as the hosting won't cope with the sheer volume of visitors.
Which Content Management System (Website Platform)?
Unless you have a site built entirely from scratch, 100% custom-coded, then you'll need to choose a content management system or website platform.
A content management system (CMS) is the software your website is built in, and it allows you to be able to make edits and changes without having to learn code. This is essential in a modern website, where you should be regularly updating products, pricing, adding news stories or blogs, adding new pages, and amending your website to improve performance.
There are free website platforms (WordPress, Joomla, Opencart, etc) and paid ones. There are Ecommerce platforms (Shopify, Magento, BigCommerce, Prestashop), and there are platforms that are better suited to 'brochure' style websites.
Most of the free platforms are 'open-source' - which means the source code is freely downloadable online (WordPress is by far the most popular). Developers often love working with these platforms as they have lots of freedom to custom code each site however they like - and they are attractive to business owners as they have no ongoing costs.
However, websites built on open-source platforms like WordPress require regular maintenance, incur hosting fees, and usually have to be rebuilt in the latest version of the software every few years. They also often have security flaws, and performance issues including site speed. You'll also often have a 'gatekeeper' - a person or company you have ask to make any changes or to get access.
At JDR, we build all new websites in cloud-based platforms - Shopify for Ecommerce & product-based websites, and HubSpot CMS for brochure-style sites. These subscription-based platforms are continually being developed and upgraded - so your website is always built on the most up-to-date software available.
They give you complete access and control, they are fully secure, and you don't need a hosting company. They also mean, crucially, that you don't need to rebuild your entire website every few years - you can simply update the theme or page templates on your existing site to update the design without going through a full rebuild.
They are scalable - so as your website grows, you can simply increase your subscription to allow for the extra complexity and the additional hosting demands. With an open-source website, you will often need to look at a costly rebuild or migration if you start to outgrow your current set-up - meaning you have to pay for a new website every few years.
Learn More About HubSpot CMS
Watch our FREE, on-demand webinar: How To Maximise Your Website's Performance With HubSpot CMS.
You'll learn:
✅ How to get more leads from your website
✅ The biggest mistakes you are making with your company website
✅ How to get better Google rankings
✅ How to know what is and isn't working with your website
The Cost Of Ongoing Website Marketing
A new website is not a marketing strategy, and does not guarantee you better results. In our unique 6-step system, we look at your website as the foundation for your online marketing - but the foundation is no good unless you build on it. This means developing a clear strategy first (this is important), and then driving targeted traffic to your website.
This can include offline strategies - exhibitions/trade shows, newspaper/magazine advertising, telemarketing, flyers and direct mail.
It should also include online strategies - SEO, Google Ads, Facebook Ads, LinkedIn Ads, email marketing and content marketing.
To get an idea of the costs involved in ongoing digital marketing services, visit our guide to digital marketing costs in the UK. You'll find a guide to marketing budgets, an indication of how much working with JDR Group on marketing will cost, and you can also try our free marketing pricing calculator to build your own campaign and see how much it would cost.
How Much Would A Website Cost With JDR Group?
We've discussed the ongoing costs, and the factors that affect the cost of a new website in general. But what would it cost to build a new website with the JDR Group?
The answer is, of course, it depends - but we are a mid-budget solution. To give a rough guide, for a simple, 15-20 page website with no ecommerce functionality, the options are:
DIY (you build your own website) - No external costs, but there is the cost of your own time plus technical costs (domain, SSL, etc).
Low budget - £500-£2,000 - This can be achieved by using a cheap freelancer/small agency, or by using an off-the-shelf template.
High-budget - £10,000-£100,000 - This is the range that bigger brands will usually look at, working with high-end design/branding agencies (see this article on the UK's top web design agencies).
Most of the website projects we work on are between the low and high budgets - usually between £4,000-£10,000. At this level, the project will involve the following:
Custom design - rather than an off-the-shelf template.
Project management - so the website process is professionally managed.
Marketing - including messaging, conversion optimisation and search engine optimisation.
Website copywriting - writing content for any new pages required, or rewriting existing pages to optimise them.
Cloud-based website platform - to minimise ongoing maintenance, maximise security and give you the most access/control.
You can see our web design process, and see examples of sites we've designed on our web design services page. The reason companies choose JDR Group for their web design is:
Done for you - we'll run the project, you will just need to review and approve the designs and content we send you.

All-in-one place

- we're more than a web design agency, you can work with us for your entire online marketing, from content marketing, to SEO, to social media and more.
Results - since 2004 we've built and designed more than a thousand websites, and we actively market and manage hundreds of sites. This gives us real insights into what works, and what doesn't. That has value, because when you want a new website, it's probably not just for the sake of it - ultimately, you want more leads or enquiries.
Get A Web Design Quote
There are a couple of ways you can get a quote for your website project. Firstly, you can submit a website brief using our quick, 3-step form and get a tailored quote.
You can also use our instant website quote calculator below - and here are some of the most commonly asked questions (which we've not already covered).
How long does it take to build a website?
It depends on the nature of the website. We work to a target timescale with most website projects of 2-4 months. This allows time for the custom design, copywriting and page layouts to be created, reviewed and revised. Ecommerce website projects can be more complex and take longer, as can projects which involve custom integrations or development. If you are on a tight timescale though, we can often find a solution that will work for you - book a meeting with us to discuss your needs.
How much does an Ecommerce website cost?
Ecommerce projects depend on the number and complexity of the products, and the functionality of the website. We have a separate guide to Ecommerce website costs here - and you can also use our 3-step 'submit a brief' form to get a quote.
How much does it cost to buy a domain (web address)?
Simply registering a domain name will usually cost between £10-50 per year in the UK. Some domains, for example .com addresses are more expensive - and there are additional costs for email hosting and web hosting if you take up those options. Popular places to get a domain name in the UK are 123-reg, GoDaddy, LCN, Namesco and Ionos.
Can you claim capital allowance on website development?
Some website investment costs can be claimed under capital allowance. Ongoing/maintenance costs and marketing costs don't qualify, but in some cases the development of a new website as an asset for the company can.
Get A Tailored Website Quote
Talk To Us About Your New Website
To find out more, let's start a conversation - you can book a call with one of our experts using our online diary link.
There's no cost and we can provide some free initial advice as well as discuss your options with you.