Ecommerce is a highly competitive world - it's easier than ever before to start an Ecommerce business, and platforms like Ebay and Amazon have taken such dominant positions that it is hard for independent Ecommerce businesses to thrive and get ahead.
The key to success, and to growing a healthy, profitable Ecommerce business is digital marketing - driving high levels of relevant traffic to your website and then converting that traffic into sales and orders. This means highly optimised Google Ads campaigns, including Google Shopping, SEO, conversion rate optimisation, content marketing, email marketing and automation, social media marketing and more.
In larger businesses, they will have full time specialist employees who do each of these activities as part of a digital marketing department, as well as ongoing website development.
Do you have the time to manage all of this as well as staying on top of fulfilling orders, updating products and pricing, customer service, and everything else that comes with the day to day running of your business?
And, perhaps more importantly, do you and your team have the know-how and expertise to help you get ahead?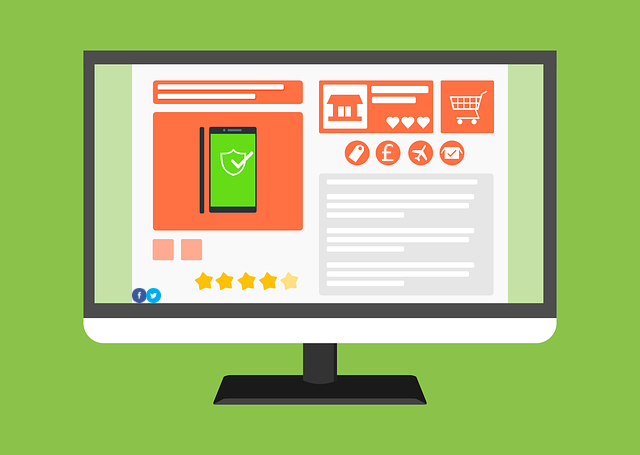 Ecommerce Marketing Services
If you are want to get a marketing strategy that gives you a consistent flow of new Ecommerce sales, then here is how JDR Group can help:
Ecommerce Inbound MarKeting AGency
At JDR, we've been working with Ecommerce businesses since 2004. With JDR you can outsource your digital marketing and website development in one place, giving you your own virtual marketing department.

Our Ecommerce inbound marketing services can help your business in a number of ways:

To find out more, let's start a conversation - you can book a call

with one of our experts using our

online diary link

. There's no cost and we can provide some free initial advice as well as discuss your options with you. So let's talk -

Click here to book a call with an expert

.
Ecommerce Platforms We Work With
We have experience in a wide range of Ecommerce website platforms, including:




Case STudies & Example Results
This client is a manufacturer who sell via resellers and to trade customers, but decided to open up an E-commerce website in 2013 to allow them to sell direct to the general public. The new website provided a useful source of additional leads as well as sales with better margins and better cash flow, but did not take off so after a frustrating experience with a previous marketing agency, they decided to start working with JDR in 2017.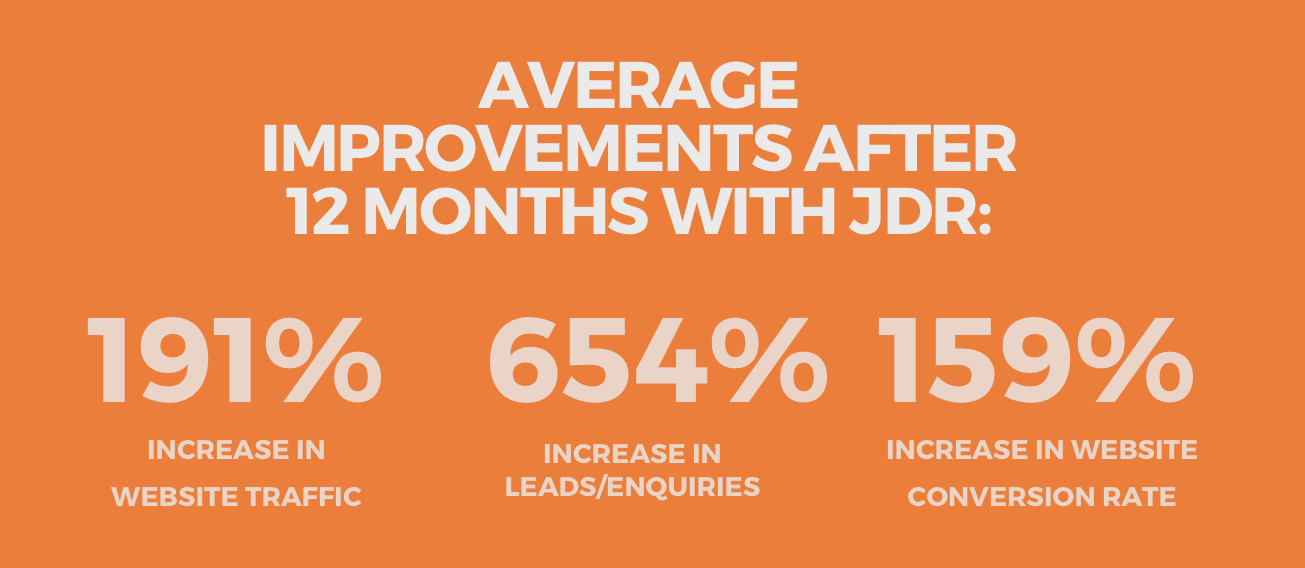 Over the course of 14 years we have worked on hundreds, even thousands of marketing campaigns - ranging from traditional outbound campaigns (telemarketing, direct mail, events etc) to modern inbound techniques (SEO, content, social media etc). In the past two years we have developed something which goes beyond a campaign, or individual marketing tactics - we've developed an entire system for sales and marketing that helps businesses grow.
When people are considering working with us, the main question is 'what results can I expect?'
In the marketing industry, false hopes are a problem - marketing agencies often over promise, which leads to customers becoming disappointed and even disillusioned with marketing as a whole.
At JDR, we try to paint a realistic picture and also to avoid making specific forecasts - but we can share examples of other clients' results. We do this through our marketing case studies, but in this article we can share the average results that our customers get - and even track these results over a three year period.
Download The Ecommerce Guide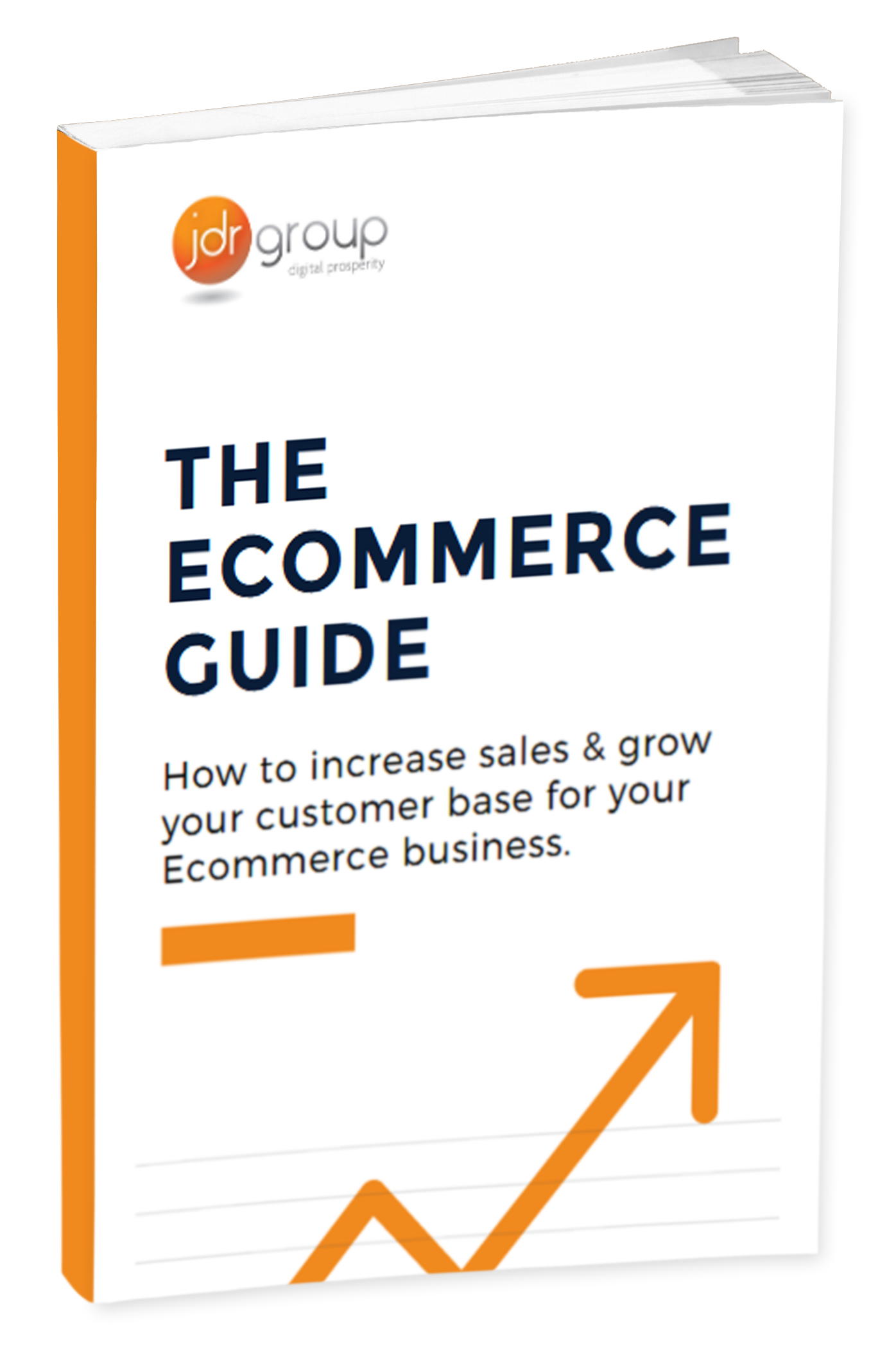 65

practical ways to grow your online sales.
You will discover:
17 Ways to get more people to your Ecommerce store


31 Ways to increase your website conversion rate




9 Ways to get your customers to spend more

8 Ways get your customers to buy more regularly from you

Simply confirm your details and get instant access to your free copy now!
Beyond Ecommerce Marketing - Building Your Business
If you are want to get a marketing strategy that gives you a consistent flow of new Ecommerce sales, then here is how JDR Group can help:

Our Six Step Marketing System
Over the past ten years, we have created a comprehensive 6-step sales and marketing system which we use and follow in our own business as well as with many small and medium sized businesses around the UK.

GET A CLEAR MARKETING STRATEGY
We can help you develop your messages, your USPs, your branding and develop a wider marketing strategy including your website, SEO, email marketing, lead generation and more.

GET AN EFFECTIVE SALES STRATEGY
We can help you improve your sales systems and processes to convert more leads and enquiries successfully.

WEBSITE DESIGN & DEVELOPMENT
To get the best results, you may need to develop, improve or even redesign your website – this is something we can do for you.

Content Creation
We write articles, guides, eBooks and blogs for a wide range of different businesses in a variety of different industries, as well as creating videos, and visual content (like infographics). We can create content for your business too – so you can have this content 100% 'done for you'.

CRM
It's vital not to let a single lead slip through the net, and also to track how every lead is dealt with – this requires a good CRM system and it to be used effectively by you and/or your salespeople. We advise business owners on cost-effective (often free) CRM systems, and set up and implement CRM for them as well as providing training so that you and your team actually use it effectively.

FOLLOWING UP LEADS
Not all leads will buy straight away, you'll need to follow up effectively and persistently in order to get the best possible results from any lead generation activity and marketing investment. We can help, with use of CRM system, but also email marketing, retargeting, and using automated follow up systems using marketing automation software.

MEASUREMENT & TRACKING
As a client of JDR, you'll know where every single lead, enquiry and sale has come from, so we know which marketing efforts are working and which ones are not. We set up systems to track inbound phone calls, emails, form submissions and online transactions/sales via your website, and then to track what happens to every new contact past the initial enquiry or purchase.