Case Study: E-commerce Website Grows Sales From £45k Per Annum, Now On Track For £500k Turnover

KEY RESULTS:
27 sales per month >

783

£42,587 E-commerce revenue per month =

£511,044

pa

(WAS £45k)

Contact us enquiries doubled from 18 to

46 per month
This client is a manufacturer who sell via resellers and to trade customers, but decided to open up an E-commerce website in 2013 to allow them to sell direct to the general public. The new website provided a useful source of additional leads as well as sales with better margins and better cash flow, but did not take off so after a frustrating experience with a previous marketing agency, they decided to start working with JDR in 2017.
At The Start: The Initial Marketing Assessment
The first step was to complete a full review of their current website/marketing and we produced a detailed report which highlighted a number of issues with the web presence as it was:
They were averaging 27 sales per month, around £45k pa but these E-commerce sales had been declining, rather than growing
Website had technical problems and needed reorganising and redesigning
They were spending £4-5k per month on Google Ads but not seeing a return
There was no email marketing, and no customer database or CRM
Google Analytics was not working at all
Competitor analysis showed they were up against well-funded, growing competitors who were proactive with their marketing
Despite not being the main part of their business, the directors did see the potential in the E-commerce business and wanted it to grow, so they decided to work with JDR on a comprehensive marketing programme to build the business.
Our Solution: A Comprehensive Marketing Programme With Automation
We designed a marketing programme tailored for their market, which included:
Development of a content and conversion strategy
Redevelopment and redesign of the website
Implementation of a CRM and marketing automation system (Sharpspring) to track all orders and enquiries, creating a database and allowing for automated emails
Set up of automated emails including abandoned basket nurturing, review requests, use of discount codes and special offers, and newsletters
Regular articles written for the blog and shared across social media
Ongoing search engine optimisation work
Google Ads management including set-up of shopping ads and re-marketing
Configuration of E-commerce tracking and reporting
The programme is managed with regular reporting and strategy review meetings and has seen consistent growth in traffic and some significant breakthroughs in sales.
The Results: 29x Increase In Sales & On Track For £500k+ Turnover
As of June 2020, the progress so far has been:
783 sales per month (based on the last 3 months' average), up from 27 per month when we started (a 29x increase)
£42,587 E-commerce revenue per month (based on the last 3 months' average), which equates to £511,044 per annum compared with their £45,000 starting turnover
Contact us enquiries up from 18 per month to 46 per month
There have also been other benefits:
Organic Traffic Growth & SEO Improvements

One of the biggest drivers of growth has been the increase in organic search traffic, which has been rising steadily but has had a big breakthrough in 2020, as you can see from the chart above.
We have seen some additional measurable improvements against our initial assessment in 2017:
Domain authority was 13, and is now up to 17
In 2017 they had just six Backlinks, now up to 1370
HubSpot Marketing Grade was 48, and is now 68
They have moved up 10 million places in the Alexa Traffic Rank
2018 vs 2020 Progress - A Comparison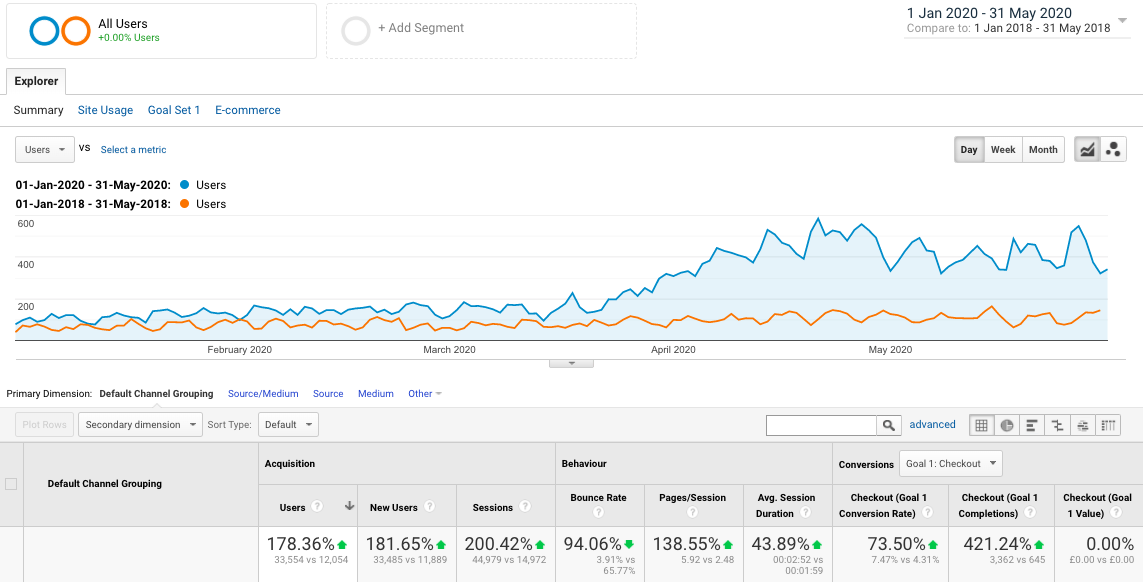 There is no Google Analytics data from early 2017 (one of the issues we identified in our initial assessment) so we have run a like-for-like comparison of Jan-May 2018 vs Jan-May 2020 in Google Analytics. This shows:
E-commerce checkouts up 421% for the year as a whole
Website users (traffic) up 178%
Organic traffic up 186%
Bounce rate, pages per session and time spent on site all significantly improved
Additional benefits from the marketing
Apart from directly attributable sales, there are also softer benefits to good ongoing marketing. For this client, they include:
More trade enquiries and phone orders coming via the website, as well as online orders
Google Analytics is now configured and being reviewed and reported on monthly, and together with the Sharpspring marketing automation software the client is able to see exactly what is going on with their website and see what is working, and what isn't
Regular email marketing is now running - both targeted mail-shots and automated emails triggered by buyer behaviour, and these are also contributing to additional sales
Sales from social media have increased, as has traffic and the number of followers
Google Ads budget has actually been reduced and the account is being proactively managed
Regular blogs and articles are helping to build brand awareness
Find Out More About How JDR Can Help
Over the past 15 years we have developed a marketing system designed to help you get more leads, build and market to a database and, ultimately, get more sales. To find out how we can help become your digital marketing department go to https://www.jdrgroup.co.uk/digital-marketing-services.
To start the ball rolling, you can request a free audit of your current marketing: FREE MARKETING AUDIT.