Google Ads & PPC Management Services Including Google Ads, Bing, YouTube & Remarketing
PPC advertising includes Google Ads/Google AdWords, Bing advertising, YouTube ads, and remarketing. It allows your business to:
Get qualified leads/enquiries from buyers who are looking for your services
Start small and scale up once you get a return on investment
Grow brand awareness and name recognition for your business
Launch new products and services
Expand into new territories and/or target specific geographic locations
Increase online sales for E-commerce businesses
To find out more about our PPC management & Google Ads management services, make a quick enquiry. You can also book a quick online meeting using our online diary link.
Google Ads Management Services: PPC 100% Done For You
Professional Google Ads & PPC Management Services
So what do our PPC management services include? To start with, you may need an account to be set up in the first place. This includes keyword research, ad creation and setting up of conversion tracking.
You may already have an active Google Ads account - if so we will review and audit the existing account.
From there, our ongoing management service includes:
Ongoing testing of ads, keywords and website landing pages

Ongoing optimisation and analysis of bid prices, keywords, ads and ad extensions
Regular reporting and review meetings with you
Certified, Established & Experienced
We have been a certified
Google Partner
since 2013 and have managed millions of pounds worth of ad spend for our clients. You can entrust the entire process to our team, including setting up and managing the account.
Professional PPC & Google Ads management from JDR Group will:
Ensure you get the best possible return on investment

Avoid wasted spend and the wrong type of enquiries
Free your time up to focus on other areas of your business
GET MEASURABLE RESULTS FROM GOOGLE ADS & PPC

Tim - Air Conditioning Contractors
I couldn't recommend JDR enough! Will and Dave have been excellent in the advice given to restructure our entire advertising campaign. We have now completely stopped all other online advertising and feel we are getting much more for our money in a much more personal, innovative and comprehensive manner. Here's to the future guys :)

Alan - Financial Advisors
We are using JDR for our marketing requirements. FB, LNKDN, and Google advertising, SEO and more. They are very professional and very switched on.
They are also very malleable when it comes to changing aspects of their services even at the drop of a hat.
We consider them an extension of our company as if they were an in house department.
Highly recommend.

Roseanna - Jewellery Designer
Excellent service and client care. Everyone at JDR is professional and friendly and do an amazing job. I have only been working with them for a couple of months but have already noticed a dramatic increase in enquiries. Highly recommended investing in your marketing with JDR.
DRIVE NEW BUSINESS IN A DYNAMIC, FLEXIBLE & SCALABLE WAY WITH PPC & GOOGLE ADS [VIDEO]:
Why Invest In PPC & Google Ads?
Many business owners dismiss Google Ads/Google AdWords. You may believe it is expensive, ineffective, or both. As with anything in business though, it's the way that you do it which matters.
If well managed, PPC & Google Ads can have a dramatic impact on a business. Here's how you will benefit:
It's fast
Investing in strategies like search engine optimisation, content marketing, and social media marketing all take time to build up and see results. Google Ads is much faster – once you switch on a campaign, your ads will start showing up in search results within minutes
You have control over where the money is spent
You can control when your ads are shown (for example just 9-5 Mon-Fri), which locations your ads show in, for which keywords, and which products/services you promote. This allows you to prioritise products services according to seasonal demand, to the capacity of your business or based on profitability/return.
It improves your brand recognition
Even if people don't click on your ads, being seen at the top of the search results can improve brand recognition for you and have long term benefits for you.
It's completely measurable
With the right systems in place you can track how many times your ads show (and when, and where), how many times they are clicked on, how much they cost per click, how many people then convert (by making an enquiry or purchase) and also how many of your enquiries go on to buy/order from you. This means you can genuinely measure your return on investment, unlike most forms of marketing.
Why work with a Google Ads & PPC Management Agency?
Managing PPC and Google Ads takes time, knowledge and expertise. Not every business has this experience, time or skill in-house. Running Google Ads yourself will usually cost more in:
Wasted budget – Google Ads has many pitfalls that can lead to wasted money
Higher costs per click (due to lower quality scores)
Lost revenue from missed sales (due to ineffective advertising)
Opportunity cost – the time you spend trying to learn or manage Google Ads is time you are not using to grow your business
Having an experienced, professional agency set up and run your Google Ads frees your time up. It also gives you more confidence that your investment will be as effective as possible. It will mean:
A better set-up account, using all the available advertising features which Google offer
Better reporting and measurement – so you can see what is and isn't working, and make better use of your budget
Alignment with your marketing strategy
Optimisation of your website and landing pages
Ads written and designed from professionals
More leads, enquiries and sales
Better (and more measurable) return on investment
Google Ads & PPC Management FAQs
Don't people just ignore ads on Google?
Google Ads will typically have a click rate of 2-5% - so yes, the majority of the search traffic will skip past your ad to the organic results, but as it is pay-per-click, you don't pay anything for the people that do this. You only pay for the people that actually click on your ad, and this can result in hundreds, thousands or even tens of thousands of extra visitors to your website who are searching for your products or services.
How much does it cost to run Google Ads?
There are three elements: The cost of managing the account, the cost per click, and the total daily/monthly ad budget – and each vary according to industry, keywords, and the goals of the campaign. You have complete control on your budget, and can start with as little as £1 a day, and increase/reduce change budgets in real time so you can respond to the changing needs of your business. But once there is a profitable return on investment and you are making money from the new customers generated from the ads, it doesn't actually cost you anything in real terms.
Does Google Ads actually work?
The answer is 'yes' – companies spend billions on Google Ads each year, which they would not do if it didn't work. Running Google Ads will guarantee you more website traffic, and almost always produces conversions. The challenge is getting to a point where those conversions produce a positive return on ad spend, which is where effective ads management is needed.
Google Ads - Useful Resources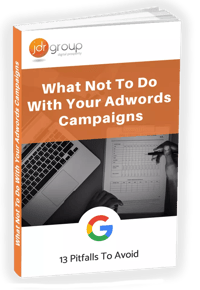 Avoid the most common mistakes with Google Ads/Google AdWords. Download this free checklist to discover:
>> The top mistakes made with Google Ads
>> How to use keywords, ads and landing pages to get the campaign running
>> How to set up keyword bids to make sure you're visible but not paying over the odds
>> Monitoring quality to optimise the campaign, improve ROI and save money
>> Optimising your entire Google Ads strategy to maximise your results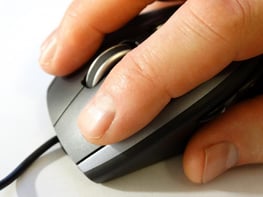 Google AdWords is a brilliant online advertising platform that many businesses take advantage of. The biggest benefit being that it allows smaller companies to compete with the bigger fish! However, there are plenty of companies out there that simply don't trust Google AdWords and don't have faith in it.
There are many objections to using the platform that we come across on a regular basis. One of the most common concerns that we get asked is "what if a competitor keeps clicking on my Google ads, can they run up my bill?"
Technically, a competitor could click on a Google ad once and that probably wouldn't be picked up as an invalid click, so they could potentially cost you the price of a click, however, Google would quickly recognise additional clicks from the same source so you're certainly not going to be out of pocket as a result!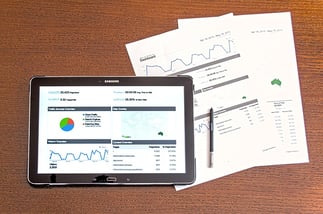 Arrange a review for one of our experts to evaluate your Google Ads campaigns & identify areas of improvement.
Successful Google Ads campaigns need to be consistently managed by an expert, otherwise it is easy to spend too much and not get enough new sales or enquiries to justify the expense.
JDR Group are a Google Ads Partner Agency and manage many types of campaigns – from small to large. We help small and medium sized businesses grow quickly with PPC.
When you sign up for your

FREE

Google Ads Review, JDR will show you the ins and outs of your current campaigns and

how to get the most

out of Google Ads.
Assess how effective your current team or agency are doing with your ads budget
JDR Group: More Than Just A PPC Management Agency
For Google Ads to work, it should be part of a marketing strategy. With JDR, you can get help beyond managing your Google Ads alone. This includes:

Our Six Step Marketing System
Over the past ten years, we have created a comprehensive 6-step sales and marketing system which we use and follow in our own business as well as with many small and medium sized businesses around the UK.

GET A CLEAR MARKETING STRATEGY
We can help you develop your messages, your USPs, your branding and develop a wider marketing strategy including your website, SEO, email marketing, lead generation and more.

GET AN EFFECTIVE SALES STRATEGY
We can help you improve your sales systems and processes to convert more leads and enquiries successfully.

WEBSITE DESIGN & DEVELOPMENT
To get the best results, you may need to develop, improve or even redesign your website – this is something we can do for you.

CONTENT CREATION
We write articles, guides, eBooks and blogs for a wide range of different businesses in a variety of different industries, as well as creating videos, and visual content (like infographics). We can create content for your business too – so you can have this content 100% 'done for you'.

CRM
It's vital not to let a single lead slip through the net, and also to track how every lead is dealt with – this requires a good CRM system and it to be used effectively by you and/or your salespeople. We advise business owners on cost-effective (often free) CRM systems, and set up and implement CRM for them as well as providing training so that you and your team actually use it effectively.

FOLLOWING UP LEADS
Not all leads will buy straight away, you'll need to follow up effectively and persistently in order to get the best possible results from any lead generation activity and marketing investment. We can help, with use of CRM system, but also email marketing, retargeting, and using automated follow up systems using marketing automation software.

MEASUREMENT & TRACKING
As a client of JDR, you'll know where every single lead, enquiry and sale has come from, so we know which marketing efforts are working and which ones are not. We set up systems to track inbound phone calls, emails, form submissions and online transactions/sales via your website, and then to track what happens to every new contact past the initial enquiry or purchase.