Reach Your Ideal Customers With LinkedIn Advertising
JDR Group are a LinkedIn advertising agency – we provide managed LinkedIn advertising campaigns for small & medium sized business in the UK.
LinkedIn advertising allows you to be able to: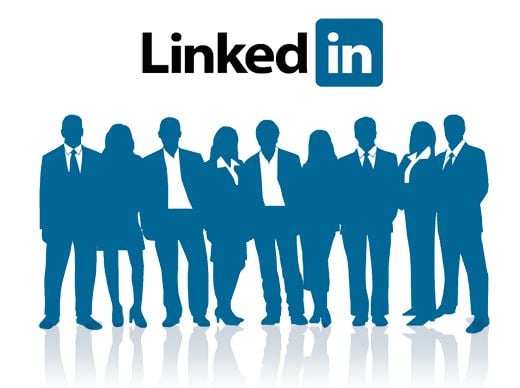 Reach new markets
LinkedIn's powerful targeting options makes it possible for you to run ads to exactly the right people.
Get your message 'out there'
No other platform gives you the opportunity to get your message in front of decision makers and influencers, and to raise awareness of your business.
Get targeted leads
Target new audiences and new locations, launch products and promote new services using LinkedIn advertising.
The Benefits Of LinkedIn Advertising
Precise B2B targeting so your ads reach the right people. LinkedIn advertising options include:

Advertise to your email database
You can upload your email list, customer database or CRM contacts to run ads just to these contacts.

Custom Targeting
Create your own audiences based on custom combinations including location/geography, job title, company size, industry, skills, even company name.

Website Retargeting
Advertise to the prosects who have been looking at your website or particular pages/sections of your website.

Lookalike Audiences
Expand your targeting beyond these options by letting LinkedIn create 'lookalike audiences', in other words they will find more people that are similar to the people you are targeting.

LinkedIn ads as part of your overall marketing strategy
Running LinkedIn ads alone, with no wider marketing strategy, is unlikely to give you the best results. We can help you develop a full sales and marketing strategy so that you can grow your business sustainably and consistently.

Increase sales by converting the leads more effectively
We work with business owners and sales teams to improve their sales and follow up processes and by making it easier for salespeople to close and convert leads into customers.



Free your time up
Is your time really best spent trying to learn and manage LinkedIn ads? To run LinkedIn ads effectively there is a lot of experience, as well as time required – time to configure the account, set up the campaign, create the ads, and to constantly monitor and optimise the campaign and analyse results.
LinkedIn Advertising FAQs
Which is better, LinkedIn advertising, Facebook advertising or Google advertising?
Each has merits, and it depends on your budget, your goals, and your target customer. LinkedIn and Facebook ads allow you to reach people who are not necessarily looking for your products or services, so are better for demand generation and awareness building. Google Ads allow you to be found for people actively searching for your products/services, so often the leads generated via this method convert better. Talk to one of our experts to discuss your options here, and we can advise you about which platform(s) would work best for you. You can also read more on our article 'Facebook Vs LinkedIn Vs Twitter Paid Advertising.'
How much do LinkedIn Ads cost?
LinkedIn Ad campaigns, like Facebook and Google can be capped so that you can control your spend, and work on either a pay-per-click or pay-per-thousand-impressions method. They do, however, involve a minimum spend of £8 per day – although if your ads don't attract enough clicks or impressions, your actual spend may end up being below that figure. Typical costs per click range from £1.50-£8 per click depending on the audience and targeting choices, which tends to be higher than either Google or Facebook – although the targeting options are better for B2B companies. Find out more in this article 'Should I Pay For LinkedIn Ads.'

Should I Pay For LinkedIn Sales Navigator?
LinkedIn Sales Navigator is a paid-for service which LinkedIn offers, aimed at B2B salespeople. It is particularly useful for salespeople who have a small number of 'key accounts' they want to target, as it allows you to identify and message people who you are not otherwise connected with, as well as getting updates and alerts about a select number of companies. So for certain people, it IS worth it although you'll need to actually use it, so we recommend starting with the free one-month trial period first. Read more in this article 'Should I Pay For LinkedIn Sales Navigator.'




LinkedIn Advertising Formats
LinkedIn offers a range of different ad formats, as well as standard ads where prospects click through to your website, there are many other options including:
Lead generation ads
These ads are fantastic if you want to get sign-ups or have your prospects fill out a form. Rather than ask people to click through to a page on your website, your ad can include a LinkedIn form, which will get auto-populated from LinkedIn's data – meaning all your prospects have to do is click 'submit'.
Video ads
Videos which auto-play in the feeds of your prospects get fantastic engagement and can quickly convey powerful sales messages.
LinkedIn 'InMail' ads
Send targeted LinkedIn messages to your target market, reaching their LinkedIn 'Inbox' as direct one-to-one messages.
Website insights
Using the LinkedIn 'pixel' on your website, you can get insights about the people who visit your website including job title, company size and industry, skills and much more.
The ULTIMATE
SOCIAL MEDIA SOCIAL WORKOUT
This 20 minute workout is a simple daily regime that you can use to start seeing more results from Facebook, Twitter & Linkedin. In this guide, learn more about:
>> How to get new followers
>> When to schedule your posts
>> How many posts to schedule
>> Who to follow on social media
>> Trends/hashtags in Twitter
JDR Group: More Than Just A LinkedIn Advertising Agency
If you are considering LinkedIn advertising and LinkedIn marketing, then you'll want to increase awareness of your business, get more leads and enquiries, and increase sales.
The fact is, to achieve these things, you may need more than just LinkedIn ads, and we can help.

Our Six Step Marketing System
Over the past ten years, we have created a comprehensive 6-step sales and marketing system which we use and follow in our own business as well as with many small and medium sized businesses around the UK.

GET A CLEAR MARKETING STRATEGY
We can help you develop your messages, your USPs, your branding and develop a wider marketing strategy including your website, SEO, email marketing, lead generation and more.

GET AN EFFECTIVE SALES STRATEGY
We can help you improve your sales systems and processes to convert more leads and enquiries successfully.

WEBSITE DESIGN & DEVELOPMENT
To get the best results, you may need to develop, improve or even redesign your website – this is something we can do for you.

CONTENT CREATION
We write articles, guides, eBooks and blogs for a wide range of different businesses in a variety of different industries, as well as creating videos, and visual content (like infographics). We can create content for your business too – so you can have this content 100% 'done for you'.

CRM
It's vital not to let a single lead slip through the net, and also to track how every lead is dealt with – this requires a good CRM system and it to be used effectively by you and/or your salespeople. We advise business owners on cost-effective (often free) CRM systems, and set up and implement CRM for them as well as providing training so that you and your team actually use it effectively.

FOLLOWING UP LEADS
Not all leads will buy straight away, you'll need to follow up effectively and persistently in order to get the best possible results from any lead generation activity and marketing investment. We can help, with use of CRM system, but also email marketing, retargeting, and using automated follow up systems using marketing automation software.

MEASUREMENT & TRACKING
As a client of JDR, you'll know where every single lead, enquiry and sale has come from, so we know which marketing efforts are working and which ones are not. We set up systems to track inbound phone calls, emails, form submissions and online transactions/sales via your website, and then to track what happens to every new contact past the initial enquiry or purchase.