Get Consistent, Measurable Results With A Complete Sales & Marketing System
We are often asked: 'what's the one thing we should do to attract more customers?'
The answer is simple: there isn't one.
There is no single tactic or strategy that will transform your business - what you need is a SYSTEM.
JDR's 6-step sales & marketing system is the product of more than 18 years of experience running marketing campaigns for small and medium sized businesses.
The Complete, 6-Step Marketing System:
The Foundation - An Effective Website
Your website is your single most important marketing asset, and will be used by prospective customers, existing customers, potential and existing employees and partners/suppliers.
Almost all your sales and marketing activity will result in people going to the website first before they contact you, and if your website doesn't work well, all of your marketing becomes less effective and more expensive. Your website can also be a saleable and valuable business asset that adds value to your company.
At a minimum level, your website should look credible and professional, and be built on a content management system that makes it possible to easily update and change the layout and content including adding new pages.
So while we look to work with your existing site if at all possible, it may be that we need to build a new one in order to get best results from your marketing.


Step 1: Strategy & Planning
A strategy is the foundation of any good marketing campaign, and as with the building, the deeper and stronger that foundation, the bigger the building.
Lack of strategy and planning is the main reason why marketing campaigns fail. If you want to get a return on investment from marketing, you need a clear, well thought out strategy.
Step 2: Consistent Content Creation
Publishing regular articles and content is the most reliable way to grow website traffic in a sustainable, long term way.
It improves your website's search engine rankings, helps you get found for more and more keyword searches in Google, builds your credibility, and establishes you as the expert and as the 'go-to' business in your field.


Step 3: Increase Website Traffic
Relying on one major source of traffic is risky – we believe in building multiple streams of traffic to your website. With multiple traffic sources you have more stale, secure results and you also benefit from prospects seeing you in several places.
Our team of SEO, pay-per-click, social media and email marketing experts can ensure you get found by your ideal customers.
Step 4: Convert Visitors Into Leads
Just having a nice website and sending traffic to it might get a response but it won't be enough on its own to ensure your marketing gets a return on investment.
There has to be a conversion strategy for your website visitors, so that you get the highest possible number of leads, enquiries and sales.
Step 5: Convert Leads Into Sales
Busy salespeople and directors often only deal with the most urgent/interested prospects or opportunities, and when they do, it is usually with no defined sales system or process.
Improving follow up and your sales process has a direct benefit on your bottom line and makes every form of marketing you do more effective.


Step 6: Test, Measure & Analyse
With all of our clients we set up systems to track where your website traffic comes from, where every single lead, enquiry and sale comes from and what happens to every single lead and enquiry.
This allows us to see what is working and what isn't, and as part of any marketing campaign we run tests - and analyse and measure the results for you.
WATCH: THE JDR GROUP 6-STEP SYSTEM
A Proven Marketing System
This marketing system shows proven results, indeed a study of the average results after 12 months shows you will get:
A 191% Increase in Website Traffic
A 654% Increase In Leads/Enquiries Per Month
Watch the video below to see some example results and you can also read our case studies here.


Tailored To Your Needs, Your Goals and Your Business
Every business is different, and we know you'll need a marketing programme that is tailored to your needs. When planning a marketing programme, we factor in your website, your existing resources, your in-house team and capabilities, your marketplace and competition and much more.
Over the course of 14 years we have worked on hundreds, even thousands of marketing campaigns - ranging from traditional outbound campaigns (telemarketing, direct mail, events etc) to modern inbound techniques (SEO, content, social media etc). In the past two years we have developed something which goes beyond a campaign, or individual marketing tactics - we've developed an entire system for sales and marketing that helps businesses grow.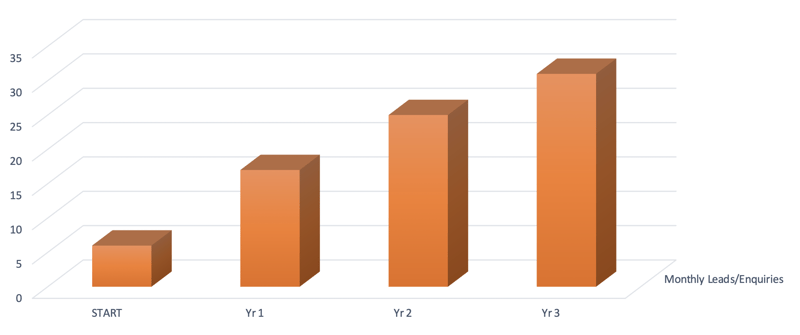 When people are considering working with us, the main question is 'what results can I expect?'
In the marketing industry, false hopes are a problem - marketing agencies often over promise, which leads to customers becoming disappointed and even disillusioned with marketing as a whole.
At JDR, we try to paint a realistic picture and also to avoid making specific forecasts - but we can share examples of other clients' results. We do this through our marketing case studies, but in this article we can share the average results that our customers get - and even track these results over a three year period.


The Definitive Guide On
How To Attract, Win, Keep & Grow Customers
In this guide, you will learn about the latest marketing strategies and how they can be used to help you reach a wider audience. You'll also learn how to attract customers, how to win customers and how to keep them forever! Download your FREE copy and find out more about:
>> Strategy & planning
>> Raising your online profile
>> Turning website visitors into enquiries
>> Turning enquiries into sales
>> And much more!