A Long Term Vision For Your Marketing:
In the long run we can help you develop a marketing strategy, introduce you to new technology that will give your business the edge on your competition, and we can ultimately be an entire marketing department for your business.
Our long term goal will be to create a marketing system for you that is:
Fully measurable - so you know what does and doesn't work in your marketing


Consistent - you achieve predictable results that see your website traffic, number of leads and number of sales grow month by month over a sustained period of time


Long lasting - you will be investing in marketing assets that you OWN which will be profitable for years to come - your website, your social networks, and your email database.
The Inbound Marketing Strategy Blueprint Report - What's Involved?
Watch the video below to see what is included in these reports...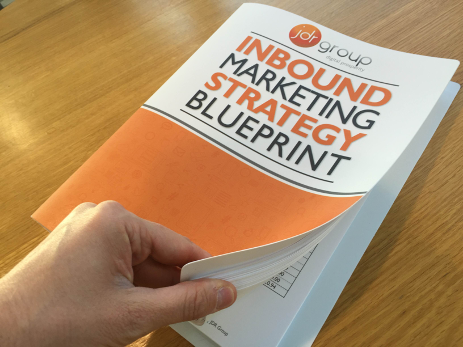 Your Blueprint Report:
The Inbound Marketing Strategy Blueprint Report is your chance to get a full review of your website, your marketplace and the opportunities ahead of you as well as clear recommendations for you presented in a full 'Blueprint Report'.
The document will be yours to keep (we'll give you a physical copy as well as PDF version) and we will present the key findings in a 3-4 hour consultation with one of our strategists.
What The Report Includes:
It includes the following elements:
Competitor Analysis - What can we learn from the other businesses in your industry?


Google Analytics Review - How are people using your current website and where are the quick wins?


Keyword Research - What are the best keywords in your industry, and where do you rank for those keywords?


SEO Review - How effective is the SEO work done on your website so far?


Website Recommendations - What practical changes can you make to improve results?


Content Recommendations - How can you create consistent compelling content?


Social Media Recommendations - What should you be doing on social media to generate leads?


Paid Advertising/PPC Recommendations - How to use PPC effectively


Technology Recommendations - What software would help you track your website visitors and automate your marketing best?
The Investment
The investment for this first step is £1495 + VAT, paid up front. It is worth confirming that there is absolutely no obligation beyond the initial report - you will get great value from the report regardless of whether you continue to work with us beyond this first step.
Enquire About The Sales & Marketing Strategy Blueprint Report