Sharpspring is a marketing automation platform which provides three things:
It combines several sales and marketing tools into one programme
It enables business owners to be able to measure the results of their marketing and track the entire customer journey
It has automation capabilities which enable us to create automated email workflows which can put follow up, cross selling and lead nurturing on autopilot
Features include:
CRM system (as well as integration with popular CRM systems including Salesforce)
Automated workflows
Website and campaign analytics
Google AdWords integration
Landing pages
Blog & social media publishing
Email marketing (including automated emails)
Shopping cart integration (for E-commerce websites)
Reverse IP tracking
Unlimited users
Forms integration
API & integrations with many commonly used SAAS products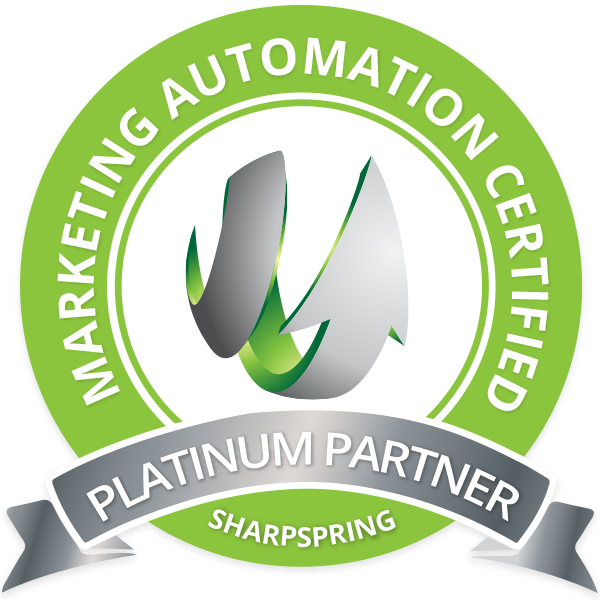 Why choose Sharpspring vs HubSpot vs Infusionsoft vs any other marketing automation software?
The key points about Sharpspring are:
No contract – work with them on a rolling monthly basis (and pay monthly)
No huge increases based on contacts – so you can grow your database without significantly increasing your software budget each year
Excellent email marketing capabilities
Excellent E-commerce capabilities
More cost effective
JDR Group has worked with Sharpspring since 2015 and are a certified UK partner agency. This means to you that:
We have practical experience of the platform, across many clients in different industries – so we know how to deploy it to get the maximum results for you.
We are able to set up, configure and provide training on Sharpspring for you and your team.
We have access to additional resources with Sharpspring to help you get the most out of your marketing campaigns.
We have access to exclusive pricing which is not available by going to Sharpspring directly.
The Defenitive Guide On
How To Get Customers Coming To You
Marketing has changed but has your marketing strategy adapted? How can you attract your ideal customers… without having to chase after them? In this guide you'll learn:
>> Why your buyers have CHANGED - and what to do about it
>> How to generate leads and enquiries from your website - even while you sleep!
>> How to build a loyal following of prospective customers that know, like and trust you
>> How to build an automated pipeline of enquiries that will grow your business in a measurable, predictable and consistent way
>> How to position your business as the EXPERTS in your industry
Sharpspring Agency Services
Sharpspring, like any marketing automation software platform, is just a tool. To get results, what matter is how the tool is used – that's where JDR Group come in.
Effectiveness of marketing automation typically fails when:
Companies don't have the time to learn the software (it takes hours and hours of tutorials and training sessions just to master the basics!)
Lack of experience/know how with the tool and how to use it
Lack of time or resources to invest in the marketing activities required to get the most out of the software
Slow adoption from salespeople (with the CRM)
As well as the experience with Sharpspring as a platform, we also have a proven 6-step marketing system which includes:
Creating regular content to make your website useful and interesting to potential customers
Significantly increasing traffic to your website
Converting more leads and enquiries
Using automation to follow up and nurture leads
Optimising sales processes to increase sales
Measuring every element of the sales and marketing funnels
You can hire JDR Group as your marketing partner, and using Sharpspring get access to a dedicated team of writers, designers, developers and digital marketers working to help you.
It is our business to grow your business – we want to make your marketing more measurable, more sustainable and more effective. With partners like Sharpspring and others, we have all the marketing tools you need.