How Has Leaving Wordpress Helped JDR? A HubSpot CMS Review & Case Study

In September 2020 there was a worldwide cyber security attack which affected several WordPress websites which we manage. This was part of a global hack attempt which affected over a million websites. It was the scale and complexity of this attack which led us to stop building new websites in WordPress. Whilst we no longer recommend WordPress as a website platform, we wanted to share with you a highly secure alternative that is the HubSpot CMS (to find out more read our article about how HubSpot CMS compares with WordPress).
JDR have been a HubSpot Partner since 2012, and have used their marketing, CRM and sales software extensively over the years in our own business as well as with clients. So when we were looking at our next website design, building on the HubSpot CMS platform was the obvious choice.
The move from WordPress to HubSpot should have a significant impact on your website traffic and your wider business operations – it did for us here at JDR Group.
We will show you what the migration from WordPress to HubSpot means for us and how that impacted on how we do business.
How has leaving WordPress helped JDR? A HubSpot CMS Review & Case Study
JDR Group's new HubSpot hosted website went live in February. Since then we have seen better SEO results, increased traffic and more enquiries.
What is this improved performance down to? Watch the video below to see behind the scenes of our HubSpot CMS website, and read on for 5 key benefits of the HubSpot CMS:
1) Site Speed
Our HubSpot website is now loading faster than ever before, whereas with WordPress it was notoriously slow. As mentioned before, site speed is a big factor impacting SEO rankings, and a key bonus is the ability to manage and edit SEO directly inside the HubSpot platform.
2) User Experience
Secondly, we were able to create a fantastic user experience by easily creating a diary link to embed onto our service pages and homepage. This super streamlined process meant that we were getting excellent enquiries from people who were wanting to book meetings with us. By turbo-charging the meeting booking process – a customer need not make phone calls or wait any longer – the client was able to schedule a time that works for them in just a few clicks.
3) Reporting & Analytics
The reporting function of a HubSpot website is a key benefit which has given us laser-focused clarity on the performance of our website and activity of clients. With HubSpot's reporting and analysis tools, we were able to dissect page metrics including views, form submissions and new leads.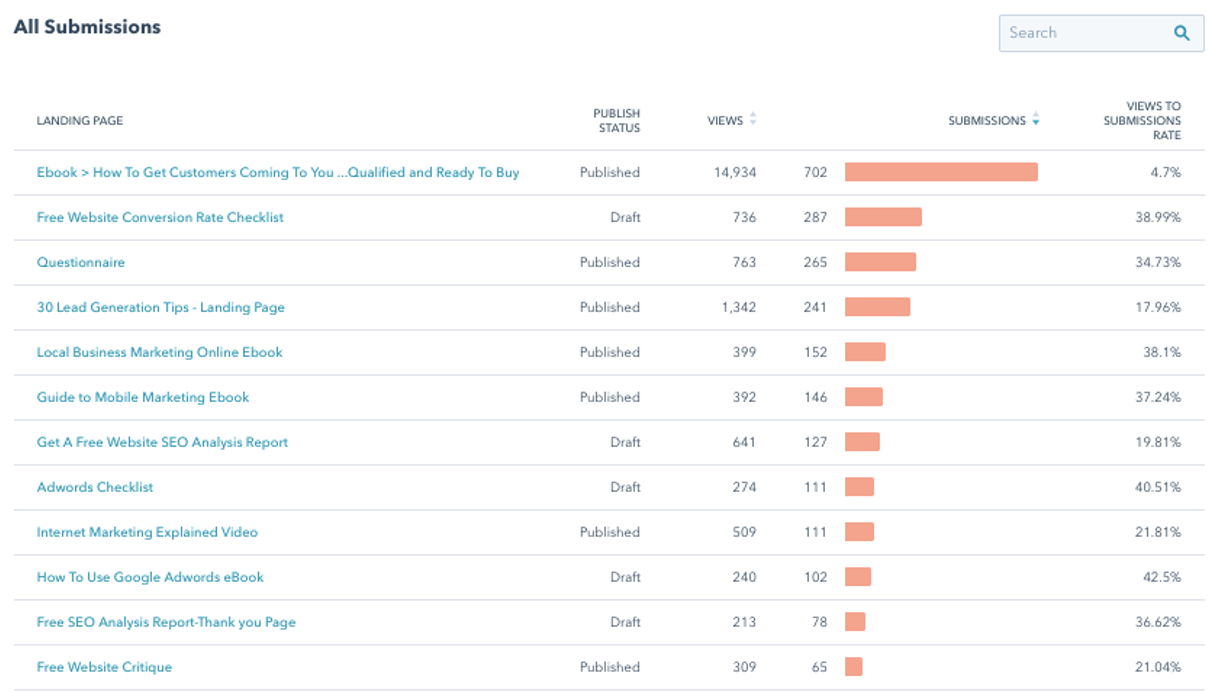 The highly intuitive HubSpot website platform connects to CRM data, which means we were able to track not just views, but the number of conversions, new contacts and ultimately how many of this new contacts sub-set converted to new customers. By viewing this granular data, such as seeing which keywords were being used to find the JDR Group website, we were able to drill down to see what exactly it was, that was driving performance. This cannot be done on Google Analytics.
4) Testing & Continuous Improvement
On the HubSpot website platform we have the ability to run tests on landing pages. We were able to maximise virtual footfall by ascertaining which pages work best. So, for example, we created two versions of landing pages to see which page layout worked best to get the highest conversion rate. In doing this, we were able to view results over a specified period to see the difference in submission rates between two test variations. When we studied the results and saw a comfortable winner, we were able to set out our landing pages in the more popular way to attract more customers. Without the ability to AB Test, it was really hard to ascertain which was the better option, so we were able to drastically improve our conversion rate through this method.
This AB Test feature is not limited to landing pages; you can also split-test Calls-To-Action (CTAs). For example on the JDR Group website, you will see a number of CTAs around the website.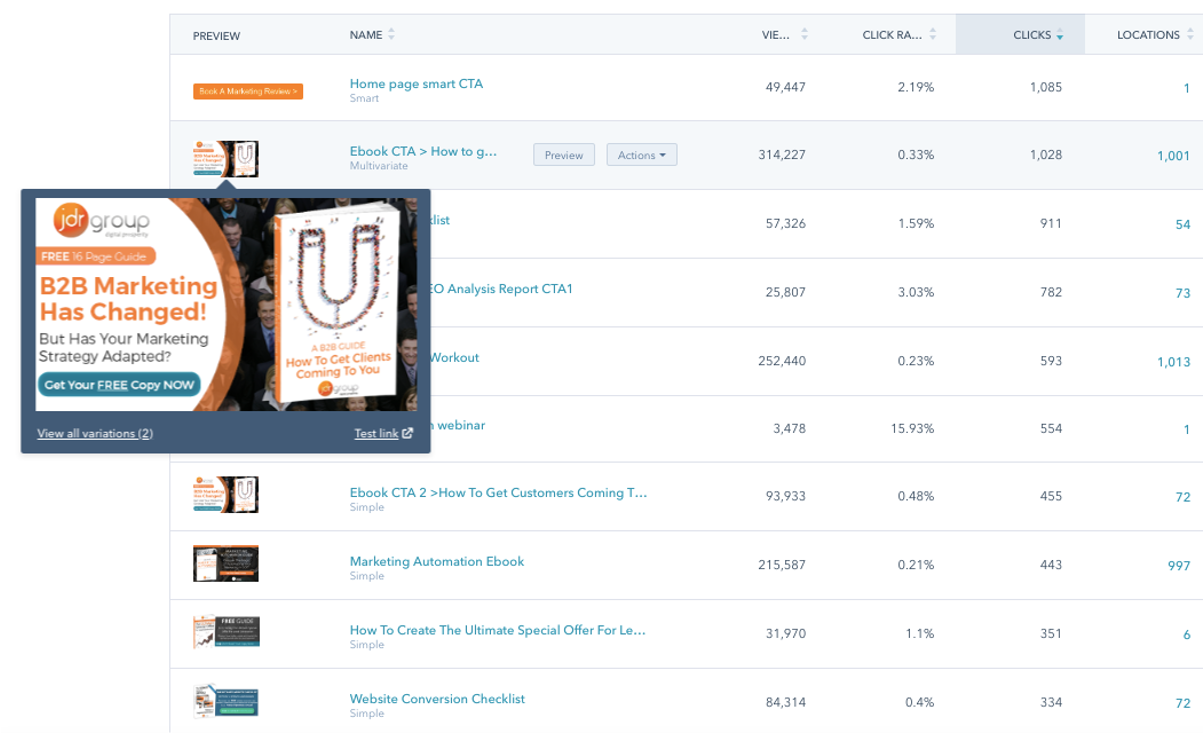 These have been strategically placed and intuitively change dependent upon who is looking at the CTA, based on what we know about them from our CRM system. A CTA changes for a website visitor dependent on whereabouts they are on their Buyer's Journey; if they're an existing lead on our database, instead of getting them to download a guide, we want them to book a call with us, because we already know they're a lead in the system. If the web visitor is an 'opportunity', we want them to read our case studies, which is the next step of the Buyer's Journey.
By showing different CTAs to different visitors based on what we know about them from HubSpot is a brilliant, innovative marketing strategy which continues to bring consistently great leads.
5) Easy To Update, Edit & Amend
Now that we're on HubSpot, we never have to move platform again, because HubSpot's underlying technology is conveniently being updated and upgraded all the time. We are able to update our website aesthetics, yet we will never have to undergo another website rebuild.
One HubSpot characteristic that we most value is the ability to make changes quickly and easily to our website.
You do not have to learn how to code to use HubSpot.
You do not need to have developer skills to use HubSpot.
You do not need graphic design skills to use HubSpot.
You can edit numerous elements of a web page in minutes including URL, SEO (and get SEO recommendations), headline, copy and hero image all by way of the nifty drag-and-drop feature. You can even insert new modules such as adding new forms, new videos, new buttons and much more.
HubSpot makes it unbelievably easy to make your website agile, up to date, and anyone can do it.
HubSpot has eviscerated reliance on a web-designer to make changes, because you are able to do this yourself in minutes. You are empowered to make changes when you want and with ease – perfect for the changing nature of your business in a post-pandemic world. The only constraint is your imagination and creativity because HubSpot puts you firmly in control.
How many times have you redesigned your website over the years?
A business can expect to redesign its website every 3-5 years. Is your website due a redesign?
There are many reasons you might be looking into redesigning your website. Firstly, it might just be website fatigue, in that you are bored of your tired website which you feel needs a refresh. As you type in your website address, do you dread the page loading because you expect to see the same old colours, in the same old font, in the same old place? When the familiar becomes tediously boring, then the time is right for you to decide on a full website refresh.
Find out more about our web design services by visiting our website design page - and you can also download a free website conversion rate checklist.
The Google Core Update
Perhaps you have heard about Google's Core Updates? Google's staggered release over two months means that the June 2021 Core Update is currently rolling out, whilst the July 2021 Core Update is scheduled for next month. The Page Experience algorithm update is a ranking factor whilst the Search Performance report in Search Console can now filter pages with a good page experience.
This means that amongst other factors, websites that are optimised, that load faster with swifter page-load speeds, and which provide a better user experience will rank higher in search results. Therefore, wanting to maintain marketing momentum for your business and not be severely impacted by Google's Core Updates might be a key driver for you to explore a full website redesign.
The Move To Cloud-Based/SAAS Website Platforms
A course of action you need to contemplate is building your website on a Software As A Service (SAAS) platform such as the HubSpot CMS. In migrating away from an older platform like WordPress and onto HubSpot, you can enjoy a hosted platform that has a robust build with myriad SEO and marketing benefits.
You might have reservations about leaving WordPress and migrating onto HubSpot. These may possibly centre around concern that the transition will not be smooth, and that it is easier to stay with your current WordPress platform because "it can't be that bad".
Google Core Updates are happening as we speak. You can adapt your website and embrace changes implemented by Google, and we are here to support you.
Find Out More About How JDR Can Help
Over the past 15 years we have developed a marketing system designed to help you get more leads, build and market to a database and, ultimately, get more sales.
To start the ball rolling, you can book a 30-minute online meeting with one of our experts or request a free review of your marketing with our inbound marketing audit.