HubSpot Free Vs MailChimp Free: A Side By Side Comparison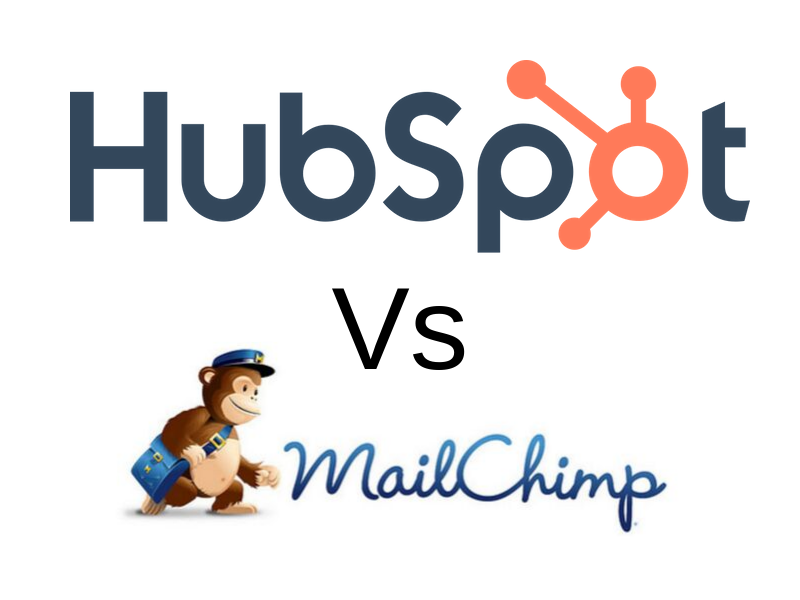 But HubSpot also have been improving the free version of their marketing platform, which is loaded with features and allows small business owners to get started with CRM and email marketing at no cost – and many small business owners will be faced with a choice between these two free 'all in one' marketing platforms.
So, how do MailChimp free and HubSpot free compare in terms of capabilities and limitations?

Email Marketing
| | | |
| --- | --- | --- |
| | MailChimp Free | HubSpot Free |
| Monthly emails | 10,000 | 2,000 |
| Email templates | Content studio with a few basic, modifiable email templates. Email designer tool available. | A wide selection of free email templates for marketing, sales and customer communications, with an easy 'drag and drop' email design interface. |
| Email automation | Single email automation function. Multiple email sequences and behaviourally triggered auto responders are not available in the free version. | Paid versions allow you to create personalised email sequences, workflows, and drip feed marketing campaigns. Some basic email automation is coming soon into the free version. |
| Delivery optimisation | Schedule emails and social media posts at a time of your choosing. Send time optimisation and delivery by time zone are only available with premium packages. | Scheduled delivery times for all your content. Receive real-time updates when prospects open your emails and access your content. |
| Branding | All emails include a MailChimp-branded footer, which cannot be removed on the free version. | Set up and update personalised branding from your HubSpot account. Emails automatically include a 'sent by HubSpot' message in the footer. |
| Reporting | Basic reporting for metrics such as click through's, open rate, unsubscribe requests and bounces | A good selection of engagement-based reports drawn from prospect behavioural triggers. |
Marketing CRM
| | | |
| --- | --- | --- |
| | MailChimp Free | HubSpot Free |
| Contacts | 2,000 | Up to 1 million contacts |
| Tracking Sales | There is currently no way to track sales in Mailchimp. | HubSpot is a fully formed CRM system complete with 'Deals/Opportunities' that allow business owners and salespeople to track and manage their sales pipeline, logging the progress and amounts of every sales opportunity. |
| Customer Service | There are currently no customer service features in Mailchimp. | HubSpot has a 'tickets' tool, allowing users to create and track the progress of all customer queries. |
| Mobile App | Mailchimp's free mobile app allows you to manage email campaigns on the go. | HubSpot's free mobile app gives you access to your entire contact database from your phone – make calls, log activity, create tasks and add notes to contacts on the go. You can also access reporting, live chat, and your sales pipeline from the app. |
| Live Chat | Not avaliable. | HubSpot has live chat, and also automated chat bots available in the free edition. |
| Tasks | Not available. | HubSpot's CRM allows you to create tasks for individual contacts or companies. |
| Email integration (Outlook/Gmail/365) | Not available. | HubSpot has email integrations, allowing you to record emails from your inbox to the CRM, track email opens and save time by using saved email templates and snippets within your inbox. |
| Meetings/Calendar integration | Not available. | HubSpot allows you to connect with a 365 or Google calendar and send prospects a 'meeting link' where they can schedule time in your calendar. It also allows you to send calendar invites for meetings within the CRM. |
| Saved documents | Not available. | HubSpot allows you to upload sales documents, making it easy to add them to sales emails and track when the documents are opened. |
| Activity Feed | See a timeline history of email activity for each contact. | See a timeline history of email activity, but also sales emails, sales/pipeline events, form submissions, website pages visited and even the original source of the visit to your website (Google Ads, Facebook, etc) |
| Company Details | Not available – Mailchimp has contact details only. | HubSpot allows you to create records for both contacts and companies. |
| Lists/Segmenting | Database can be segmented using custom criteria, tags, behavioural tracking or contact rating | Very extensive segmenting and tagging based on custom fields. |
| Demographics/Properties | MailChimp Free allows you to create simple contact profiles with a range of useful demographic information. Limited customisation options included with the free version. | Populate your contact profiles with a wide range of demographic data over hundreds of potential fields. Use HubSpot's pre-set fields or create your own. |

Landing Pages & Websites
| | | |
| --- | --- | --- |
| | MailChimp Free | HubSpot Free |
| Website builder | No website builder at present. | HubSpot has an advanced website CMS, which is available as a paid product. |
| Form builder | Intuitive form building tool with customisable drop-down boxes, data fields and buttons. Personalise your forms with standard or personalised images. Pop-up and embedded forms supported. | Free customisable form builder that connects directly with your contact database. This includes embedded forms, customisable pop up forms and live chat. |
| Landing pages | No landing page designer, but MailChimp does integrate with other landing page and web development tools. | Landing pages are coming soon to marketing free, which will include a drag and drop design feature. HubSpot also integrates with many common landing page tools. |

Analytics
| | | |
| --- | --- | --- |
| | MailChimp Free | HubSpot Free |
| Reports | Email marketing reports are available. | There are four customisable dashboards included including sales, customer service, marketing and website analytics. HubSpot's web analytics means you can track the source of all new contacts, and monitor their activity on your website, as well as getting website analytics information including visitor numbers, locations, bounce rates and more. |
| Reverse IP tracking | Not available. | HubSpot's 'Prospects' report shows you companies who have visited your website, allowing your salespeople to identify new prospects/leads. |
| Company insights | Not available. | Draw on HubSpot's database of more than 20 million businesses to automatically update your contact profiles with sales insights and suggestions. |
| Testing | No A/B or multivariate testing with free version. | A/B performance testing for emails and landing pages are also available only with the paid versions. |

Usability & Customer Support
| | | |
| --- | --- | --- |
| | Mailchimp Free | HubSpot Free |
| Users | One user with full permissions. Additional users and varied user roles/permission levels available on paid accounts. | Set up unlimited users with defined roles and permissions. Users can be set up individually, or by uploading CSV file or user records from Salesforce. |
| UI | Easy UI with no programming or technical expertise required. Free mobile app accessible from android and iOS devices. | Responsive, straightforward UI that can be learned by new users within a few hours. |
| Resources | An extensive online knowledge base. | Online HubSpot Academy with hundreds of useful tutorials, articles and videos. There is also an active online community of developers and users at https://community.HubSpot.com |
| Email support | Free for 30 days | N/A |
| Online chat support | N/A | N/A |
| Phone support | N/A | N/A |

Third-Party Integration
| | | |
| --- | --- | --- |
| | Mailchimp Free | HubSpot Free |
| Integrations | Over 200 third-party integrations | Over 300 third-party integrations |
| WordPress | Good contact form plug-in for WordPress, compatible with your MailChimp CRM | Easy integration via the HubSpot WordPress plug-in. |
| Admin & customer service software | Unknown at present | A wide variety of event management, helpdesk, accounts and remarketing programs |

Our Verdict
For sole traders, contractors, blog owners and start-up SMEs, MailChimp Free provides a straightforward marketing platform – albeit one still heavily weighted towards email marketing. MailChimp's expanded marketing tools are still in their early stages of development and most are accessible only to paying customers. However, with a MailChimp Essentials subscription starting from only £8.15 per month (charged $9.99 in US dollars), many businesses will no doubt see the benefits of upgrading. Furthermore, the MailChimp website announces that further website features will be 'coming soon'. This will add extra versatility and value to an already impressive system.
Despite this, HubSpot Free offers a more extensive range of tools and features than MailChimp, especially for business to business customers and for businesses who need an effective CRM system. Once established on HubSpot, it is also easy to upgrade in order to access the more advanced sales, marketing and customer service features – the 'scalability' factor with HubSpot is far greater than with Mailchimp.
The major reason we recommend HubSpot over Mailchimp is that it allows you to track where your leads are coming from, and what happens to those leads – this allows you to measure the effectiveness and return on investment from all of your marketing activities.
At JDR, we use several all-in-one marketing platforms to achieve the results our clients need. HubSpot is one of them, but we also sometimes recommend Infusionsoft, SharpSpring and others. If you are a start-up or small business and would like to discuss your options with one of our advisers, please call 01332 343281 today.
Need Help With HubSpot?
JDR Group are UK HubSpot Partners, and can provide HubSpot CRM Implementation and HubSpot Sales Enablement services.
Find out more here: HubSpot Partners