HubSpot Vs Sharpspring: Which Is Better For Marketing Automation?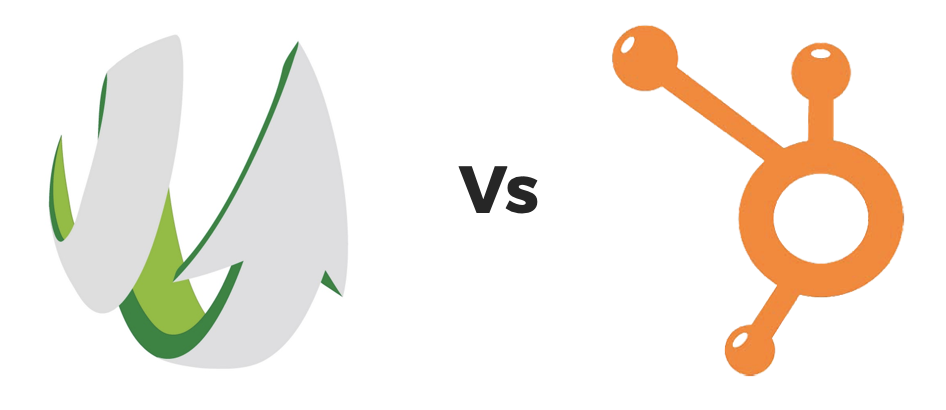 At JDR Group, we work with small businesses in the UK. We introduce them to advanced marketing automation software, which helps them:
Track and measure the results of their online marketing
Connects sales & marketing activity, closing the loop and allowing you to measure ROI from marketing
Automate follow up, lead nurturing, cross selling, up selling & email marketing
Identify website visitors - see who is visiting your website
Personalise your marketing - personalise emails and web content
There are many marketing automation software tools available, however we typically recommend either HubSpot (we are Platinum HubSpot Partners) or Sharpspring (we are certified Sharpspring Partners).
But Which is Better?
Let's start with the basics:
HubSpot
HubSpot is originally based in Boston, MA, in the US and were founded in 2007. They have offices in Dublin, Singapore & Sydney, are listed on the New York Stock Exchange, and have over 95,000 customers around the world. JDR Group have been a HubSpot Partner since 2013.
Useful resources:
Sharpspring
Sharpspring is based in Florida in the US, and were founded in 1998 (originally as SMTP). They are listed on the NASDAQ stock exchange and have 1500+ Marketing Agency partners around the world. JDR Group have worked with Sharpspring since 2015.
Useful resources:
Sharpspring is typically more cost effective and more flexible contract terms, but has fewer features than HubSpot which is a more complete, all-in-one marketing system with sales and customer service modules available too, as well as a website CMS system.
So let's look at what features & tools they have in common:
1) What You'll Get With EITHER Sharpspring OR HubSpot:
Forms - replace your existing web forms with HubSpot/Sharpspring forms to track the conversion stats of your web forms, and have new form submission contacts go directly into your CRM system including tracking the original source of that contact (eg Google AdWords, social media, etc) PLUS the pages on your website that customer has visited.
GDPR compliance - Both have robust GDPR policies and features enabling GDPR compliance.
Ongoing improvements & development - Both Sharpspring & HubSpot have development roadmaps where they are introducing new features on an ongoing basis.
Automated workflows - Create sequences of emails, tasks and reminders based on your customer/prospect behaviour with delays and if/then logic. This can include:

Automated lead nurturing sequences
Abandoned basket nurturing
Automated cross/up-selling emails - if customer X buys Y, then send an email about Z
Date based workflows - appointment reminders & follow ups, contract renewal reminders
Automated quote follow ups
Re-engagement workflows for old customers or prospects
Internal reminders or alerts

API & 3rd party software integration - Both platforms have established APIs and large networks of 3rd party integrations.
Lead scoring - Automatically assign or subtract points for contacts in your database based on interest/behaviour, fit/target market, and more.
Google AdWords integration - Connect your Google AdWords account to get campaign data and see which leads/sales come from which campaigns.
Mobile app - access your contact database, send emails and see your stats on the go with free mobile apps.
Campaign analytics - Track your offline ad campaigns, or specific digital marketing campaigns to see the ROI and analytics from each individual campaign.
CRM - Both systems have their own built-in CRM system, with opportunity pipelines, reporting, revenue tracking, account/contact notes and reminders, email integration, sales email templates, and saved files/documents.
Salesforce integration - Both systems integrate natively with Salesforce CRM.
Automatic detection of social media accounts based on email address - Whenever a new contact is added, any social media accounts associated with that email will be detected and brought into the CRM system.
Visitor tracking - Identify WHO is visiting your website. Contacts from your database will be tracked whenever they visit your website, and unknown visitors can be associated with known companies with reverse IP tracking.
Web analytics - Get website traffic data, traffic sources, page performance, bounce rate and more.
Email marketing - Send one off, automated and RSS-based emails to your entire database, selected segments or even individual contacts. Custom email templates can be designed using an easy drag and drop interface, and there are several available out of the box.
Lists/database segmentation - Create targeted segments within your contact database based on contact fields, web behaviour, and more.
Buyer personas - Add your buyer personas and automatically tag contacts accordingly.
Social media publishing - Create & schedule posts to multiple social media accounts from one place.
Social media monitoring/streams - Set up monitoring streams to track mentions of your brand, competitors, products or other keywords in Twitter.
Blog publishing - With both platforms you can set up your blog and publish articles.
Landing page publishing - Create landing pages designed for conversion, using pre-made templates or by creating your own.
Unlimited users - Add as many users as you want to have access.
User permissions - Add new users but control who in your team has access to what.
Contacts import/export - Easily import/export CSV files of contacts, opportunities and companies.
2) Features Which Sharpspring Has - NOT Available With HubSpot Marketing Professional
Below are 3 features/functions you will get with Sharpspring which are not available with HubSpot Marketing Professional:
Transactions & shopping cart integration - Sharpspring has a native shopping cart integration, which pulls through transaction data - adding revenue automatically to Google AdWords & Campaign analytics and allowing for E-commerce revenue reporting. HubSpot does have solutions for E-commerce, including a native integration with Shopify - but these usually involve a 3rd party connector.
Multiple websites - If you have more than one website, with HubSpot you'll need either multiple licenses or to invest in their Enterprise version. With Sharpspring you can track multiple websites with no additional cost.
Native forms - Using HubSpot means replacing your web forms with HubSpot forms, but with Sharpspring there is also the option of simply adding tracking code into existing forms.
3) Features Which HubSpot Marketing Professional Has - NOT Available With Sharpspring:
Below are a number of features which HubSpot Marketing professional has, which as yet Sharpspring does not offer.
Automatic company page creation - with HubSpot, if when a new contact is created (via a web form, added manually or by importing a CSV file) they have an email address with a company domain name, HubSpot will find the LinkedIn company page associated with that domain name and create a company record and automatically associate it with the contact. HubSpot will also import the industry, revenue, no employees, and company description for the company. This is fantastic for lead qualification and list segmentation, without having to add lots of form fields to find out this information.
Live chat - Live chat is a fantastic way to engage & convert website visitors - it is quick, conversational and direct.
Chat bots - The problem with live chat for small businesses is having someone on hand to man the live chat. With a chat bot you can automate the process and have your live chat available 24/7
Facebook messenger chat bots - Facebook Messenger is a direct way of communicating to your prospects in a medium where open rates and response rates are FAR higher than with regular email.
Lead revisit notifications - Get automatic email alerts whenever a lead who is assigned to you visits the website (this can be set up manually with Sharpspring but is not available 'out of the box')
Website pop ups - Subscribe & lead generation pop ups, if used well, can significantly improve conversion rates.
Landing page A/B testing - Split testing variations of pages is an excellent way to improve conversion rates. With HubSpot's A/B testing, you can test what affect offers, headlines, videos, and layout/navigation have on landing page conversion rates.
Calls to action - HubSpot's call to action (CTA) tool allows you to create 'Click here' style ads that you can place around your website and blog. The CTA tool then tracks the views and clicks of each of these calls to action, so you can see which ones are working.
CTA A/B testing - HubSpot allows you to test variations on a call to action, and split test to see which works most effectively.
Smart CTAs - You can also dynamically change the CTA your web visitors see according to who they are- based on list segmentation, device, lifecycle stage and more. For example, a first time visitor could see a CTA for a free whitepaper, an existing lead could see a CTA for a case study, and a qualified lead could see a CTA for a free consultation.
Personalised web content - With HubSpot you can embed 'personalisation tokens' within your blog or landing page copy - allowing you to welcome back known leads by name, for example.
LinkedIn ads - Sync your LinkedIn Ads account with HubSpot, and track your impressions, clicks and leads from within HubSpot. See which leads come from which campaigns, toggle campaigns on and off, and sync audiences from HubSpot to LinkedIn (allowing you to remarket to web visitors or contacts from your database on LinkedIn)
Facebook ads - Sync your Facebook Ads account with HubSpot, and track your impressions, clicks and leads from within HubSpot. See which leads come from which campaigns, toggle campaigns on and off, and sync audiences from HubSpot to Facebook (allowing you to remarket to web visitors or contacts from your database on LinkedIn). You can also create Facebook Lead Ads from within HubSpot and connect them to automated workflows.
Instagram publishing - post images and videos to Instagram.
Social media reporting - Track your follower counts, social clicks, web visits and interactions for each of your channels and accounts. Track the effectiveness of each individual social media post.
Email alerts for social media monitoring - Sharpspring has social media monitoring, but HubSpot has a feature allowing you to receive email alerts every time your company, competitors or certain keywords are mentioned on twitter.
Customer support tickets - Create support tickets to log every customer request - assign these tickets to the relevant member of staff and see which tickets are outstanding, as well as report on the effectiveness of your customer service with a 'Service Dashboard'.
Calendar meeting - HubSpot has a calendar booking feature ideal for internal sales people and customer service staff. You can allow people to see your diary availability and book meetings with you directly into your calendar, avoiding long back-and-forth email exchanges and making it easy for your customers and prospects.
Competitor reporting - HubSpot allows you to track your competitors on an ongoing basis - in terms of HubSpot Marketing Grade, Traffic Rank, MozRank, linking domains, and more.
Video hosting - Host videos on your blog posts and landing pages without using YouTube. Includes the ability to add CTAs & forms into videos, as well as getting video analytics to see how well your videos are engaging your visitors.
Video social posts & ads - Publish your video content to Facebook, Instagram & LinkedIn, and include it in Facebook Lead Ads - all from within HubSpot.
Sales email open notifications - Get alerts when prospects open your quotes, proposals or other important sales emails.
SEO strategy tools & Search Console integration - Plan your content around content topics, track domain authority, keyword search volume and integrate Search Console to see which keywords/topics are driving the most impressions and clicks.
Custom reports - HubSpot has a library of 'out of the box' sales, marketing, customer service & web analytics reports - but you can also create your own custom reports with HubSpot Marketing Professional.
Blog analytics - Track the number of views, CTA clicks and leads generated from each article to help evaluate the effectiveness of your content.
Landing page analytics - Track the number of views and conversion rates for each of your landing pages.
Team email - Track inbound enquiries who use your generic info@, sales@ or enquiries@ email address on your website & add these new contacts automatically into your CRM database.
SEO recommendations - When publishing blog posts or landing pages, HubSpot makes Yoast-like SEO recommendations and page best-practice recommendations.
Email best practice recommendations - When sending emails HubSpot will give you an optimisation checklist with recommendations.
4) Features Which Both Have - But HubSpot Do It Better
Sharpspring has all of the below features in common with HubSpot, but in our opinion, HubSpot's versions of these tools are better, more powerful or easier to use:
List segmentation - HubSpot's list segmentation is more intuitive, and more powerful than Sharpspring's. Sharpspring lists have to be rebuilt and refreshed whereas HubSpot lists update automatically. HubSpot also allows more date based segmentation, for example it is possible to create a list of people who did A THEN B - with Sharpspring you could only create a list of people who did BOTH A and B.
Workflows - HubSpot's workflows have analytics and goal conversion data, and can be stopped based on information from the CRM - for example a lead nurturing sequence can stop automatically when an opportunity is created.
Identifying anonymous website visitors - HubSpot have a tool called 'Prospects', which is a lite version of Lead Forensics, identifying known companies who visit your site. Sharpspring have a similar tool, but it is rarely able to identify companies other than large telecoms and IT providers.
Email syncing - HubSpot have a plugin for outlook and native integrations for Gmail and Office 365, and pulls in CRM data into your email client (so you can check a contact's timeline while composing an email to them, for example). It also allows you to track email opens, and easily insert documents and saved email templates and text snippets into your emails.
CRM system - HubSpot's CRM system is easier to use, faster and more intuitive.
Mobile app - HubSpot's mobile app is easier to use, and has more features.
Integrations - HubSpot now integrates with 200+ 3rd party software platforms and this is growing all the time.
Based on the feature list, you'd assume HubSpot wins every time - and in an ideal world, it would. However, Sharpspring is a better fit in many situations - if in doubt, chat to JDR and we can make a recommendation based on your business needs.
JDR Group are a HubSpot agency, we've worked with HubSpot since 2012 and are one of only a handful of Platinum HubSpot partners in the UK.