The Top 7 Marketing Automation Tools Reviewed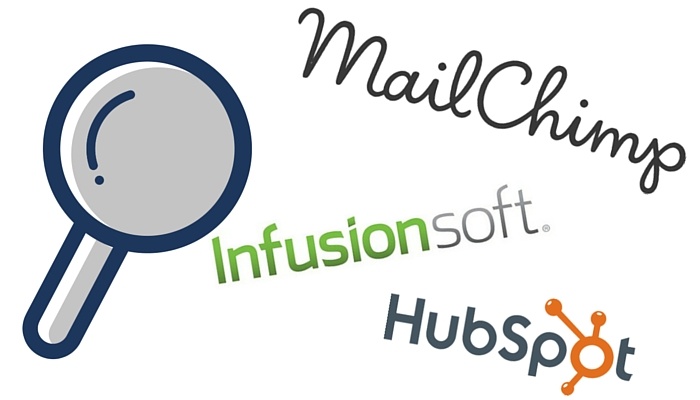 If you want to be successful in today's digital economy you have to be on top of your marketing efforts. This review article takes a look at some of the top marketing automation tools designed to ease your workload and free-up your time.
1) Hubspot
Since 2006 Hubspot has been assisting companies worldwide with their all-in-one marketing software platform. Hubspot has created a software platform that integrates marketing functions such as social media monitoring, website design, blogging, lead generation and conversion, search engine optimisation and marketing analytics. This entirely web-based application is a great fit for B2B companies, and works well with non-profit, e-commerce and franchises as well. Hubspot allows for integration with commercial and custom software, granting your company customisation of its platform. Additional benefits include an impressive suite of analytics, email marketing, web design features, and much more. As official Hubspot partners, we at JDR have completely fallen in love with this platform and are sure you will too, once you've given it a go. We've written a number of introductory articles on various aspects of the platform. A good introduction to what Hubspot is all about can be found here.
2) Act-On
Act-On uses a uniquely integrated suite of graphical design tools for email, web forms and landing pages , focusing on: lead generation, nurture marketing, lead tracking, scoring and transfer, and marketing analytics. This marketing software is easy to use and offers a simple and colourful two-dimensional user-interface. Campaign setup follows an intuitive flow that requires minimal training. Act-On's event and decision rule triggers allow for the targeted sending of perfectly timed automated marketing messages, appropriate to a prospect or customers stage of nurturing.
3) Pardot
Pardot is a marketing automation platform specifically designed for SMEs and specialises in B2B lead management. Its flagship product, Prospect Insight, performs the functions of lead acquisition, scoring, nurturing and segmentation, and includes performance reporting functionality. Pardot's pledge of "No-Hassle Marketing Automation" is aimed directly at the objectives and concerns of the SME's risk-averse buyer, and is backed-up with minimal contract requirements, complimentary set-up and a relatively low Total Cost of Ownership (TCO).
4) Marketo
Marketo is a process-driven automated campaign builder that provides users with greater flexibility for marketing needs, and scalability when looking to expand operations. This web-based marketing platform is designed for companies of all sizes and is aimed specifically at the formation and development of customer relationships. This suites' integrated application is used for a broad range of marketing automation, social marketing, website personalisation, budget management, and lead nurturing purposes, and includes sales insight and analytics. Bi-directional communication between Marketo's native integration with Microsoft Dynamics CRM and SugarCRM, allows your sales team to form a clear picture of leads within the pipeline and prioritise engagement accordingly.
5) Infusionsoft
Infusionsoft integrates marketing automation and customer-relationship management (CRM) functions into one neat little package. The system handles and automates your email campaigns, builds and generates leads, and provides lifecycle marketing plans. All this is done through automation with customer relationship management (CRM), email marketing, e-commerce and social media tools. Infusionsoft puts all your stuff in one central location, streamlining and automating your processes from one easy access point. Trying the demo or speaking to a sales rep is the only way to go about getting hold of this software which allows Infusionsoft to tailor a solution unique for your business.
6) MailChimp
MailChimp is great for those who are just getting started or those constricted by a limited budget. With strong analytical features through its integration with Google Analytics, insights into revenue streams for campaigns are easily quantifiable. MailChimp's use of interactive graphs make it easy to view email activity and allows for the comparison of performance stats against other email marketers within your industry. Its mobile application across both iPhone and Android platforms makes for ease of access when on the move, with all the applicable functionalities. The wealth of great resources provided by MailChimp will reduce your learning curve, while providing practical information about other email marketing topics.
7) Eloqua
Eloqua has developed a platform that is both broad and deep. The market leader in on-demand marketing automation solution for B2B and B2C businesses, Eloqua helps automate the core marketing processes. Including lead capture and lead scoring, list segmentation, and email marketing and reporting. Offering four different packages for SME's, Eloqua provides multi-channel marketing tools for email, print and phone campaigns, and has been found popular among technology, media, and professional services firms. Eloqua is compatible with both Mac and Windows, and provides out-of-the-box integration with Salesforce.com, Microsoft CRM and Oracle/Siebel CRM systems. No matter what line of business you are in, marketing automation tools are sure to prove themselves to be an irreplaceable asset once employed. Used correctly, marketing automation tools can become your greatest marketing ally, helping to produce the results desired by your business while at the same time taking care of your highly-valued customers and prospects.