How To Get A FREE CRM System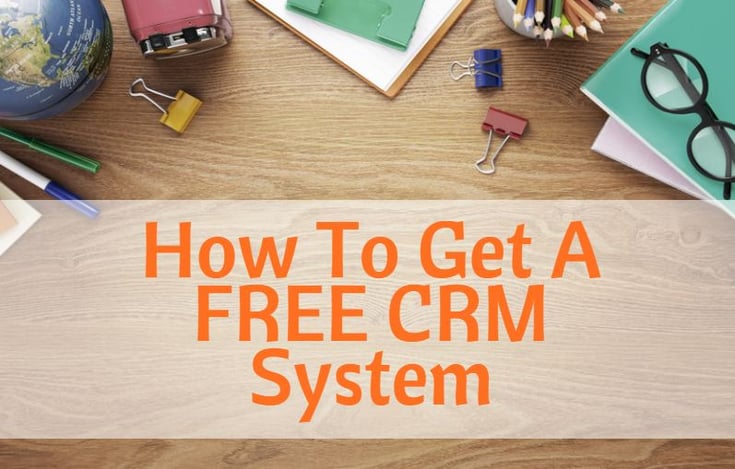 The best investment decision you can make for your business in the last third of 2017 is to get yourself a decent Customer Relationship Manager (CRM). There are many high-quality commercial systems available, although purchasing a licence for a premium package can be expensive. Fortunately, some of the big names in CRM software offer free versions of their apps, including many of the tools featured in the full package.
What To Look For In A Free CRM
Before you race ahead and download the first free CRM you find, set a few pointers to help you narrow your search. There are dozens of free CRM applications out there, and most of them aren't particularly good. Many so-called free packages are simply offered as bait to get users to subscribe to the full version, and have very few practical features of their own.
This is what we think you should look for in a free CRM, in order of importance. For each application, read the website thoroughly and check out a few independent reviews before you download.
Choose a CRM that has a user-friendly interface on desktops/laptops and mobile devices. A responsive UI that adapts to the screen you are using is preferable. Ease-of-use is your number one priority when choosing a CRM. Also check how many users are supported in the free version. Some apps may set low limits unless you upgrade.
See if you can find an application that comes with email marketing capability. This may be basic on a free application, but a CRM that integrates a marketing database with an email marketing platform is a huge bonus when managing your growth strategy.
For companies with a sales team, schedule management is an important tool. Find a CRM that allows you to schedule phone calls, meetings and follow-up communications with your prospects.
An important part of using a CRM, as opposed to a group of spreadsheets, is the ability to get a strategic view of your contact database. Choose a CRM with a variety of reports and data viewing options so you can drill down into your contacts and understand what your communications mean.
Not all free CRMs interface effectively with social media accounts. If you are an active social media user, you should look for a package that syncs automatically with your social media platforms. This will save you a lot of manual data entry.
Signing Up For A Free CRM: Where To Start
Here are some of the most popular free CRMs and where you can download them.
1) Hubspot CRM
Hubspot is one of the world's leading premium CRM and marketing automation applications. The free CRM is a useful, intuitive tool that allows you to manage your sales and marketing pipeline, log and automate sales activity and segment your contact database. Hubspot CRM is lightweight and effective, requiring very little training and coming with no obligation to sign up for the premium product.
2) Pipedrive
Pipedrive is a sales focused CRM with a great UI and a large number of useful graphical charts that help you understand trends within your data. Pipedrive's workflow function is easy to understand and helps you keep efficient tabs on conversions, sales meetings and conversations for different roles within your organisation. Available as a free trial version.
3) Freshsales
Freshsales comes with an advanced AI that gives it an edge over many free or trial applications on lead scoring and segmentation. The application ranks prospects in terms of number of contacts-points, appointments, inbound communication and likelihood of conversions. Other handy features include bulk email marketing tools, autoresponders, mobile app for iOS and Android, and integration with phone networks.
Using A Premium CRM With An Agency
Free CRM packages are great, but have you ever wondered what could be achieved with a premium package AND the manpower to take full advantage of it? A lot of businesses find they very quickly reached the limit of what can be achieved with a free package. At JDR we are official Hubspot partners, and offer managed access to the CRM for all our customers who sign up for one of our contracted business growth packages. It saves you the monthly subscriptions and the on boarding fee, while also giving you access to CRM specialists who know how to use all the tools and features to your best advantage. Give us a call to find out more.