Which Social Media Platform Is Best For Your Business In 2017?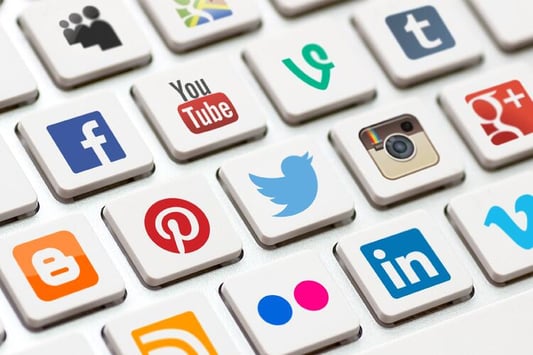 It's 2017 and social media is more popular than ever. In fact, by 2020, the number of people using some form of social media is expected to surpass 2.95 billion. That's around a third of the planet's entire population! The big social media platforms battle it out for popularity among users by adding new features and making their sites and apps as user-friendly as possible. However, almost everyone who uses social media has their favourite platform; a certain platform they use more than others.
Social media is vital for any business' marketing campaign. It really helps a business to use as many platforms as they can to reach as many people as they can. However, different businesses may benefit more from using different social media platforms. So, which social media platform is best for your business?
Facebook
Facebook is the most popular social media platform in the world. With over 1.94 billion users, it is hard to see how any business, providing they have a good marketing campaign, could not benefit from using this platform. Facebook allows a business to share photos and videos as well as text updates. It also allows for interaction between the business and users with comments, reactions, sharing and live video.
Furthermore, while Facebook gives a business so many options to interact with users, it is also very low maintenance. A business can simply post what they want to post and easily monitor how the users respond to them. Posts don't even need to be all that frequent, especially for small businesses, as frequent posting can be less beneficial to your business. Facebook is a great platform for any business to start on. However, some businesses may benefit more from using other platforms.
Learn more about Facebook with these great articles:
- 5 Reasons Why Facebook is Good for B2B Marketing
- How to Get Started with Facebook Marketing
- 6 Tips For A More Effective Facebook Business Page
LinkedIn
LinkedIn is perhaps the best social networking service for business-to-business type businesses. The opportunities created for businesses on LinkedIn are huge. Firstly, LinkedIn allows you to look at other business' company profiles and view their recommendations, reviews and experience before you get in contact with them. This can help you increase the numbers of reliable, trustworthy contacts you have. You can also increase the credibility of your own business by having these recommendations and reviews from others who have worked with your business including employees and clients.
Additionally, as with a lot of social media platforms, LinkedIn can be used as a tool to get more traffic going to your website. Not only can you provide a link to your website on your company profile, LinkedIn is also a perfect place to promote your products and services. You can even post job opportunities on your page which is more likely to attract highly qualified individuals who are right for the role. However, unless you have is a business-to-business type business, you may not reap the all the benefits from LinkedIn.
Learn more about LinkedIn with these great articles:
- LinkedIn For Business Tips – What To Post And When?
- 4 LinkedIn Lead Generation Tactics That Will Work For Your Business
- 10 LinkedIn Tips To Improve Your Business Lead Generation
Twitter
Twitter is fantastic for quickly connecting with others. Similarly to Facebook, Twitter allows users to post text updates, photos and videos as well as polls. In fact, in some ways, Twitter outdoes its opposite number in customer interaction. Many users will use Twitter to voice their concerns or share praise about a business and if your business is active on Twitter, you can reply to these people which shows you actually care about what your customers have to say.
One of the big selling points for signing your business up to Twitter is the opportunity for any one of your tweets to go viral. Simply put, if someone with a lot of followers on Twitter retweets one of your posts, all of their followers can see it and it could go viral. That would bring a lot of attention to your business and could lead to more customers. However, despite all this, if you just post about your business on Twitter, users may think you do only care about yourself. It is important for you to find interesting and relevant content to post which can be time-consuming. Other platforms can make posting engaging content easier.
Learn more about Twitter with these great articles:
- What Should I Actually DO on Twitter? 6 Tips for UK Business Owners
- Why Twitter is Good For Lead Generation
- How To Effectively Manage Your Business Twitter To Get More Leads
Instagram
Instagram is great for businesses in certain sectors. Not only does this platform offer more visual and artistic ways of promoting a business, it also helps more people to discover your business and almost rewards those that post frequently. A car dealership, for example, could post around 10 images per day, which could make it more likely for one of their images to be featured in the search and explore tab. Also, the users that would be most likely to see this would be those who have expressed an interest in that subject on the platform by liking and following people and businesses that post around that subject area.
There are downsides to this, though. Once a business does build up followers from posting a number of images per day, their followers are likely to expect that amount of content regularly. If the posts become less frequent, a business is likely to start losing some of the followers it has worked so hard to gain. Additionally, the platform itself is almost completely mobile, meaning businesses may not be reaching everyone they could. Instagram is certainly a great tool to have, but it requires a lot of time and effort to keep users interested.
Learn more about Instagram with these great articles:
- How To Start An Instagram Account That Actually Performs For Your Business
- 5 Reasons To Use Instagram Social Media Marketing For Business
- Why Should Instagram Be Used In Your Marketing Strategy?
Pinterest
Similar to Instagram, Pinterest is heavily visually orientated. Every post must be an image or video. However, unlike Instagram, Pinterest demands less maintenance and less post frequency. However, the time you might save on posting may be taken up by keeping all your boards organised and actually making sure your pins are in the right place.
Pinterest is a great tool to allow businesses to attract more customers through informative content. Guides and interesting facts, for example, excel on Pinterest because a lot of people use the platform solely to find that sort of content. This allows you to show your knowledge and catches the eye of potential customers. However, businesses in certain sectors would definitely benefit more from using this platform as there are certain categories, such as food, fashion and fitness, which are more popular than others.
Learn more about Pinterest with these great articles:
- A Beginners Guide: How To Create A Pinterest Page For Your Business
- 3 Things You Should Never Do When Pinning On Pinterest!
- 6 Pinterest Marketing Tips For Business Owners
Which Is Best?
So, we've spoken about some of the big social media platforms. Each has benefits and drawbacks, but which is best for your business? The fact is, each of these platforms excels in their own way and will have different benefits for your business. To use only one of these platforms would mean sacrificing some of the great benefits the others have and reaching fewer people. A business could consider any one of these social media platforms to be its most valuable social marketing tool and these are just a few of many, many social media platforms. The thing to remember though is that unless you have a clear strategy and an idea of what you are looking to achieve from social media marketing, you may just be doing it for the sake of it and wasting a lot of time.
Social media marketing can be very daunting for businesses. Luckily, there are digital marketing agencies, such as JDR, that specialise in social media marketing and can work with your business to provide engaging, relevant content to boost your online presence. Get in touch with our team to find out more about how we can help you find your feet in the world of social media marketing.