6 Tips For A More Effective Facebook Business Page
Your Facebook account can be used as a fantastic FREE marketing tool, which will help your business to grow by improving your online presence and developing your brand. Most importantly it will help you to build great relationships with your customers/clients which will improve your sales resulting in improved profits for your business - which is after all what all business owners want!
Many business owners make the mistake of thinking that all they need to do in order to build a good Facebook presence is create an account, then make the odd post here and there that contains statements like "Hey this is our business, we are the best, buy our products/services". But this is not the case!
In order to run a successful Facebook page it takes much more than the odd sales-driven post! Just like your website your Facebook page needs a marketing plan! You need to make your Facebook page interactive, interesting and informative!
I have put together 6 easy to follow tips that you should definitely include when planning your company's Facebook marketing plan.
1) Don't forget to post!

Once you have created a Facebook Page for your business, ensure you make it work for you by writing good quality posts at least three times per day - this will encourage people to like your page and will help you to engage with those that already have! Many business owners make the mistake of thinking that one post per week is enough. Please do not fall into this trap, to give your Facebook page a good chance of success it needs to have regular posts which will interest your followers and potential followers!
2) Engage with your fans
When people choose to engage with your page either by liking or commenting on your posts or images, ensure you always respond appropriately. Never leave a comment un-responded to, it may make your fans feel neglected or ignored and make others feel like it's pointless to interact with your page as they will never receive a response. To check your account for updates and un-responded comments click on the notification button which is on the left at the top of the your Facebook page. When you have a new notification Facebook will inform you by highlighting the notifications symbol as seen below.

3) Ask Questions
Ensure when making posts you ask your fans questions about your industry/speciality and ask them to ask you questions so that you can showcase your expertise! Asking your Facebook fans questions is also an excellent way for you to conduct market research and find out more about what your customers/clients wants from your business. For example a bakery could ask the following question, "We are thinking of launching a new selection of cupcakes, which of the following flavours would you prefer?" And then give a selection of answers for customers to choose from such as the ones below.
Chocolate
Vanilla
Butterscotch
Lemon
Finding out the most popular response to a question such as this lets you know which product your customers will prefer - and therefore which product is likely to make you the most money in the future. If 100 people choose chocolate and only 2 choose lemon the bakery will know that when they launch their new range of cupcakes it will be a good idea to lead with the chocolate flavour and maybe not bother investing in the ingredients needed for the lemon flavour cupcakes. Facebook has ultimately provided them with a FREE market research tool, which provides them with invaluable information with regards to the launch of their new cupcakes.
Facebook provides you with an 'ask a question' tab which enables you to ask a question and give your clients the chance to click on the option they prefer. To use the 'ask a question' tab, click on status update as you would if you were making a normal Facebook post, then click on the event/milestone tab which will bring up a drop down on options for you to click on.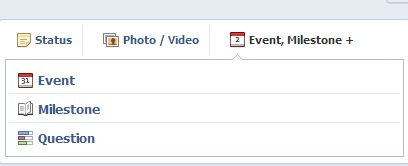 Choose the Question tab and then begin writing your question and providing your poll answers (which will be the options you are giving your clients the chance to choose from).

When you have completed all of the above click 'post'!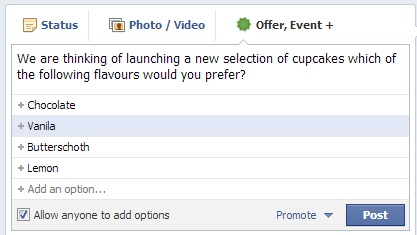 Once you have clicked post your question and answer survey will be complete and visible on your page and your fans news feeds, it should look similar to the post below, allowing customers to click on their preferred response to your question.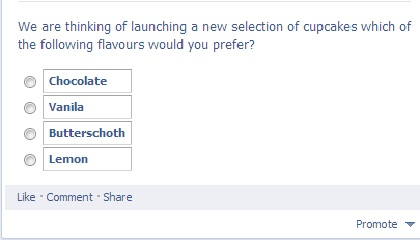 4) Encourage feedback
Ensure you encourage your followers to provide you with feedback, as this will demonstrate to your followers that you are interested in their thoughts and opinions and value them as fans and potential customers. (Every customer wants to feel valued) It will also help you to gain a good insight into your customers/clients thoughts. Here is an example of a question which would encourage feedback: "Thank you to all that attended our FREE workshop, did you guys enjoy the day? Did you find the workshop topics useful? We would love to hear your thoughts!"
5) Focus on quality, not quantity!
Don't judge your campaigns success based on the amount of followers you have alone! It's better to have 10 fans that interact with you and have a real interest in your businesses products and services than it is to have 100 pointless Facebook fans that have no interest in your business and are never likely to interact with your page.
6) Add lots of pictures!
Try to add good quality images to your Facebook posts as it is a proven fact that Facebook posts with images attached are much more likely to attract your customer's attention! Also make sure you create a selection of Facebook albums and update them with interesting images which are relevant to your business. Don't forget to name each of your photos and add interesting captions!
To add to these tips, below is a short video we recorded last year as part of our Facebook 'bitesize business boosters', a series of short videos we posted on the JDR Facebook page:
Article by Kerry Baker