Vidyard Teams vs Vidyard Free - What You Get With A Paid Vidyard Account
Video is becoming an increasingly important part of modern business - it can play a part in your marketing strategy, sales strategy and customer service strategy. At JDR, our video platform of choice is Vidyard which allows us to host videos on our website, blog and landing pages - but it also allows our team to send personalised, one-to-one videos.
Vidyard allows us to quickly record our screen or a video via our webcam (or a combination of both) and easily embed that video in an email or on a web page. We have been finding more and more uses for this technology and are constantly sent messages from prospects and customers who are impressed and surprised at receiving video emails.
As a result, at JDR we use Vidyard for:
Hosting videos on our website - rather than YouTube hosted videos meaning we have no need to worry about competitor ads showing once our video ends.

Webinars

- we host our on-demand sales and marketing webinars with Vidyard.
Email marketing/automated lead nurturing - we have found including video in our marketing emails gets more clicks and engagement from our emails.
Sales prospecting - including a video in initial sales email approaches, or LinkedIn approaches, improves response rates significantly.

Sales follow ups

- video follow ups from meetings, videos to go through proposals and quotes and videos to answer questions are a really effective way to improve results in a remote selling environment - see our 11 examples of using video in sales.
Customer reporting & meeting follow ups - videos are a great way to follow up any meeting, and the screen recording technology is great for summarising reports in a simple easy to follow way.

Software training

- video tutorials are a great addition to live training, for example this video 'How To Add Contacts In HubSpot'
Internal training - video tutorials via screen sharing have provided excellent resources for new members of staff and to quickly share best practices with new technology.
Internal communication within our team - we find when trying to explain a task, a quick video is often a better way to explain the task than an email.
You Can Get Started With Vidyard For Free
Vidyard has a free Google Chrome extension which you can install and start recording videos with straight away. You'll get the following features at no cost:
Record and send videos free of charge
HubSpot integration
Mobile app
Unlimited videos
Editing and custom thumbnails
Video view notifications
With the Vidyard 'Teams' package, however, you can get a lot more from the platform.
What You Get With Vidyard 'Teams' (A Paid Vidyard Account)
The Vidyard Teams package is, at the time of writing, $300 per month - check this live here.
Here's the difference between a paid and a free account:
1) Branded Video Sharing Page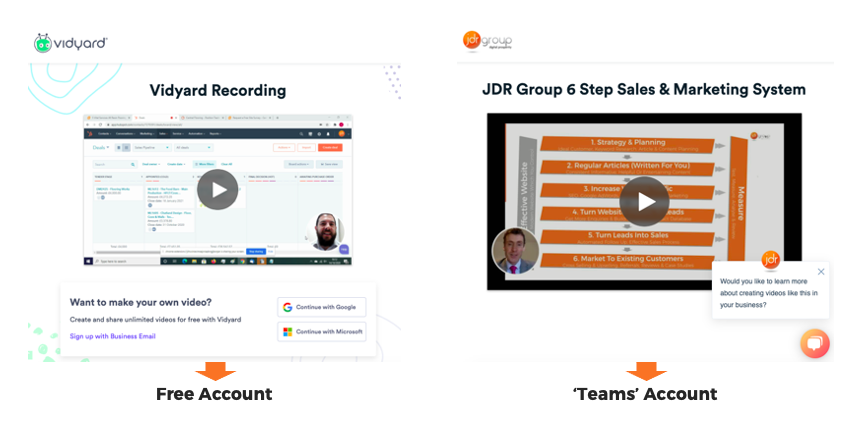 The video 'sharing page' is the page your customers and prospects will go to in order to actually watch the videos (unless they are embedded within one of your website pages). With a free account, people will watch your videos on a Vidyard branded page with Vidyard calls to action. With the paid plan, you can not only brand the video sharing page to match your own branding, this page can be custom designed - it can match your website (and appear as part of your website) and can have specific messages, content and calls to action on it.
2) Video calls to action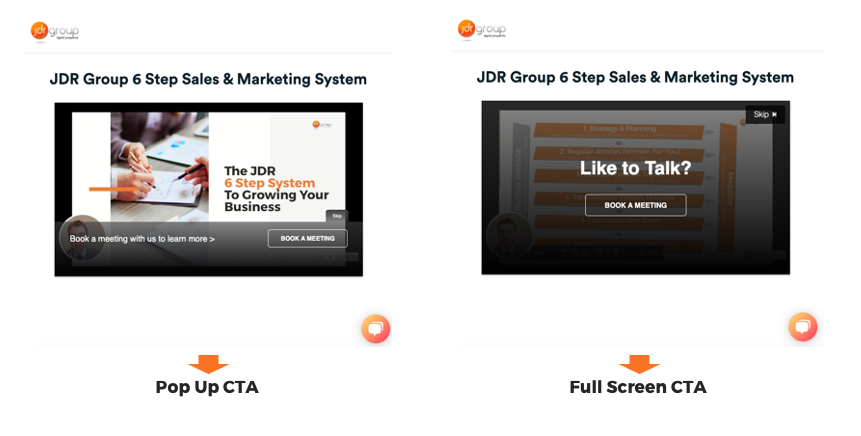 You want prospects to take action as a result of watching your videos - with the paid Vidyard subscription you can create calls to action at the start, end or during your videos. The calls to action can include links, forms, calendar/meeting booking forms and links to more videos to keep your clients/prospects watching.
This feature isn't available on the free version.
3) Create Video Playlists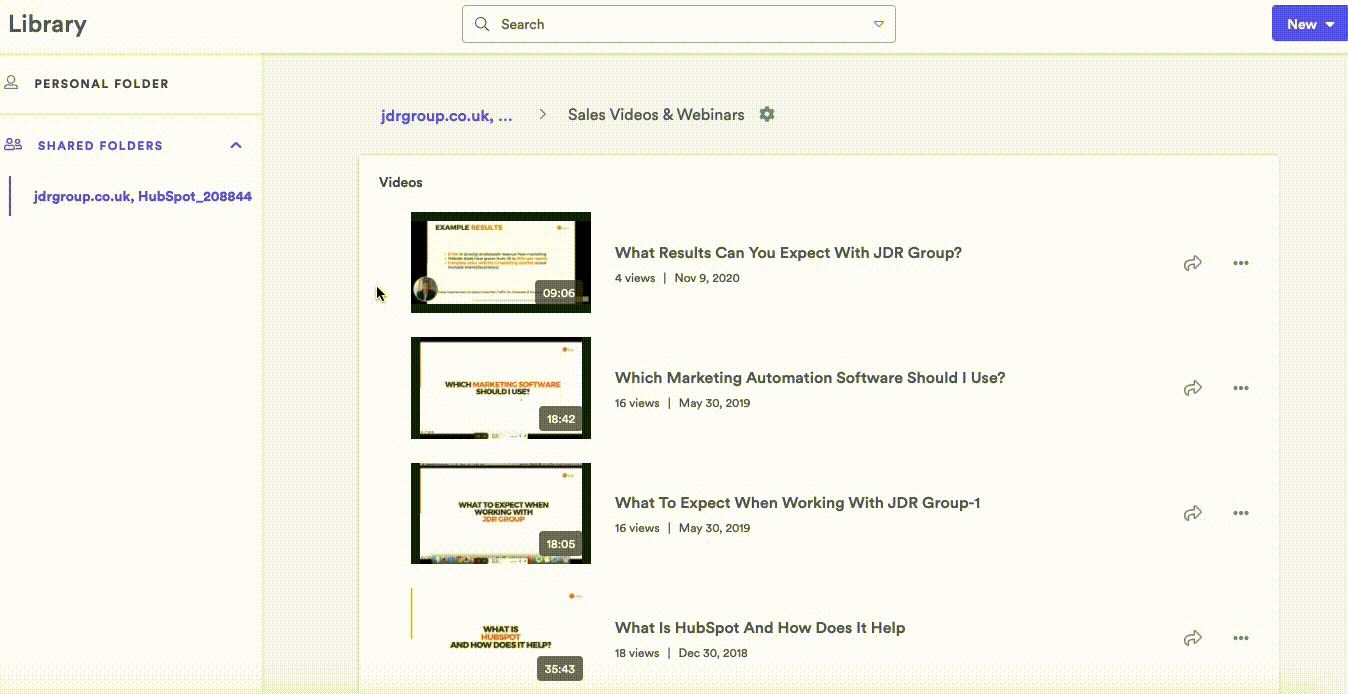 With the paid Vidyard plan you can create playlists - sequences/collections of videos which you can send to people on just one link. The image above shows how easy it is to select a number of emails and put them together - see an example of a video playlist here.
4) Video Analytics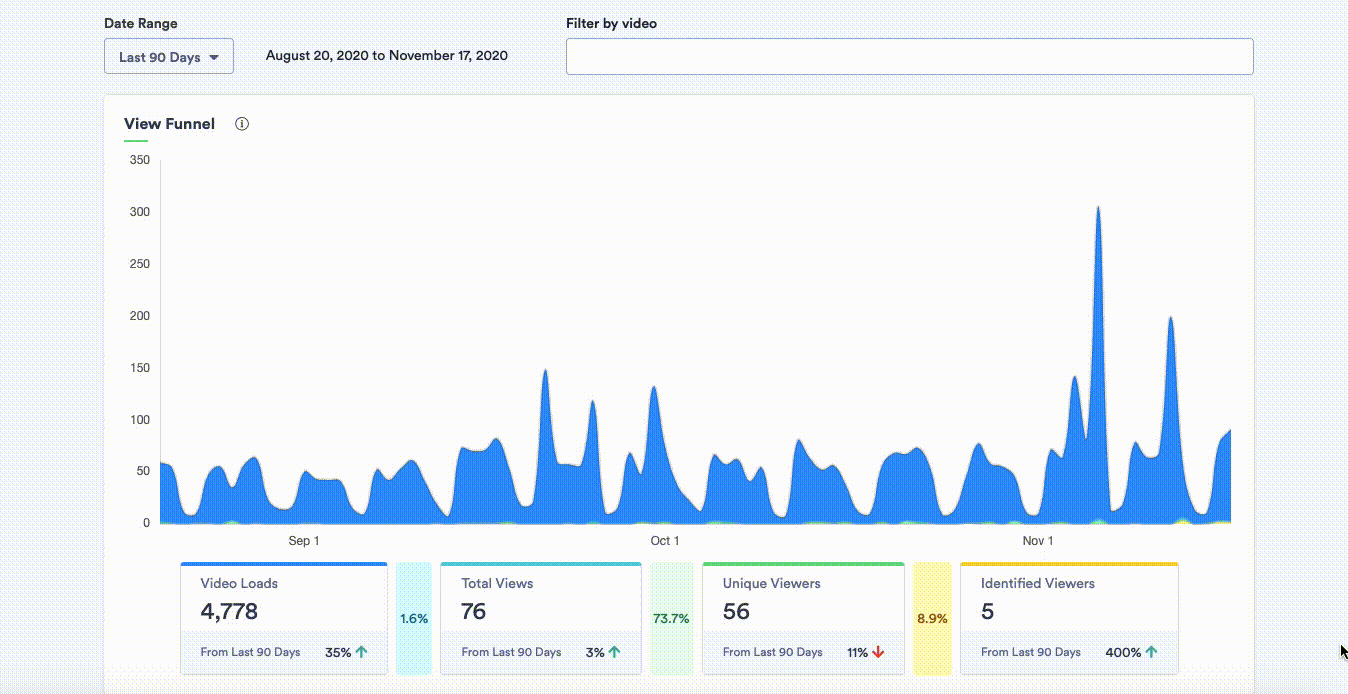 With the paid Vidyard plan you'll be able to understand how your videos are working, and use this information to improve your performance.
5) Manage Your Team

With a free Vidyard account, each of your team members will have their own set of logins - but as the business owner, you have no visibility on the videos they are sending, and no way of managing the calls to action or appearance of the videos.
With the paid plan, you manage your team from one portal/platform - and can view and edit the videos for each member of your team as well as getting analytics on how they are performing.
6) See WHO Has Watched Your Videos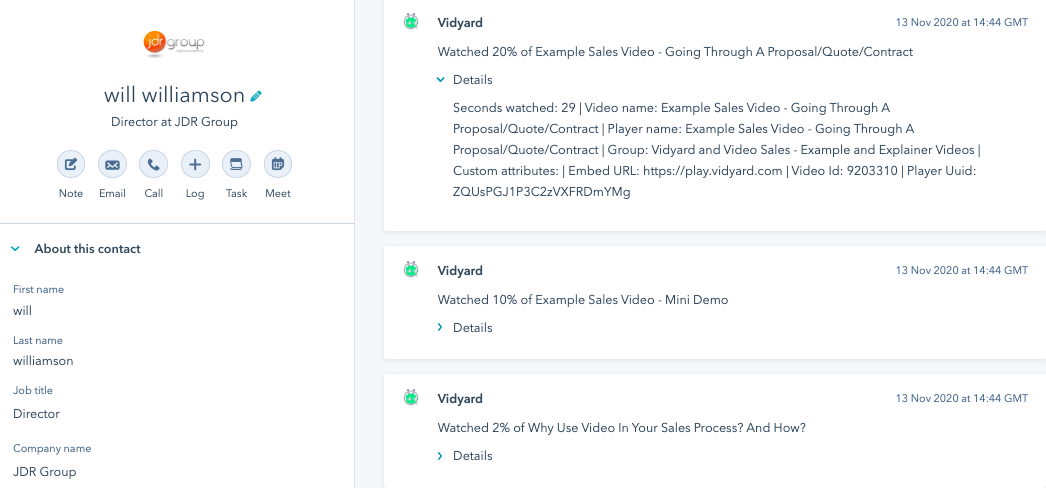 With a free account you'll get notifications that people have watched your videos - but you won't know WHO has watched the videos. The 'Teams' plan has this extra information.
7) Share To YouTube & Download Your Videos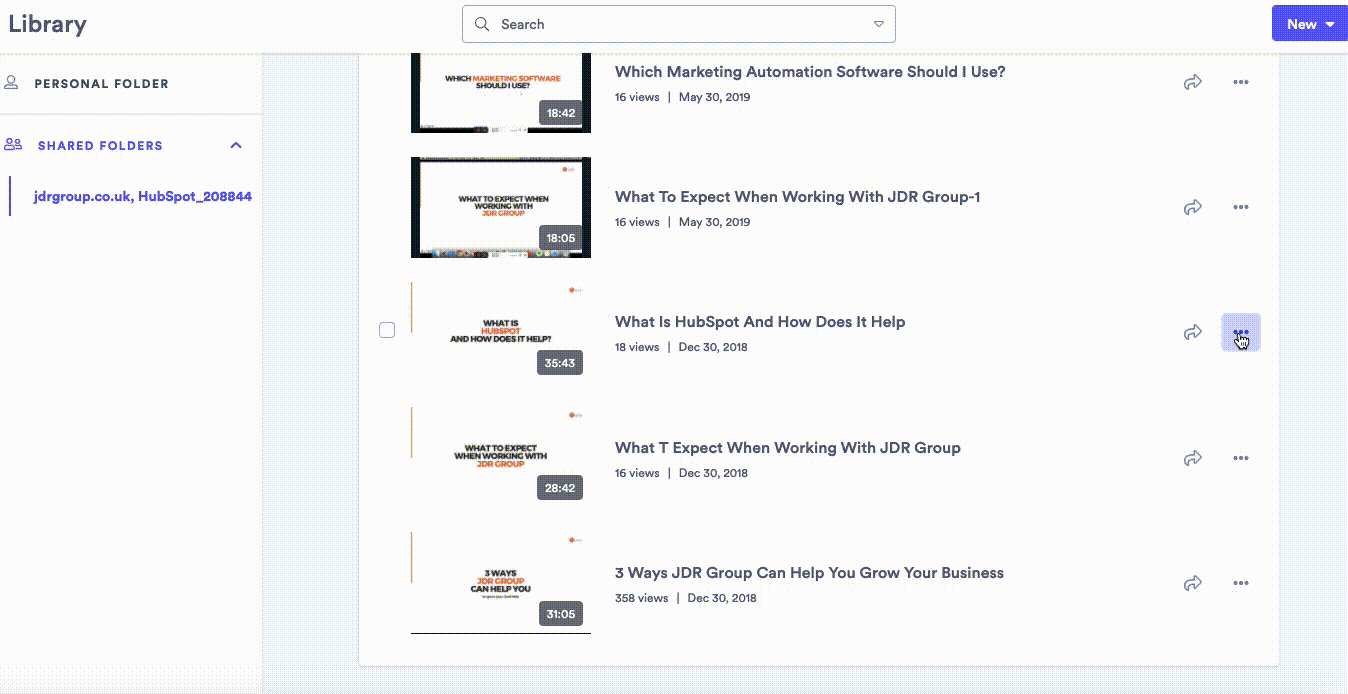 With the free account your videos are hosted in the Vidyard account and they stay there - but with the paid plan you can download the videos and use them in other ways, including a quick 'share to YouTube' feature.
8) More Embedded Videos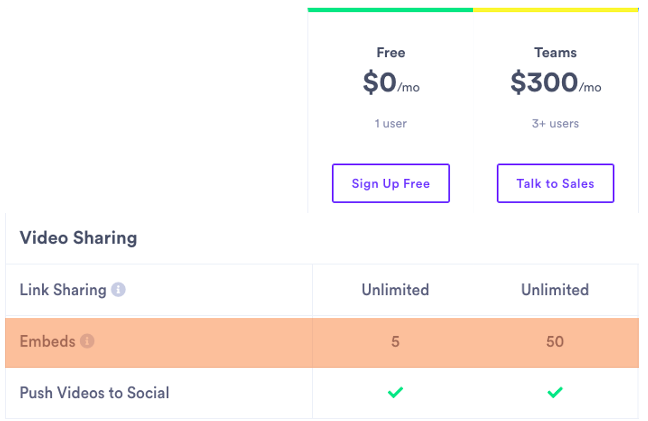 You can embed videos you create on your website pages and landing pages with Vidyard - with the free version this is limited to 5, compared with 50 on the 'Teams' package.
9) Better SEO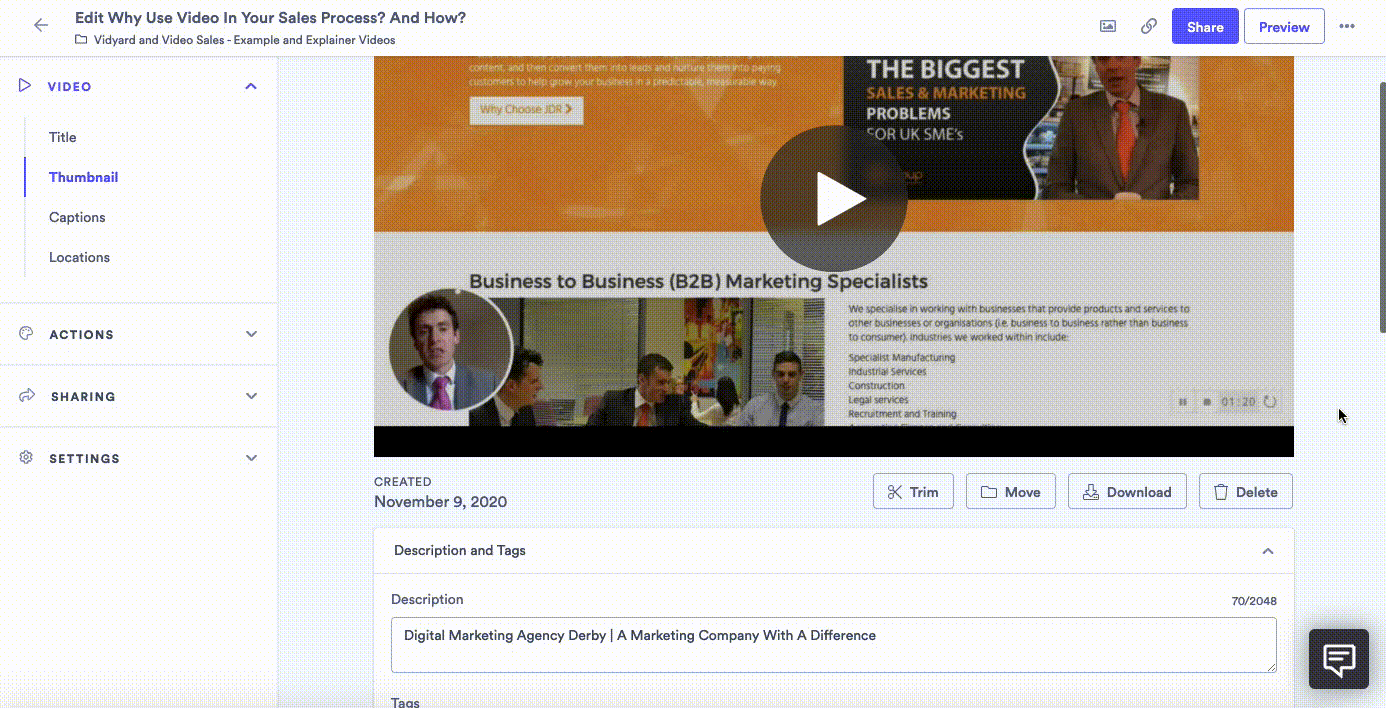 Adding videos onto your website and blog posts can improve SEO. Vidyard has a number of SEO features including the ability to optimise tags and add keywords for each video. However the key SEO feature, only available on the paid plan is 'captions.'
Captions automatically transcribe your videos into text, adding both subtitles for the video and also providing text which Google can actually read, meaning Google can pick up on the keywords and content of your video.
In addition, with a paid plan there are further benefits including:
Organise videos by folder
Get priority support
Zoom integration
Make Video Work For Your Business
JDR group are a certified Vidyard partner, and can help make video a key part of your business. We can help you:
Get a clear strategy for video in your sales & marketing
Train your sales team on using video effectively - see our 90-day video selling programme
Video production, editing and optimisation
What Next?
To learn more and see Vidyard in action, you can watch our 60-minute, on-demand webinar 'Using Video In A Contactless World.'
The best place to start is by talking to us - we can show you live how Vidyard works and how you can make video work for your business. Use the link below to book a call with one of our experts, and get the answers to your questions: Book a call with us here.