5 Low Cost Ways To Outperform Your Local Competitors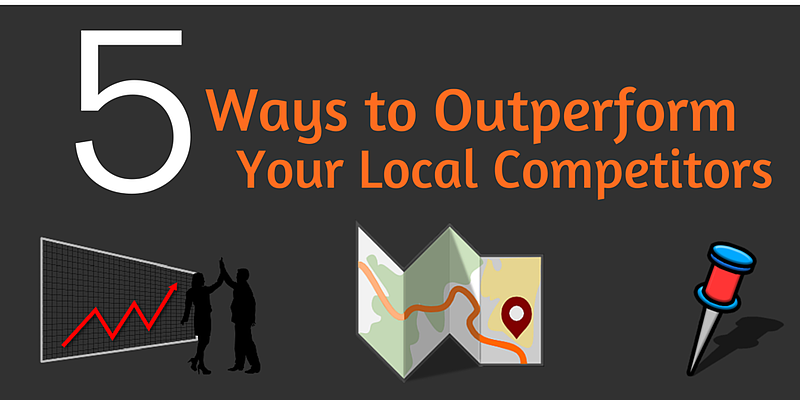 Do you know exactly where you are getting your customers from on the internet? Are you getting many customers who are located close to you? Or is this something you are currently missing out on altogether?
You need to stand out from the crowd locally.
You don't want to be in the shadows of your competitors.
You need your website to be seen more times that your competitors.
You need your business to outperform your competitors - and here are 5 ways to do it:
1) Get Attention Through Videos
Videos will get people's attention straight away. In everyday life we all want to watch those films that everyone is talking about. How many times have you heard people talking about the latest film they've just seen? You can grab customers attention straight through videos. Get them talking about your videos. That snapshot impression from your video will make them think, yes I want to find out more about this business. This is the positive reaction you want to achieve.
Very few businesses are using video effectively, so this is a great opportunity for you to get ahead of the competition in your local area!
Have a listen to our 'How To Do Online Video Marketing' podcast!



2) Tap Into The Power Of Reviews
Get yourself in front of your competitors through customer reviews. One way of getting customers to come to you direct is letting them read what other customers have thought of your products or services. We are often personally intrigued to know what other people have thought before purchasing, so allow your customers to do the same. Google reviews allow your customers to post comments. The more you build up your reviews the more customers you are likely to attract. Assess the reasons here why Google Reviews could be important for you.

3) Add Yourself To Local Business Directories
Are you thinking how can I get ahead by having my business in local business directories? This will certainly help your business be found on the internet. Did you know that there is more than one type of directory you could be listed on? Get your business set up on Google+ Local, Yelp, Bing Local and Yahoo Local. Find out how Google Local can help you here.
Directories are another way of communicating to customers, and the way your directories are set up will affect how likely your business is found on the internet.
What should I include on there? - You should have your contact number and email address, a description of what you do and your logo. You may also want to add opening hours.
A key tip for local directories is to keep consistency with the way you write your name (e.g. including the Ltd or not), address (e.g. St. or Street), and phone number (e.g. 012345678910 or 01234 567 8910)- this makes it easy for Google to recognise you and can give you higher rankings.
My colleague Matthew Tudge explains in this article about ways to attract business from your local area.

4) Keep Website Content Fresh
The impact of content marketing is massive. If you have a blog on your website you can regularly post new articles - aim for at least one a week. You can give them helpful tips, answer their problems and communicate to them about steps they should take to resolve those problems. You not only want your content to be read, you want your content to be shared. You want your customers to share your content on social media, to help other people discover your business and increase your website traffic and exposure to new potential customers.
Chances are that your competitors are not doing this, so it's yet another way of getting an edge!

5) Get Your Website Found
When I search for products on the internet I will always look at the first few websites on the page and see what products or services they have to offer. You want your website to be high on the page so your local customers will click on it, and then get in touch with you.
Set up your website so customers can find you. You may have a really engaging website but it needs to be seen by potential customers. Use all the popular words that your customers might be using when searching on the internet as part of your optimisation strategy. This is what will help beat your customers on the internet and get your website found quicker. More importantly help you find those customers locally to you. If your website is there for your customers to see they are more likely to click on it. And remember, if you are not getting the online business you want, then get in touch with us - you may need professional SEO help.
So there are my 5 ways to outperform your local competitors - it's a competitive world out there, and if you don't get started on these tactics right away then you WILL fall behind!
Article by: Laura Morris-Richardson