Local SEO Services: How to dominate your local competitors in Google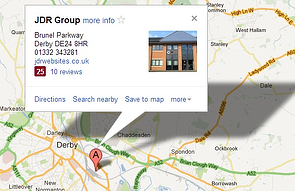 Local SEO is a specialist area of search engine marketing, and for optimal results you need a specialist in local SEO services.
Over 40% of all searches in Google now have local intent – and for these searches Google is now showing map-based results ahead of the usual organic search results. These results are becoming even more important as more and more people are searching for local businesses using their smart phones.
These results, once called Google Maps, then Google Places have now been integrated with Google Plus and are now called: 'Google Plus Local Business Pages'
From an SEO perspective, Google Plus uses a different algorithm to Google's usual results and your SEO company need to understand these ranking factors in order to get results. At JDR there are 6 elements to a typical local SEO campaign:
1) Optimise or Create your Google Plus (Google Places) Local Business Listing – The way your Google Plus/Google Places page is set up affects where you rank, and what you rank for. If you have not claimed your page we can set it up for you, and if you already have a page set up we can optimise it for better results.
2) Help you get Google reviews from your customers – One of the major ranking factors in these results is the number and quality of reviews. So ask your happy customers to start leaving you reviews.
3) Build 'citations' – a citation is anywhere that your business name, telephone number and address appear on the internet. Every website that lists your details is a 'citation', and the more you have, the higher you'll feature in the map listings.
4) Build 'links' – traditional link building is still an important part of local search.
5) Use video – Cisco (the US broadband network provider) have estimated that by 2013, 90% of internet use will be watching videos. Google owns YouTube, and well optimised videos have a powerful effect on local rankings as well as being able to rank in their own right. If you've done this and your competitors haven't you'll have a significant advantage.
6) Optimise your website – good old fashioned 'SEO' is still an important factor in local search rankings, you need well optimised pages that are relevant to the phrases you want to be found by and good quality links back to your site.
JDR Group have worked on hundreds of local SEO campaigns, so our in-house search team know all of the pitfalls and the opportunities of local SEO. We can:
Quickly achieve high rankings in competitive markets
Achieve high rankings for large amounts of specific and high-converting 'long tail' keywords and phrases
Achieve rankings for multiple properties, including your website, videos, images, directory listings and social media profiles
Set up and manage target paid search campaigns targeting your local area – this can include display/banner advertising and remarketing as well as traditional PPC
Increase click through rates with Google reviews, rich snippets and microformats
Increase your website conversion rates so you achieve more sales and enquiries from your traffic
Help you convert more of those enquiries into paying customers
Target mobile users with mobile site and/or mobile app development, mobile SEO and targeted mobile ad campaigns
Our first step is to give you a free SEO Analysis Report – let us have your website address and we'll analyse your site. This will include your keywords, your on-site SEO, your link profile, your social media presence and we'll also take a look at your website conversion opportunities. One of our team will then talk you through our findings and show you how you can start to tap into the stream of new customers searching Google for your products and services.
Beyond that, we can show you how you can not just rank, but DOMINATE for certain keywords in your local area.
JDR are a Derby SEO agency - contact us to find out more about how we can help.
Article by Will Williamson