Google PPC: 'Enhanced' Adwords Campaigns – What It Means To You
As of the middle of 2013 all Google Adwords Campaigns will be 'upgraded' to 'Enhanced Campaigns', and for early adopters it is possible to get started with this new format already.
But what are Enhanced Campaigns and what do they mean to you?
Enhanced campaigns allow you to target your customers better according to WHERE they are, WHAT device they are using and HOW you want them to respond, and WHEN you want to target them.
Google have changed their campaign settings to allow more flexibility in your Pay-Per-Click (PPC) campaigns, allowing you to adjust bids based on location and device used (from within one single campaign rather than having to run many campaigns) and improving their ad 'extensions' and conversion tracking tools.
What are ad extensions?
A typical Ad has 4 lines: Headline, then two lines of text, then the URL. Extensions allow you to include a phone number, links to additional pages of the website (see below), social media information (+1's), map/location, product/shopping results and more.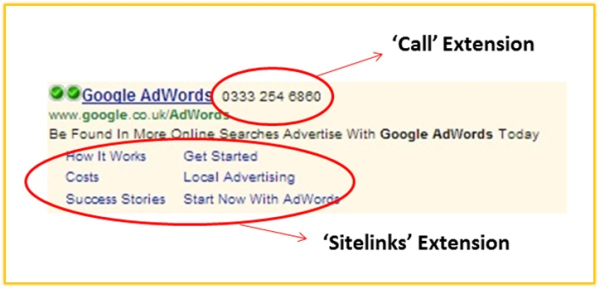 Is it all good news?
In a word, no. Google have lumped tablet and desktop users together, so it is not possible to specifically target tablet users any longer. The new bidding system for mobile devices could be confusing for less advanced users and means it is not possible to create a 'mobile only' campaign. It will (almost certainly) increase CPC for mobile ads and, apart from anything else, it creates a whole lot of extra work for Adwords management service providers like us by making us convert and/or merge existing campaigns into this new system. However it creates some fantastic new opportunities for marketers too – here are 6 opportunities which are either brand new or much easier to do with Enhanced Campaigns:
6 New Marketing Opportunities With Enhanced Campaigns
1) Phone calls can now be measured as conversions
For businesses that sell online, it is easy to measure whether website traffic is leading to business – you can track online orders all the way back to the keyword they typed in and the ad they clicked on.
But for many small and medium sized businesses the first contact comes via the telephone and it can be difficult to know if the potential customers calling to enquire with you found you by your SEO, an online referral, by PPC or by any other form of marketing you are doing.
Under the new 'call extensions' feature, it is now possible to include a tracking phone number in your PPC ads which diverts to your main number. This is not new, but Google have now made this free (there used to be a minimum £1 additional charge per call), and they have included these calls in your conversion tracking, which means that you can see exactly how many enquiries come from your PPC campaign.
It is even possible to set it up so that a phone call is only counted as a conversion once the caller has been on the line for a number of seconds – for example you could create settings that meant only calls over 30 seconds were counted as a 'conversion'.
Finally, the new mobile bidding allows you to target mobile users with this tool, the call extensions tool simply adds an easy-to-use 'click to call' button in the ads (see below).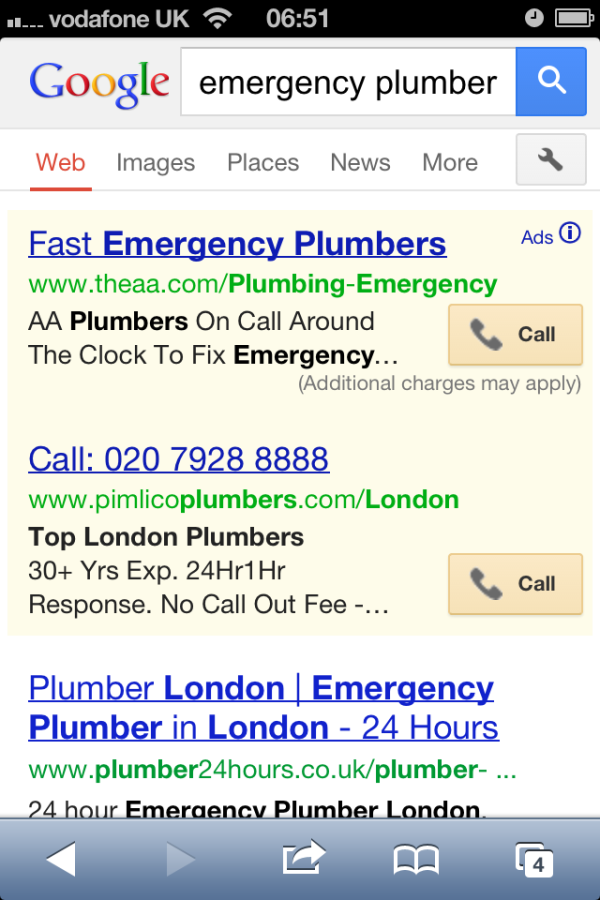 2) Location targeting
Under Enhanced Campaigns you can bid different amounts for different locations, at different times and on different devices. So if, for example, you are a coffee shop that is busiest between 4-6pm when people are finishing work, you can run ads that target people searching for cafés on their mobile phones within a mile radius of your business, between 4-6pm on weekdays.
3) Measure mobile 'app' downloads
Measuring mobile app downloads is a new form of 'conversion' – and an important one if you have a mobile app and want more downloads. For example, if you had a mobile app selling DIY products, you could run an ad promoting your app to people searching for DIY advice or DIY products on their mobile devices. You will now be able to measure how effective those ads are at getting people to download your app.
4) Target different devices at different times of day
Your customers now use multiple devices to browse the web – studies have shown that desktop internet use is at its highest during office hours (it peaks around 12pm each day) and tablet and mobile internet use is at its highest in the evening. Armed with this knowledge, you can 'follow' your customers as they move from device to device during the day, bidding more on desktop devices during the day and more on mobile devices in the evenings.
5) Drive in-store, offline sales
The new 'offers' extension allows you to create offers – you can run geo-targeted ads which have an 'offer' in which your customer can either print or save to their Google Offers account. They can then redeem the offer in store with a bar code or text code – these conversions can then be measured via your Adwords account so you can even track offline sales.
6) Make better use of 'site links'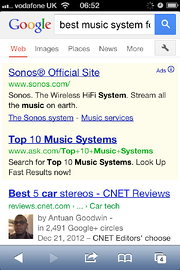 The site links extension allows you to show additional links to pages on your website within your ad – for example you may be sending traffic to your home page but also include a link to your products and about us pages within the ad.
This is not a new feature, but the new format allows you to manage which pages you show links to, change bids for these types of ads and also measure conversions from each link (so you can tell if the people that click on the products link are more likely to convert than people who go to the about us page). This lets you control and measure results from site links better.
These new features give you great opportunities to promote your business in a flexible and highly measurable way that delivers almost immediate results – however it takes time to master the new features and to manage a campaign so that you get optimum results.
At JDR we provide an expert Adwords/PPC management service which means you will get a much better return on your investment from your ad spend, free time up for other business activities and take advantage of new features quickly to stay ahead of competitors. To find out more, call us on 01332 343281, or request a Free Digital Marketing Audit and one of our team will review your entire online marketing with you.
Article by Will Williamson
Related Article: JDR Are Now A Google 'Engage' Agency