Why You're Shooting Yourself In The Foot If You Choose Cheap Web Design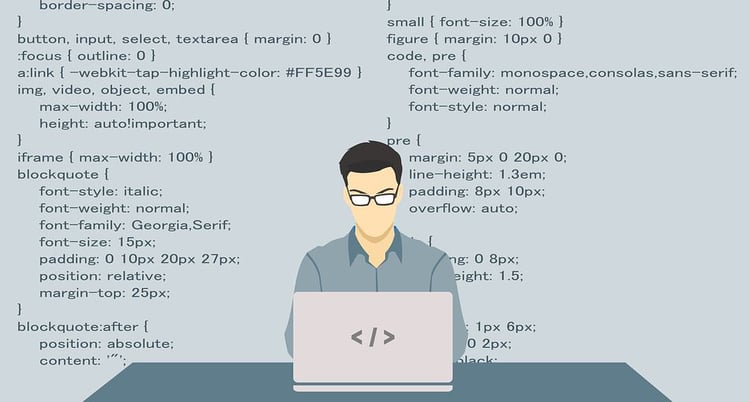 In today's society people are very good at avoiding marketing altogether. We tend to dodge sales calls and delete irrelevant emails because we hate being sold to, so much so that many people prefer to research the topic themselves online before making any decisions.
This shift in customer behaviour means the design and performance of your website must be immaculate, otherwise your potential clients will jump ship and go elsewhere. For this reason, opting to save the pennies when choosing a web design company isn't the wisest decision, by no means should you go over-board with the spending budget, rather it's better to be safe than sorry.
Here's 3 major pitfalls of choosing cheap web design:
1) Overly Simplistic Templates
Cheap web design agencies tend to use basic templates which can be very restrictive in terms of their format and functionality. This poses various problems for the following reasons:
Rigid Appearance: Cheap templates leave little room for customisation, this can make it impossible to add your own flavour and branding to the website. Also, further down the line it might be very difficult to add another feature to your website (like a gallery or a checkout system) without scrapping the template completely.
Catering To Your Buyer Personas: Your website should take into account your customers' buying characteristics. For instance, certain audiences are drawn to more visual websites that use full width images and animation, whereas other types of people are very fact-driven and prefer to read case studies, or download online content such as an eBook to determine the credibility of your business. For this reason, it's adventurous to have a custom-built website that truly "packs-a-punch" and appeals to your buyer personas, which will drastically improve your conversion rate and sales.
2) Restrictive Content Management System (CMS)
Cheap web design is often accompanied by restrictive CMS software which makes your life much harder in the long run. A Content Management System (CMS) is a software application used to create and edit digital content on a webpage or a blog article.
A well-thought out CMS software will let you easily find and edit pages. For example, the user will copy and paste their text into the box (like a Microsoft Word document) then click the buttons at the top to insert bold, italics or bullet points etc.
A poor CMS system will likely be very hard to navigate and edit. You'll likely need to insert text and images manually using HTML code. So, if you want to add bold text you'll need to use the <strong> tag. When uploading images you'll need to adjust the size by inputting the width and height dimensions in the code rather than click and drag. Furthermore, trying to make the images mobile responsive can sometimes change the desired layout of the page.
It can also be difficult to add tracking codes to websites built in restrictive CMS software. Examples of tracking codes includes Google Analytics, HubSpot and Sharpspring. Tracking codes are vitally important as they allow you to track and analyse the performance of your website to help you pinpoint areas for improvement.
3) Poor Search Engine Visibility
As I'm sure you're aware a high Google listing guarantees more organic traffic to your site, however staying at the top of the tree on Google is no easy task. Cheap web design companies can drop the ball when it comes to SEO for the following reasons:
Failure To Be Mobile-Responsive: A massive 90% of people use their mobiles and tablets to browse the internet, so it's vitally important that your website shrinks to fit the screen, otherwise people will just leave the page. More often than not cheap web design isn't mobile-responsive making your site inaccessible to 90% of the population.
Poor URL Structure: SEO structure refers to the layout of your URL links which allows Google to easily read and display your content for relevant keywords. An example of poor URL structure would often have random letters like "www.site.co.uk/niownoewb.index" whereas good URL structure will be easy to recognise such as "www.site.co.uk/kitchens-ovens".
Duplicate Meta-Data: Cheap web design will often duplicate your SEO content rather than using unique keyword searches for different webpages. (This means every page on your website will have the same meta-data, for example, if you're a furniture fitter your "kitchen" webpage will have the same keywords as your "bathroom" page.) Google's algorithm favours refreshing, unique meta-data and therefore by default, Google automatically penalises websites that don't fit that criteria.
Final Thoughts
When it comes to web design you definitely get what you pay for in terms of customisation and overall quality. If your business is truly serious about growing your online presence, then it's definitely wiser to invest in a high quality web design company who will take your ideas seriously to boost your conversions and sales.
Read these articles for great tips on what to look for in a top-notch web design company:
If you're looking for a website design company, the JDR Group could be the perfect fit. We pride ourselves on involving our clients in every aspect of the building and designing process to ensure the final product exceeds your exceptions. Contact us today on 01332 343281 to arrange a FREE no-obligation 20 minute online meeting to discuss how we can take your marketing to the next level.