What To Look For In Website Design Companies In Derby?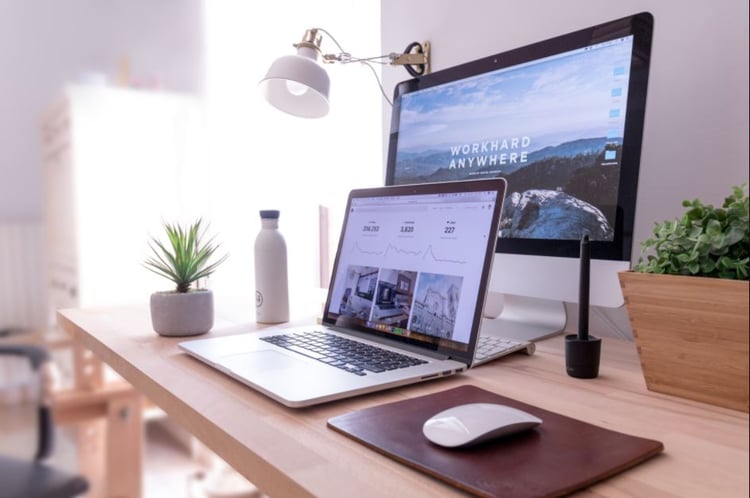 Having a website designed is a serious undertaking that requires a lot of thought. Choosing the right website design company can be a daunting task as there are many many companies to choose from. In Derby alone, there are well over 100 website designers. So for someone living in Derby who wants a website built what should they be looking for to determine which of these 100+ businesses is the right partner for them?
Well, let's go through the most important considerations for choosing a web design company in Derby.
What Is Their Standard Of Work Like?
The fastest way to start sorting the list of businesses into potential options and those that aren't suitable is to look at their past work. By visiting their portfolio and browsing some of their past websites you can quickly see the standard of work and within moments decide whether this company is working to the high standard you desire.
Look to see if the websites are modern. Do they follow recent and effective trends or are they using outdated designs that fail to convert? Does the website load quickly and is it easy to navigate? Are the websites mobile responsive? Asking these questions lets you quickly filter the weak from the strong and allows you to reduce the number of potential choices to a more manageable amount.
What Kinds Of Websites Do They Usually Build?
Now that you've thinned the herd a bit, to those that have the potential to build a great site, start considering the kinds of websites the company is used to. If a company has built lots and lots of amazing brochure websites but hasn't worked on an ecommerce website, then if you're looking for a great ecommerce website this may not be the designer for you.
Make sure you play to the designer's strengths. You may love their designs but if they don't have the right kind of experience to build your type of website, you'll be at risk of getting a bad deal. Ask them what kinds of websites they're used to building. What experience do they have with your desired type of website? What is their favourite type of website to work on? Before you make any agreements be sure they can deliver you the perfect website.
What Is Their Branding Like?
This applies to both their own website and those they have built. When you look at a business website it should be immediately clear what business it belongs to. There should be a clear colour scheme, an obvious logo and a consistent font throughout. If you look at a website and don't clearly know which business it is then the site has failed.
When you look at their portfolio are the websites clearly distinct between companies? Are the designs similar to one another or are they unique to each client? Branding is such a crucial part of a business that you cannot risk having a website that doesn't comply with that branding.
Where Does The Copy Come From?
The copy that is on your website is very important as those words will be taken as your own. When visitors read the copy on your website they believe that those words are your words. Therefore it is very important that copy is both grammatically correct but also accurate. This is especially important to a business that is in a knowledge-based industry such as engineering or public services where the knowledge the business displays directly relates to the likelihood of getting clients. The best option for you, therefore, is for you to write the copy yourself and then have it checked by a copywriter. However, as a business owner, it's not always realistic to assume you'll have time to do this. This is why the copy will usually come from the website design company or writers that they outsource to.
Knowing how important copy is, you should ask to check all text that is put onto your website and make sure that it is grammatically correct and that any information is correct. Find out where the text is coming from and make sure any sources of information are ones that you agree with.
How Are They Selecting Keywords?
A website needs good SEO if it's going to get found by search engine users. This is why when building a site it's important to get the correct keywords implemented into your website. If you have a marketing team this is a great chance to have them and the website design team sit down and discuss the marketing factors such as SEO, CTAs and social media integration.
If you don't have access to a marketing team make sure you ask the designers how they are selecting keywords. How are they implementing the keywords? Are the keywords appropriate to the goals of the website? Ensuring you have proper SEO in Derby is crucial as if the website doesn't perform you will have gone through this whole process for nothing!
Are Your Desired Features Suitable For A Mobile Responsive Site?
Certain features that you want may not be suitable for a mobile responsive website. However, a good website design company will either find a way of implementing those features or have an alternate method for achieving the desired features. Ask the design company if they are able to create accelerated mobiles pages (AMPs) as this would give your new website a nice boost.
What Support Plans Do They Offer?
Once the website has been built it's likely that it will need updating with new images and information on a regular basis. When possible it's best to partake in a support plan so that the updating of the website can be left to the design companies while you use your time on other things. Find out what support plans are available before beginning the build.
Will You Be Given Access To Edit Your Website?
When your website has been completed you're going to want to get access to make changes yourself. To do this you'll need to be given your own login details and you'll need to get training on how to make the edits you want. Try to arrange these details before agreeing to the website as you don't want to buy a website and then be told you can't have access to it.
Conclusion
As you can see, finding the right business to design your website takes time and effort but it is absolutely necessary if you want to ensure its success. If you go through this process and ask these questions you'll end up finding that out of the 100+ website design companies in Derby, only a handful are suitable for your specific needs.
If you are looking for a website design company in Derby, the JDR Group could be the perfect fit. With experience in all website types and the resources necessary to achieve success for your website, the JDR Group can design your ideal site. Contact us today on 01332 343281, or visit our website: www.jdrgroup.co.uk.