James Corden Takes On American Chat Show Giants Using YouTube – Video Marketing Lessons You Can Add To Your Marketing Strategy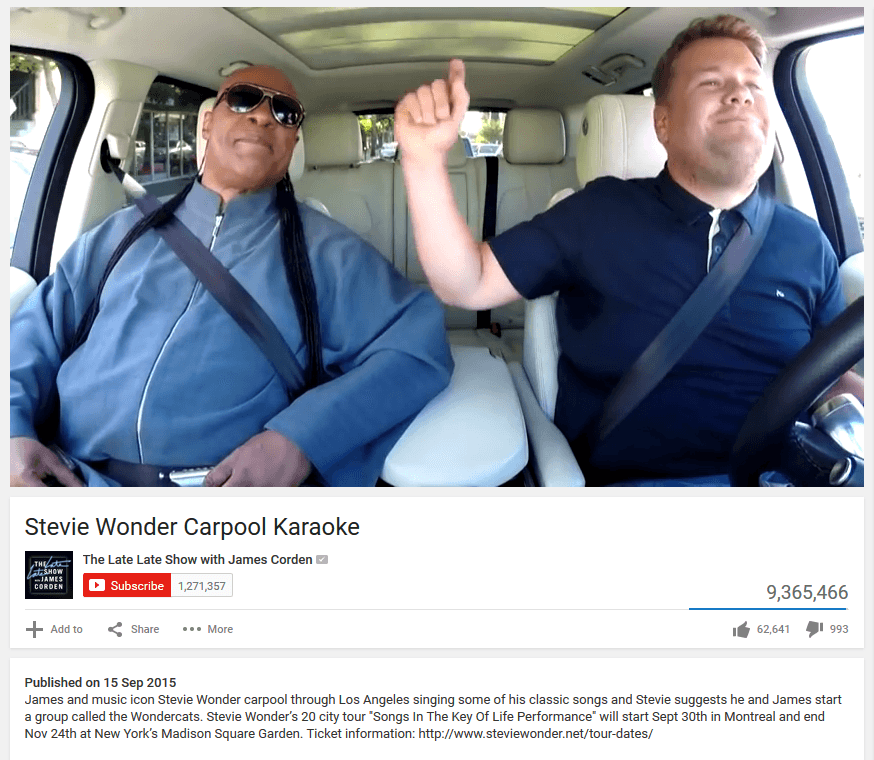 We have become accustomed to James Corden here in Britain, with very successful shows such as Gavin & Stacey and A League of Their Own. Both shows have made James a household name in Britain. Corden is now trying to break America by fronting the chat show The Late Late Show, which is a tall ask with the amount of chat shows in the United States, and the fact that relatively few Americans know Corden in the US. It's now been six months, that's 85 shows and counting, since James Corden began his run hosting "The Late Late Show" and his viewing figures may not be huge, but his online videos absolutely are and go viral instantly. Below looks at how he has gained so much momentum online, and how you too can implement this into your marketing strategy.
Using worlds biggest video platform
More than one billion people now visit YouTube every month. In the past decade, it has become synonymous with funny cat videos, cinnamon challenges and biting brothers (ouch Charlie!!!). What James Corden is doing right now is using the power of YouTube's huge audience to promote his show and his brand in the USA, and he is doing it by creating videos specifically for his target audience as well as the greater the YouTube audience.
How to implement this into your Video Marketing Strategy
Because YouTube reaches so many people, it is a must for a business to have a marketing presence on this platform. By posting quality content videos on YouTube consistently your business will potentially be seen by millions of viewers and absolutely free of charge. Plus did you know that YouTube is now the second largest search engine in the world? So by creating videos and uploading them to YouTube, it's not only going to increase your market share, but it's also going to help your SEO for your company.
Understand Your Target Audience
What James Corden, his producers and production team have done brilliantly is understand their target audience and appeal to their viewing habits. Due to the time of the show being after 12:30pm week nights, most of the target audience would struggle to view the show regularly. So what Corden and his marketing team have done is turn the show into a YouTube centric show, and really focus on that side of the show to gain maximum exposure to their target audience. What YouTube lets the target audience do is view the show at anytime, day or night, weekdays or weekends. Plus YouTube allows the target audience to view the clip as many time as they want, and share the clip across social media to friends, workmates and family. What Corden and his marketing team have done extremely well is understand exactly what their target audience wants to view. One area identified is our desire to see celebrity's such as Justin Bieber, Stevie Wonder and Mariah Carey humanised in an everyday situation, such as driving to work and singing which we all do. Corden then adds his British humour to ensure the show gains maximum attention online.
How to implement this into your Video Marketing Strategy
By ensuring that you understand your target audience fully, you can make sure that your videos cater to their every need to gain maximum exposure. The best way to understand your target audience is to create buyer persona's that enable you to really break down your audiences wants, needs, desired time to view the videos, content in the videos and much more. To understand buyer persona's in more detail read this article written by the team at JDR: Why Defining Your Buyer Persona is Fundamental to Your Inbound Marketing Campaign
Celebrity A-list Guests
What The Late Late Show team have done brilliantly is to include well know celebrity's into the videos, to produce maximum expose and advertising for James Corden and the Late Late Show. It allows the viewer to find out more about their favourite celebrity by seeing them in a natural environment, whist seeing calls to action from The Late Late Show's marketing team.
How to implement this into your Video Marketing Strategy
It may be difficult to gain access to an A-list celebrity such as Stevie Wonder for your video marketing campaign, but what you can do is conduct interviews with market leaders in your industry. This then allows you to promote the videos to your entire industry, and show your business as a market leader at the same time. Just the same as Corden's show, once you conduct regular interviews that get high viewing figures and subscriptions, more market leaders will want your business to interview them to gain exposure.
Make your videos worth Sharing
The biggest part of the viral success of the show, is the simple fact that the shows have been viewed and shared millions of times. Some of the statistics are simply amazing:
1,210,033 subscribers to the Late Late Show's channel
41,189,228 views 6 months ago for the original Justin Bieber Car Pool Karaoke video
Second Justin Bieber Car Pool Karaoke video has 6,161,393 views in 5 days*
14,067,973 views for filmography video with Tom Hanks
How to implement this into your Video Marketing Strategy
To distinguish your videos from the competition on YouTube, your video strategy needs to offer your target audience something that the other videos online currently lack. By developing your buyers persona's (as mentioned above) this will help you understand the angle and difference to ensure your videos get maximum exposure.
To find out even more about video marketing please read this article: 5 Video Marketing Tips: How To Promote Your YouTube Videos
After James Corden took over "The Late Late Show" on CBS, he found an unexpected partner: YouTube. It turned out to be a valuable two-way street, benefiting both sides.
*Stats correct on date 24/11/2015