HubSpot Vs Hootsuite For Business Social Media Management: Which Is Best & Why?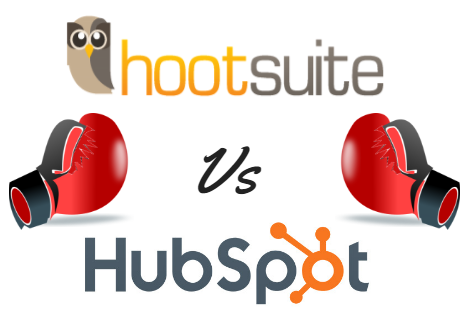 Here's a mind-boggling fact to begin your day: did you know that the number of social media users is expected to rise to 2.95 billion by 2020? Just to put that into perspective, that's around a third of the Earth's entire population!

The big bang of the Internet, alongside the introduction of social media, allows anyone anywhere in the world to tap in a few keywords on the world wide web and find the information they need in nano seconds. With this in mind, it makes perfect sense for every business to have some form of social media marketing – whether it's a Facebook or Twitter profile used to answer your customers' burning questions, or even a Pinterest / YouTube account used to visually demonstrate your business' outstanding attention to detail in your given industry, such as gardening or printing services.

Nevertheless, crafting a well-thought out social media strategy isn't mere child's play. You need to think about who your audience is, what content do they want to see, what tone of voice should you adopt, what time of day should you post your messages and finally what's your primary goal for using social media? Is it to generate more high quality leads, make more sales or simply improve your customer engagement rates?

Marketing automation tools are designed to metaphorically save business owners from the whirlwind of questions listed above by making social media marketing faster, more cost-effective and analysable. Two of the biggest players in the arena are HubSpot and Hootsuite. This article aims to explore the pros and cons of each platform to help you decide which is the best choice for your business.
HubSpot Vs Hootsuite: The fight is on!
HubSpot: An Overview
HubSpot is widely regarded as the leading customer relationship management tool for small to medium-sized businesses. HubSpot's large spectrum of inbound marketing services are designed to help you build solid relationships with your prospects to help you close more deals. Besides social media management HubSpot also offers SEO services, email marketing, conversion tracking and detailed reporting services to help you see what's working and what's not.
HubSpot: The Advantages
HubSpot's philosophy of inbound marketing. The overall interface makes it incredibly easy for any user (regardless of their experience level) to create social media content that is designed to get your ideal customers coming to you.
For example, with HubSpot you can create a search to see which social media posts received the most clicks / interactions from last week, and then use this information to reshape your content plan for the upcoming week. It could therefore be argued that HubSpot in some sense of the word eliminates the intrusive nature of outbound marketing - where some business' would literally be chasing after their customers with a lasso yelling "Click me! Buy me!"


HubSpot offers a brilliant reporting system unlike any other. HubSpot gives you the option to create comprehensive reports for individual or even a collection of accounts in a matter of seconds. For example, you can take a closer look at your ROI, social reach, engagement rates and clicks / interactions per message.
Also, to ensure you don't become swamped by facts and figures, HubSpot can even convert this data into simple bar charts or line graphs so you can easily absorb and compare the information.


HubSpot allows you post content from all your accounts in one place. Rather than having to constantly log in and out of different accounts, HubSpot houses them all under one roof which saves you a great deal of time and energy!


HubSpot is a fantastic way to gain valuable insight into the habits of your customers. Another great aspect of HubSpot for business use is the fact it allows you to create and tailor your buyer personas. HubSpot's excellent reporting system gives you an accurate snapshot of what your customers like and dislike about your content. The fact that HubSpot actively encourages you to create these buyer personas ensures that your social media content always hits the nail on the head.


You can download the HubSpot App onto your mobile (iOS / Android) or tablet device. In the modern day where everyone is constantly on the go it's essentially important that social media managers can quickly whip out their phone and check their business' social media profiles. The HubSpot App allows you to do this with ease.


Easy to use interface. Like all other software platforms it can be a little daunting to find the information you need, but never fear as HubSpot has a simple interface where all your tabs are located in the top navigation bar. Plus if you get stuck at any point simply head over to HubSpot's official website and search the issue for steps on how to resolve it!


Their support system goes above and beyond that of any other online marketing suite. Besides the ordinary telephone and live chat support, HubSpot also have an extensive online library of blogs, infographics, videos and ebooks with quirky tips and tricks to help you improve every aspect of your marketing strategy, including social media.
(Also, in the event of an emergency, HubSpot have an online system outages page to ensure you are always kept in the loop if, on the rare occasion, a problem does arise.)


Finally, HubSpot is a well trusted system used by over 18,000+ businesses in more than 90 countries worldwide. Many business owners that have invested in HubSpot openly admit they have no desire to explore any other platform – which is a big thumbs up!
It is also worth mentioning that social media is only a small part of what Hubspot is designed to do. Hubspot is, in fact, a comprehensive business software designed to help you grow your business. Not only does it cover all of the above social media aspects but it is also an email marketing platform with the ability to automate and track email marketing, it is also a CRM platform enabling you to store all your customer information as well.
HubSpot: The Disadvantages
HubSpot is more expensive than other marketing automation tools on the market. From Microsoft Office to the Adobe Creative Suite, all professional grade software plans do come with a price tag because you are paying for a professional service.
As of May 2017, the current prices for HubSpot packages are as follows: Basic Plan - £165 per month, Pro Plan £655 and Enterprise £1960. You will need to pay for your subscription one year in advance. You may need to also purchase a training course to ensure you understand how to correctly use the software.
With this being said, it's important to keep in mind that HubSpot has literally everything you will ever need to market your business properly, which is especially important when you consider the wealth of competition your business needs to outfox in order to generate the sales and leads you deserve.


Cannot add social media blogs to other platforms. As previously mentioned, in our opinion HubSpot is the all-star of marketing automation tools as it let's you control everything in one place including your blog content. As HubSpot already has it's own blogging area, this means you cannot upload blogs to other platforms like WordPress.
JDR Group are a Platinum HubSpot agency, and one of the leading HubSpot partners in the UK. By working with a certified HubSpot partner you can get the most from HubSpot, and get more traffic, more leads, and more sales for your business.
If you'd like to learn more about HubSpot we recommend you check out these articles:
Hootsuite: An Overview
In our opinion Hootsuite is the grandfather of social media marketing automation apps. It's a brilliant platform used by small to medium-sized businesses to monitor what's happening with your brand on social media.
Hootsuite: The Advantages
Hootsuite gives you full control over your social media empire all under one roof! You can add multiple social media accounts to your dashboard such as Twitter, Facebook, LinkedIn, Google+ Instagram, WordPress blogs and many more third party apps like Vimeo, Flickr and Mailchimp.


Multiple people can reply to social media comments from your Hootsuite account at the same time. Hootsuite's 'Team Management Facility' allows you to delegate responses to different team members. For instance, if you log in one morning and have 30 mentions on social media but you desperately have to attend a meeting, then you can simply assign the comments to another staff member to ensure that customer gets a timely reply.


Hootsuite has a customisable analytics reporting system. Like HubSpot, Hootsuite has an excellent reporting system which gives you a bird's eye view of how your social media content is being received; including the number of clicks / conversions, as well as geographical information to see where people are accessing your posts from. You can access this information very easily through the main dashboard. Or you can set up an automatic email notification for when the analytics report is generated.


You can save 'canned responses' into your messaging drafts folder, which will save you the hassle of repeatedly writing out the same response. This is especially useful if you're a customer service company that's asked common questions like "What are your opening hours?"


The Hootsuite App is supported on all major operators including iOS and Android. This gives you complete freedom of when you can reply to social media comments. If some of your customers are night owls (forgive the silly pun!) and ask you a question late at night you can drop them a quick reply without needing to fire up the computer!


Hootsuite also makes it incredibly easy for you to sync your social media content with an RSS feed.


FREE trial is available. Hootsuite offers new users a free 30 day trial so you can see how useful and easy the platform is to use before you opt to spend your hard earned cash.


Friendly support line. Finally, Hootsuite has a number of comprehensive support pages, tutorials and a brilliant YouTube channel with a variety of simple-to-follow videos in case you hit a bump in the road!
Hootsuite: The Disadvantages
Although Hootsuite is more suitable to lower marketing budgets, the costs can soon add up when you consider different add-ons and features. As of May 2017 their basic Professional Plan is £16 per month which allows up to 10 social media profiles, and their Team Plan is £80 per month which allows up to 20 social profiles.
Depending on what plan you're on you may have to purchase additional points or upgrade your plan in order to see a full analysis of your social media reports.


Forced to use the ow.ly URL links. With Hootsuite you are not free to use outside URL shortners like bitly. This is due to the fact that Hootsuite can only track the clicks / interactions on your posts if the URL was created in Hootsuite.
For some businesses this isn't an issue at all, however for others this poses a problem as it openly broadcasts to the world that your business favours one particular marketing software. It's worth adding that you can create custom URLs, but this service is chargeable and will only boost your monthly subscription fee.
Making An Informed Decision
Our final thoughts on this battle is that HubSpot and Hootsuite are both brilliant platforms that will make your life easier and help you keep track of your social media interactions.
HubSpot is a clever platform for businesses that are truly committed to syncing every aspect of their marketing strategy, including their social media, in order to improve conversions and generate more sales. On the other hand, Hootsuite is one of the best social media scheduling apps in the world with a sole purpose of making it easy for you to reply to various social media comments in a timely fashion.
Ultimately which option your business should go for will depend on a variety of factors such as who is using the account, what is your goal for using social media, and what kind of investment are you willing to make? Finally, if you're still on the fence about whether marketing automation tools are the right decision for your business then check out this article!
The JDR Group is an experienced inbound marketing agency with the knowledge and skills to help boost your marketing ROI. For more information, please get in touch with one of our team for an informal chat.