How To Increase Your B2B Website Conversion Rate - 10 Quick Fixes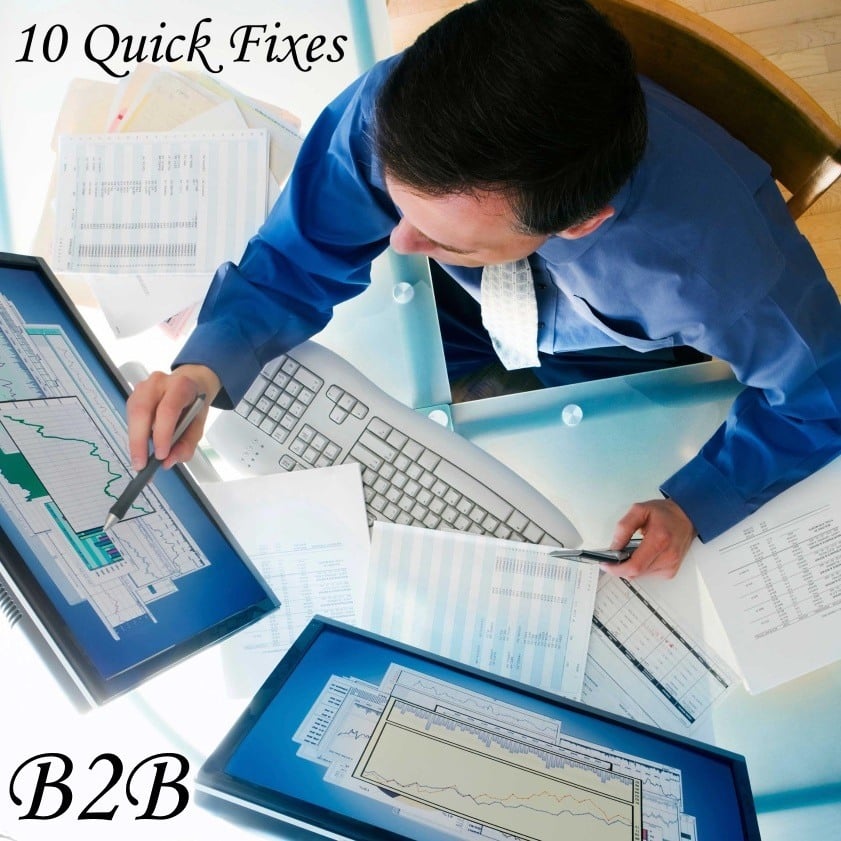 As every Director of a B2B company knows, increasing your website conversion rate is the holy grail of a business' success. Convert more visitors into customers and you'll reap the benefits. But it can be a challenge to continually think of ways to increase your conversion rates, particularly if you are busy with other aspects of running a company. If you're wondering how to increase website conversion rate, we've got 10 quick fixes to get you started.
1. Have a strong CTA
A strong call-to-action directs website visitors towards a conversion. It is important to ensure you don't confuse visitors – using effective language for your call-to-action and spending time carefully considering its placement on your page is important, as is the style, size and colour of text used. If you need more information on creating effective CTAs here is a great article - Four Tips for Developing Effective Call to Action Buttons
2. Become more trustworthy
How do you expect visitors to convert if they don't trust your site? Visitors who trust your brand and what you're selling are more likely to convert. Working on your website's trust factors could involve ensuring your contact information and business location are up-to-date and clearly visible (nothing puts potential customers off faster than an out-of-service phone number) or using SSL for e-commerce. Testimonials and business references can also help to boost your credibility, as can links to external review sites such as Feefo and TrustPilot.
3. Make it compelling
Your website needs to demonstrate why your product or service is the right fit for customers and what your value proposition is – how will you change their life or solve a specific problem? In order to ensure your website is compelling, you'll need to carefully consider not only your value proposition but also factors such as the usability and design of your site too.
4. Load up on info
You'll find it hard to generate sales or enquiries online without providing any supporting information to your website visitors. Case studies, specifications or downloadable documents can provide visitors with the information they need to convert or even make a purchase online.
5. Keep it simple
If your website is confusing, your conversion rate will be negatively affected. That means your page content needs to be easy to read, or scan, on all types of devices including smartphones and tablets. Studying your web analytics can help to identify drop-off points and allow you to fix them. It should be easy for visitors to navigate your site and simple to convert with a single click.
6. Answer your buyers' questions
Prospective buyers are going to have questions and lots of them! That's because B2B purchases usually involve a lot more research, and time, to complete. Your site should provide enough information to educate visitors, answer their questions and drive them towards converting or making a purchase.
7. Create more landing pages
Creating more opportunities for visitors to convert will increase your conversion rate – simple. You'll generate more leads which will hopefully lead to more sales – but make sure the pages you create are all compelling, well-designed and easy to navigate. More great information is available here - 11 Steps To Create A Killer Landing Page For Your SEO Or PPC Campaign
8. Be factual
Selling your product or service to another business is very different from selling to consumers. Decision makers for B2B companies are usually very busy people and all they want to know is how the service or product you're offering will impact their organisation. Traditional consumer advertising takes a more emotional approach to selling, but the facts often speak louder than fancy descriptive language. Being more factual, concise and to the point gives visitors the information they need to convert.
9. Implement 5-second testing
A good way to check whether your landing pages could be improved to boost your website conversion rate is to carry out the 5-second test. Ask a friend or family member to spend 5 minutes looking over your page. Then ask them to recap what the purpose of the page is. If you find they're unable to, it might be time to work on your headlines, bullet points and content.
10. Remove clutter
Creating more white space on landing pages by removing clutter will do wonders for your conversion rate. Removing clutter in this way can help draw a visitors' eyes to the point you want them to be drawn to – your call-to-action, for example.
Sometimes it's the little things that make all the difference, and we hope these 10 quick fixes will help you to increase your B2B website conversion rate; one step at a time.