Google Places Ranking Factors: New Category Changes
In January of this year I posted an article about Google Places ranking factors (now called Google+ local). We have had many emails and comments about it, particuarly about the updates to the categories you can select for your business.
Firstly, Google's recent changes to the way the categories work should not surprise anyone, as Google does tend to make changes just when you start to get results in a particular area.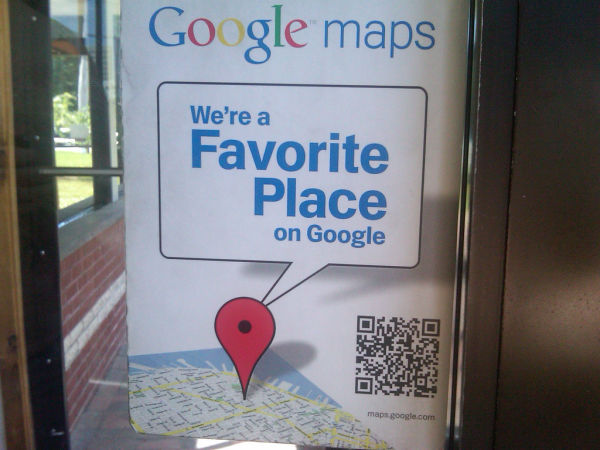 So what do the new changes to the Google Places/Google+ Local category sections mean to you and me?
Well there are pros and cons to the recent update and in my opinion more cons currently but we will see how these develop further.
The major changes is that you are no longer able to select your own custom categories.
This was a fantastic feature of how it used to work - you would just need to select one of Google's pre-approved categories and you could type in your own for the 4 other category boxes, meaning you could drill down into what you offered as a business and make it bespoke to you.
Now, things are slightly more complicated with the new dashboard - basically Google has narrowed the scope of their Google+ local profile categories and only allow you select categories supplied by them. What this means is that unless you are a business whch easily fits in to these categories (e.g. a restaurant) you will not be able to use these to their full potential.
That is probably quite a big exaggeration, however if you have tried to find categories for your business before reading this you may well agree with me as Google has not catered for all types of industry, nor for the diverse range of businesses and the various expertise that exist in business today.
For example if you are an accident repair centre that specialises in commercial vehicles and motorhomes you could not add these to your categories as all Google would allow you to do is add the approved category which is Auto body shop removing the ability to add further categories such as accident repair centre, motorhome body repairs, etc. and therefore severely limits the ability to categorise your business appropriately. On occasion it may mean that the 9 other category boxes will not be used. This is the same for so many other businesses.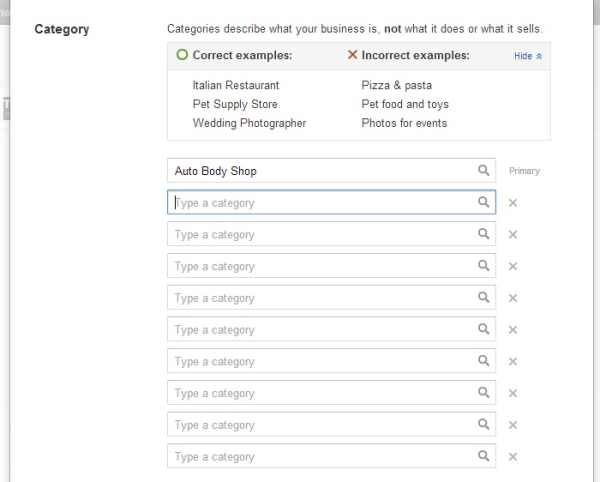 So what does this mean for the local business owner?
Well we should take it that any categories that fall outside of the Google approved genre will probably no longer form part of your ranking firepower and you are going to have to work harder now on achieving the results you are after, fortunately there are certain areas you can focus on to increase your results.
Do not be discouraged if you are concerned about a listing that already exists. This only applies to new accounts that are being set up; the existing Google Places listings will maintain their custom category changes.
Focusing on citations and reviews will strengthen your ranking positions. Getting reviews on your Google+ local profile should be a major area that a local business should be focusing on anyway, but now that Google has changed the way the categories work they need to take priority over any other area of concern and puts new emphasis on creating your own proactive review management plan.
How should you go about getting reviews? Well this will depend on what you offer as a business and may mean that you need to think outside the box as an email marketing campaign asking for reviews is not the best approach as a mass influx of reviews will look spammy. Perhaps if you provide a service you could get in touch with a customer the day after and ask for feedback; however you go about it remember not to rush it and look to increase your reviews slow and steady.
Article by Jarrad Mordue
photo credit:
Kevin Micalizzi
via
photopin
cc