5 Google places ranking factors to improve your local business marketing
If you are looking to get better results in Google then you will know how hard it is to rank your Google Places for different searches (these are the map results that are triggered by almost any local search in Google).
It has also become apparent how important Google Places have become – they often take up the top part of the search engine results page for a specific search term. So even if you rank first for a certain keyword, you could see up to six Google Places results ranking above you.
These map results are not only triggered by a specific local search, for example 'restaurants in Derby', as a result of the Venice update (see our SEO review of 2012 for more information), Google will show you Google Places results even if you just search for 'restaurants'. It tracks the location you are searching from, and shows you map results nearby.
The question is, what tips can you use to improve where your Google Places/Google Plus Local page ranks?
I have added an example below of what Google Places results look like, and it is also important to note that in 2012, Google Places merged with Google Plus (we'll refer to it as Google Places in this article).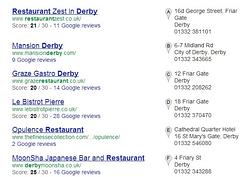 1) Choose the Correct Business Categories
There are a multitude of categories available, but it is vital the correct one is selected for your business. The correct category can help ensure the search engine is able to return your business as a possible search result. Having a wrong category listed won't do anything for your business and may in fact cause confusion. It may prove challenging to find a category for certain businesses but you will need to pick at least one that is relevant and you will be able to add a few of your own. To select these categories you just need to start to type your services and look at the automatic choices that Google provides, make sure that the first one you select is from their list, the others you can customise yourself.
2) Have a Physical Address
It is a requirement that a business has a physical address in order to show up high in possible search results. Think of it this way: if there is no address, how can the search engine know to return your business as a good result for a user's local search? You will not be able to appear on the places listing without an actual address and it is important to note that P.O boxes do not work.
3) Have Great Testimonials and Reviews
This piece of advice has been around for years and is no different in Google Places/Local. Your page is likely to rank higher if you have reviews, comments, testimonials, etc on reputable and highly ranked sites as well as having reviews on your places page itself. It may seem weird, but from a purely page rank perspective, it doesn't even matter if this information is positive or negative about your organisation. Obviously, it is important to your business to have positive information about your business on as more than just Googles computer 'bots' read it!
4) Citations
A citation is basically a mention of your business on another site, as close as you can get to the exact match of your Google Places listing the better. So if you have your link, description, contact information or anything else, make sure it matches to your Google Places page. This will also help your organic rankings as well – it serves a dual purpose.
5) Build more local links
Rather than using usual SEO link building strategies, target more local links that mention your business name, address, phone number and URL. As with normal SEO you can include them in forms of social media and posts, but it would be beneficial to get these links from other sites such as local blogs, industry blogs, social bookmarking websites and local directories.
Once you've reviewed the factors above, take some time to determine what you need to do in order to increase your places page ranking. Things are not likely to change overnight, but be patient and you'll see results for your efforts over time as your search engine ranking improves.
Getting your google places page ranking will ensure that your business is being advertised to a whole host of potential customers that will be searching for your products and services in the local areas, we have had numerous customers increase their local enquiries after having their Google places page ranking.
Article by
Jarrad Mordue