SEO 2012: A Year in Review
Search Engine Optimisation (SEO) strategies constantly have to evolve and adapt in order to remain effective. The huge number of websites in operation means that there is tough competition for any give search term, and it is often very difficult to obtain the coveted top positions in the search engine results pages (SERPs).
After Google 'Panda' update rocked the SEO world in 2011, the year 2012 has seen more important changes, most notably yet more Google algorithm updates.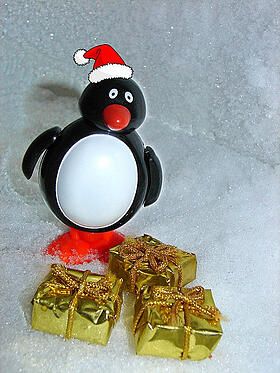 April saw the release of the "Webspam Update," more commonly known as Penguin. This was the most important change to Google's algorithm since the initial release of the Panda update.

The Penguin update was designed to negatively impact those websites that offered a poor user experience due to factors such as keyword stuffing and duplicated content. Article directories, which had for a long time provided good backlinks for SEO purposes, suddenly found their pages way down the SERP listings due to the fact that much of their content was also found on a multitude of other sites. Penguin therefore forced websites owners to be much more creative in producing fresh, original, useful content. The maxim "content is king" has never been more true.

Google hit the headlines again in June 2012 when they merged their Places service with Google + Pages. This meant that Google + pages for local businesses finally began to appear in local search results.
In fact, the new Google + local pages had full integration across Google services, including search and maps. The social nature of Google + means that the new service is much more useful for search marketing, and also puts increased importance on getting Google + reviews for your business.
Localisation is also becoming an important feature after the Venice update. Google tracks your location based on your IP address, and will now show localised results (both paid and organic) even if you have not requested them – see the screenshot below of a search for 'dentist'. I have not searched for 'dentists in Nottingham' but Google knows I am in Nottingham and shows me local results, both in the Ads and in the map/Google + results.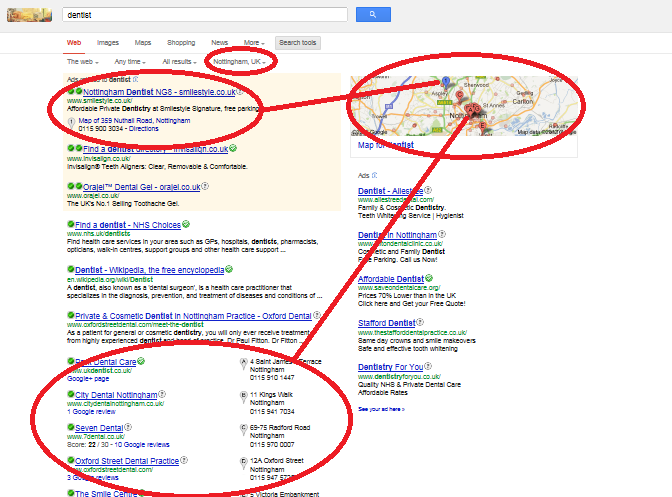 SEO is not an exact science, but certain practises are now much less effective at the end of 2012 than they were before. When it comes to link-building, for example, quality is now much more important than quantity. Similarly, as Google announced in October, low quality exact match domains will now be penalised in the search results (The Google EMD update). This may spell the end of using low quality 'microsites' with keyword specific URL's as a search engine strategy.
There is no doubt that a successful SEO strategy has to be adaptable, because 2013 is certain to bring just as many changes as 2012 did. My top recommendations for SEO in the year ahead are:
1) Focus on quality, original content on your website and/or blog
2) Build Google reviews to improve your local Google + search results and increase CTRs
3) Focus on quality links, not quantity
4) Get social – especially in Google +
5) Pay attention to local ranking factors
Article by Will Williamson
photo credit:
aussiegall
via
photopin
cc