'What can a mobile app actually DO for my business?'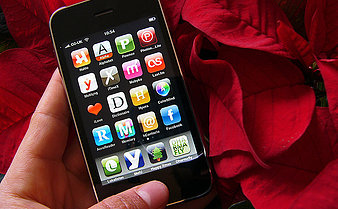 When mobile apps were first developed they were primarily games, lifestyle tools (calendars, reminders etc.) or social/communication tools. Then, big brands started to see the potential and companies like McDonalds, Dominos, John Lewis, EBay and major banks developed their own branded apps. Since 2007 mobile downloads have been rising fast and in December 2011 Apple's 'App store' had a record 1 Billion app downloads in one week.
Now small businesses are developing apps too, to sell their products, to interact with their customers and to provide useful tools to help improve their customer's experiences with them.
In fact, mobile apps are starting to replace websites as people are moving away from the desktop computers and spending more and more time on their tablets and smartphones.
So what can mobile apps actually do for a small business?
There are two big abilities a mobile application has which a website does not:
It can interact with the existing features on your smart phone – with your GPS, camera and phone book amongst others
Once downloaded, it is always present on your mobile device
Here are some examples of the advantages of a good mobile application for your business:
1) Provide offline information to your customers
Product information, FAQ's, user guides, directions and general company information can all be made accessible within the app. The difference is that once your customer has downloaded the app, they can access this information offline as well as online, so they can still get the information when they are out of mobile signal. Users of the London Underground will be familiar with losing signal as they travel below the surface, and will know the benefit of using an underground 'map' app which works offline.
2) Integrate all your communication tools
Your blog, YouTube channel, podcasts and social media profiles can all be integrated within the app, making it easier than ever before for your customers to interact with you and access your content.
3) Coupons, Vouchers and Loyalty Points
Offer exclusive discounts through the app to encourage repeat purchases and promote new products and services. These can be exclusive offers available only to mobile app users, or can be bonuses based on regular orders. How many loyalty cards have you been given by stores, restaurants and cafes, only to lose the cards? With the mobile apps your 'stamps' are all collected digitally – and can even be automatically triggered by GPS, meaning you can earn loyalty points simply by physically going into the store.
4) Location-based services
Your app can link to the device's GPS and maps system. A simple application is to have a 'directions' button which when pressed quickly brings up the devices maps service showing where the customer is and where your business is and how to get there.
There are, however, more advanced ideas – there is an app in Guatemala called 'HiJack' for a shoe store called Meat Pack. Once a customer has downloaded the app, it tracks their movement by GPS. If they go into a competitor's store, they are sent an alert to their phone with a special offer discount which starts at 99% and decreases with every second that passes. The customer then has to sprint out of the competitors store and find Meat Pack as quickly as possible in order to get as big a discount as possible.
5) Push notifications
We receive more and more emails these days and as a result we are ignoring more and more of them – email open rates are down to less than one in three. Yet text message open rates are well over 90% and most are opened within minutes. Push notifications are a way of sending messages to everyone that has downloaded your app, and the messages are delivered like a text message.
6) Personalised services
If your business has account or membership customers, a mobile app can greatly enhance the user's experience. For example, wholesalers can allow account customers to easily order and re-order products via their mobile device. Gyms and sports clubs can offer personalised training plans and nutrition advice to ensure a customer stays and gets the best out of their membership. Photography studios can allow customers to login and view their photos before collection, and garages and beauticians can send appointment reminders and allow easy mobile bookings.
7) Integration with camera
For example the 2012 UK Ikea catalogue features a number of products marked with a smart phone icon. The Ikea app uses the camera on your smart phone, and allows you to scan these products with your mobile device and 'unlock' extra images, videos and information.
To find out more about how you benefit from a mobile app, as well as mobile websites, SMS marketing and QR Codes download a free copy of 'The Ultimate Small Business Guide To Mobile Marketing', an information-packed 29-page guide to mobile marketing for small businesses. Included is a simple-to-use 'mobile app vs moobile website' summary sheet designed to help you choose which you need.
Article by Will Williamson
photo credit:
premasagar
via
photopin
cc