6 Ways To Increase Conversion Rates For Your Website Special Offers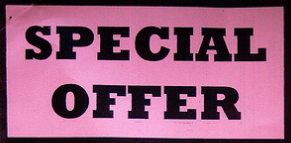 Do you want to find ways of increasing your leads and sales from your website pages but are unsure of how to do this effectively and get the required results?
In this article I'm going to explore 6 ways to enlighten and engage your potential customers in your special offers, so they are more likely to purchase products and services from your company. If you really want to gain new leads and sales to make your business more profitable then read on to make your business become even more successful.
1) Make your Offer Headline Engaging and Eye-catching
Your headline is the first element potential customers will be drawn to when they arrive on the page of your website with your offer. Therefore it is important to spend time to ensure this is targeted correctly towards a specific customer segment, persuasive and informative to increase the chances of people purchasing your offers.
A fantastic example of this is The Complete London Sightseeing package which allows you to save 10% online on the Visit London Website on their attention grabbing "Complete Sightseeing Package" headline.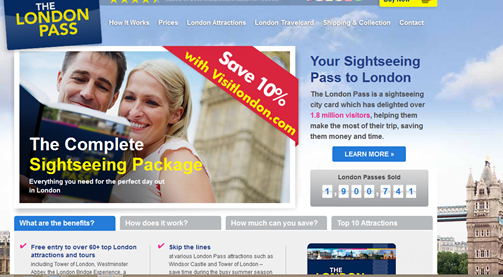 This special offer is from the Visit London Website:http://www.visitlondon.com/offers-and-competitions?ref=nav This offer is focusing on a large target audience, in particular tourists visiting London and wanting to explore many of the different attractions.
To make this offer as compelling as possible, they have also shown the key benefits of this offer just below the special offer headline. Further benefits of this offer are also shown on an additional page http://www.londonpass.com/how-it-works/what-you-get-with-the-london-pass.html#.Uhd9RT-ZHIU
Note also the use of colour - bright colours are a way of making your headlines and 'Calls To Action' buttons stand out on the page so that people are drawn to taking up the offers.
2) Create an Eye-catching 'Call -to-Action' Button
The 'Call-To-Action' button is one of the most crucial marketing strategies you need to include on your special offer website page. This is where you are asking your potential customers to DO something to take up the offer. Key punchy, engaging Calls-To-Action you could use are;
Download Now
Buy Now
Find Out Now
Take A Tour
Act Now
Read More
See in Action
Your Call-To-Action should also always be created using a vibrant colour so that people are drawn towards that part of the page. They should be clear, concise and include an instruction, for example 'click here to get xyz…'
The Direct Line Car Insurance website includes a range of Call-To-Action Buttons on their homepage http://www.directline.com/: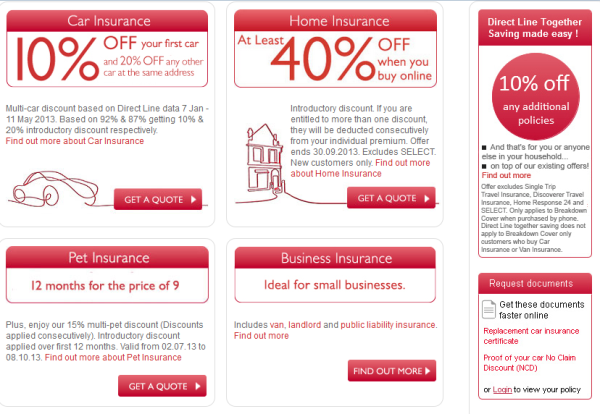 The Call-To-Action Buttons are all in red, for example 'Get a Quote,' and 'Find Out More.' These buttons encourage people to become Direct Line customers through providing additional insurance information and insurance discounts.
3) Use Testimonials
Testimonials are an excellent way to showcase your company's capabilities and show the benefits for choosing your business rather than your competitors. They also give your business credibility and reassure potential customers – they will have more confidence in taking up your offer if they can see that lots of people have already done it and been very happy.
If you currently don't have a testimonial section on your website, then it will benefit your company hugely if you take action now, as it promotes your company in a very positive light.
Once you have these testimonials, they can also be used in your marketing literature such as brochures, presentations and for case studies which your sales team will find beneficial when meeting potential customers face to face, and can increase your businesses sales revenues.
4) Use Video To Promote Your Offer(s)
Video including an explanation of your special offers are visually effective to encourage people to purchase your products. An example of a company use this strategy well is PC World/Curry's who have recently been promoting their large kitchen appliances and home entertainment sale, highlighting the key benefits of buying their particular products.
You can also use your promotional company videos within your company presentations, in your social media marketing, and on your website itself. For example having a video that explains the benefits of an offer on the special offer page itself is a strategy which is shown to improve conversion rates significantly.
PC World/Curry's are a big high street brand, but small businesses can do this too – with smart phones and digital cameras, it has never been easier to create video. Free video editing software makes it quick and easy to create simple but powerful videos that look professional and will boost the take-up of your offers.
5) Urgency Offers
Urgency offers are a fantastic way to encourage people to take action quickly and take up your special offers as they realise there is only a limited time in which they can purchase in order to guarantee the discounted prices.
The below Halfords advert from the special offer page of their website is a great example of the urgency principle as the offer is only available for the weekend, when purchases are more likely as people have more opportunities for shopping either in store or online.
An essential element is also that the discounted offer stands out on the page which can be shown through the bright red background colour used for this particular advert.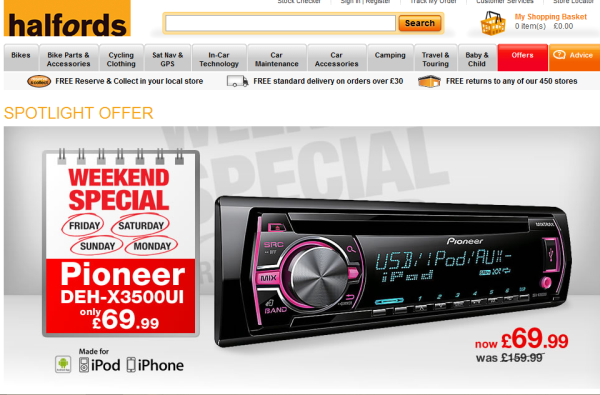 6) Scarcity Offers
Did you know that Scarcity offers are also extremely effective in order to encourage people to make an impulse buy purchase? Amazon does this showing the percentage amount of the product already claimed and a countdown timer on how long there is left for you to purchase a particular product, from their 'Today's Deals' page, which can be seen here.
According to the Kerching Retail Website there are different personality types for online shoppers including Recreational Shoppers, Deal Hunters, Rewards Shoppers, and Intrepid Explorers. This shows that as a business you should take a targeted approach towards different consumer buying behaviours and personalities, to ensure that you encourage people enough to purchase your products.
So spend time planning your offers - for help with this you can get some great ideas in our article '20 Special Offer Ideas For Marketing Your Business'. Once you have your offer, use these principles to get the best possible takeup and ensure your offer is a success!