6 Questions To Ask A Google Partner Before Working With Them
Online marketing is the modern day equivalent of a shop front window. Without online marketing your business will grow stale and miss out on vital opportunities. Choosing a reliable digital marketing agency can be a daunting task, especially with the amount of competition flooding the market. So how do you pick the best company? Choosing someone with a Google Partner badge is a great place to start.
Continue reading to discover more about Google Partners.
What Is A Google Partner?
Google Partner status is a prestigious award given to ethical businesses that meet the following criteria:
Have multiple employees certified in Google AdWords
Deliver excellent customer service
Have a competitive edge on peers
Specialise in helping businesses grow online
Account managers having up-to-date industry knowledge
Continuous client revenue growth
Continuous growth in number of clients
There are two types of Google Partner badge, the standard Partner version and the Premier version. The Premier badge recognises leading companies with higher-spending ad campaigns and additional qualifications. To achieve Premier status two or more colleagues within the company must undergo advanced AdWords training. Read this article for more information.
To become AdWords certified, at least one employee must pass the AdWords Fundamentals exam. This exam covers ad profit and scheduling, site links inside advertisements and ad extensions. In addition to the AdWords exam, the individual must also study for another topic from the list below:
Search Advertising
Mobile Advertising
Video Advertising
Shopping Advertising
Official guidelines for this award can be found here.
Key Questions To Ask A Google Partner
1) What Experience Do You Have? Which Industries Have You Worked With?

A Google Partner must comply with Google's criteria and excel in certain aspects of marketing, especially Google AdWords. This level of work and attention to detail must be maintained or the agency risks losing the award. Experience is the best teacher of wisdom, therefore we highly recommend looking for an agency with a few years' experience under their belt.
Another top tip is to choose an agency who has previous experience working within your particular industry / niche. Examples include manufacturing, technology or retail. This type of first-hand experience can prove invaluable when it comes to cherry picking the best techniques to suit your campaign and budget.
2) Do You Specialise In Anything In Particular?

As mentioned above in order to become a Google Partner the agency must pass a Google AdWords exam along with one other test, either Search Advertising, Display Advertising, Mobile Ads, Video Ads or Shopping Advertising.
From a logical perspective it's best to choose an agency that fits your type of customer, for example, a high-end manufacturing business targeting B2B customers wouldn't necessarily work well with a creative agency that specialises in creating video advertisements. We recommend speaking to a range of agencies individually and asking them how exactly their skill-set would benefit your business. Ask them for case studies and testimonials to back-up their claims.
Ecommerce businesses looking for a Google Partner should also enquire about Google Shopping Ads. Shopping Ads aren't like normal text ads; instead they show users a photo of your product, plus a title, price, store name and more much. Shopping ads allow your business to build a stronger profile of the item you wish to sell before the user clicks the ad, for this reason, Shopping Ads can be an expensive tool if they aren't used correctly. Therefore it's worth confirming that the agency can confidently use them in your campaign.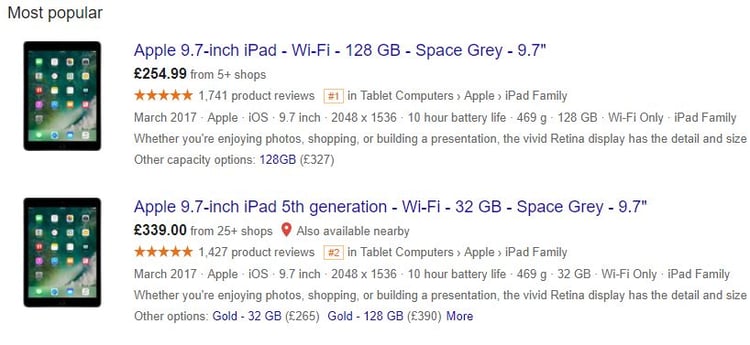 Read more about Google Shopping Ads here.
3) How Will You Choose My Keywords?

Keywords are an essential part of PPC advertising – ineffective keywords equals an ineffective campaign. At the end of the day you will know your business and your target audience better than anyone, so it's important that you choose an agency that encourages your input.
You should invest in an agency that selects keywords based on research, alongside regular advert split-testing and planning, over an agency that lets Google choose keywords on your behalf. Ask the agency if they use Google's Keyword Planner or if they use third party tools like Rankwatch.
Top tips for keyword selection:
Choose keywords with a high number of impressions (number of people using that search term)
Choose keywords with a reasonable cost-per-click (CPC). Try to avoid keywords that are very pricey or your daily budget will be swallowed too quickly with no leads to show for it
Use "broad match" keywords over "exact match". Broad match means a user can type in the exact phrase, similar phrases, singular or plural forms, misspellings as well as synonyms and your ad will still appear
Use negative keywords to ensure you only attract genuine customers. Negative keywords ensures your ad won't be shown for keywords you don't want to appear for. For example, a high quality jewellery shop could have "costume" as one of their keywords to ensure their ad isn't shown when a user searches for "costume jewellery"
4) How Will You Measure My Results?
There's no point continuing to waste your time and budget on keywords and advertising methods that don't generate new leads. Before signing a contract you should ask the agency to put together a simple plan of action explaining how they intend to boost your ranking and ROI. Ideally each month your account manager should report and evidence your progression.
Please keep in mind that PPC advertising can be very complex and time-consuming, especially when a range of businesses are competing for the same audience, for this reason, your results/leads may not necessarily increase every month. This pattern is fairly normal, you should only be worried if your business is continually falling month after month.
5) Will You Manage My Budget For Me?

Discuss your budget with your account manager in advance to ensure both parties are on the same page. Please don't say you can afford to spend X amount of money on Google AdWords per month if you can't, as this may cause problems for your account manager, especially if they are setting up a long-term PPC growth plan.
Google AdWords should be treated as a long term growth strategy and therefore we highly recommend opting for either a 6 or 12 month plan so you can truly appreciate the benefits for lead generation.
With regards to budget, you should also ask the agency if your budget will be paid straight to Google or will you pay the agency who will then liaise with Google on your behalf.
6) Does This Service Include Google AdWords Remarketing?

To put it simply, Google AdWords Remarketing allows your business to "follow" people who have visited your site online.
For instance, let's say you were browsing iPads on eBay. You then clicked off the site and went to research something else entirely on Google or social media. You will notice that iPad ads will be appearing in your search feed from other companies. This is not a coincidence, this is Google AdWords Remarketing. As a general rule of thumb, ecommerce businesses (or anyone looking to sell products online) should seek a Google Partner who has an understanding of Google AdWords Remarketing.
Final Thoughts
The JDR Group are a certified Google Partner Agency. Our expertise means we get great results on our client's PPC campaigns, we have access to Google training, support and news of upcoming features and changes, plus we are given vouchers and are made aware of any upcoming offers that could save you money. Please feel free to contact us today for further advice of Google marketing tactics.
Read the following articles for further information on Google Partners: