What Your Business Homepage Design Needs To Include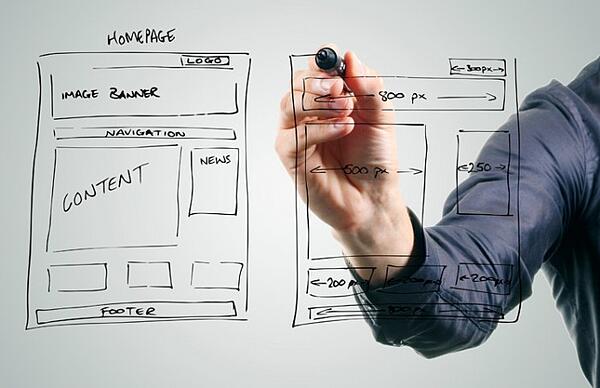 When you attend a meeting, first impressions are everything to ensure you close the deal. The same applies for your company's website homepage. Making a bad first impression can be the difference between attracting new business or losing out on an opportunity. What makes this even more important is that your competition are only click away. Not only that but we are all more confident behind a computer screen to move onto the next website with no hesitation. It is crucial that your website makes the right impression and matches your expertise and professionalism.
Your company's homepage is the most important part of your website because it is the first impression of your business. If you take a look at your Google analytics figures you will see that your homepage is the most visited part of your website. The homepage shares your mission, values, and goals – and should quickly communicate to your audience how your product/service addresses their wants and needs. Traffic to your homepage will also come from different channels such as search engines, pay per click campaigns and social media.
To ensure that your website homepage is capturing leads and establishing strong brand awareness to the visitors have a read of the below points to focus on, to establish a strong homepage for your company.
What do you want your homepage to achieve?
Setting goals and targets for your homepage will ensure you remain on track. Make sure your goals are S.M.A.R.T and you constantly review the results.
Your website needs to educate your audience and solve the pain points or needs. Your homepage needs to inform visitors that they are in the right place and don't need to look at competitors. A homepage also needs to educate the audience and needs to have clear direction onto the other pages of the website.
A good homepage requires clearly defined Call-to-Action's (CTA) on the page to show the next steps that the visitor needs to take. What you don't want to do is let a visitor self direct on the website. Calls-to-Action lead visitors to landing pages and products pages that help them make informed decisions.
Give them something to read
Homepage content is your business value proposition.
Use headlines and bullet points. Make your content easy to scan.
Don't be afraid of white space. Having white space is good so you don't overwhelm the visitor with content overload.
Have well organised links that will aid the visitor through the rest of the website.
Add relevant, small images.

With big images, layer them with text as a call-to-action.
Overall, educate the visitor.
Don't make it hard for a visitor to get around the homepage and website
When you visit a large department store they make it very easy to navigate round the store from area to area and floor to floor. These stores spend large amounts of money on developing traffic plans to ensure we, as consumers, a) spend lots of money and b) enjoy the visit so we come back.
Think of your website navigation as the same as the big department store. You need to ensure that it is easy to move around and navigate the website, and enjoyable so they return. Here are some areas to consider to ensure you navigation on you homepage and website is an enjoyable experience for visitors…
Use a clear font for easy reading.
Keep it consistent across the website.
Have descriptive short menu headers.
No more than 8 menu headers going across. 5 or 6 is an ideal number.
Keep it simple and clear.
Make sure your Header is eye catching
A great looking header is essential to a great homepage and website. Not only does it need to look good but it is vital that it contains the correct information so your business is contactable, if required by the visitor. Below is a check list to use to ensure your header is working for your business.
The simpler the better.
Use your logo.
Include your phone number.
Add courtesy links in top right for quick navigation.
Add a login link – if needed.
Have a consistent header throughout the whole website.
Don't forget social media!
As the title says 'don't forget social media'. It is very important in today's modern market that your brand has a social media footprint. Make sure that you advertise this fact on your homepage and throughout the rest of your website. Two main areas to consider when adding social media to a homepage are:
Add follow and share icons in header and footer of your homepage.
Be descriptive and show reason and value to join your business on social media.
Learn more today about how businesses are using Social media by reading this article - How are Businesses Adapting the ways they use Social Media?
Make your website remarkable and stand out from the crowd by implementing these few suggestions, if you haven't already. Make that first impression a lasting impression that will continuously bring people back to your site, and hopefully turn the visitors into leads and customers.
Article by Dale Bonser