Pinterest Vs Instagram For Business – Which Is Best?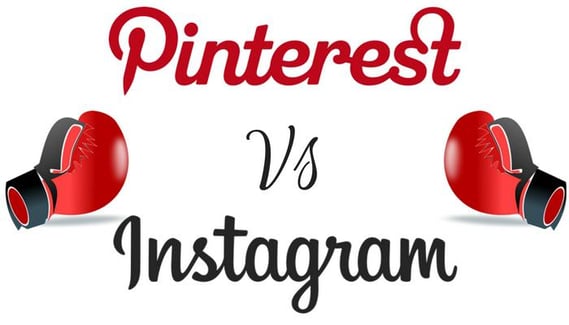 Are you a business owner overwhelmed by the amount of Social Media platforms that are out there? You have probably noticed that in recent years image-based platforms, in particular, have risen in popularity immensely!
Platforms like Pinterest, Instagram and Snapchat have and are starting to become a necessity when it comes to business marketing. But where do you start? Which platform is best?The big fight: Pinterest Vs Instagram has begun!

As a business owner, getting more clients and sustaining your business is one of your top priorities. Platforms like Pinterest and Instagram can really help you take your business marketing that step further, however, time is often a premium. If you don't have time to be using every Social platform out there and can't decide whether you should be using Pinterest or Instagram, read on to get a better understanding of what they both offer.
Pinterest: An Overview
Pinterest first came about back in 2010 and before its inception, we all knew pinning as a physical act of pinning notes to the fridge or wall planner. Now, we associate the word with Pinterest. Pinterest lets you save images on your profile and categorise them in different boards. In 2012, it was reported that the site had 11.7 million unique users. This made it the fastest site in history to break through the 10 million unique visitor mark! Find out the benefits and disadvantages of Pinterest below to help decide if it's right for your business.
The Benefits
Pinterest has many benefits to businesses and is especially useful for e-commerce businesses. Some of the main benefits are:
Increased Awareness Of Your Business And Brand
Through regular pinning, liking and following, you will gather more followers and increase awareness of your business and brand. You can also use paid ads to increase your awareness. A plus side to the ads on Pinterest is that they don't even look like ads and they aren't treated as ads either! This is a huge benefit as sometimes blatant "in your face" advertising can really put people off.
More Links And More Traffic
Pinterest is a great way for you to create more links back to your website! If the content you share on your boards is great then your audience are sure to follow them back to your website. This results in more traffic, more people learning about your products and services and ultimately more sales!
More Leads And More Buyers
Pinterest has proven to convert more browsers into leads and buyers faster than from other Social sources. The way Pinterest is presented makes it really simple to use. This can help reduce the number of steps taken from when your business or product is discovered to the conversion, whether it be a lead or sale.
Ability To Upload From Desktop And Mobile
On Pinterest, you can either upload new pins or save them on either a desktop or a mobile device. This is one of the big advantages it has over Instagram that only lets you upload photos from a mobile device.
The Disadvantages
Images
What is Pinterest's biggest plus is also its biggest weakness; images. If you don't own high-quality images or can't take them, you aren't going to have much success on this platform as people will just ignore your poor pins.
Female Oriented
The vast majority of Pinterest users are female. Therefore, if your business is solely designed for males or fairly male oriented then it probably isn't best suited to you.
Is Pinterest The Right Platform For You?
Deciding whether or not this is the right platform for your business is a tough decision to make. Pinterest has been proven to increase traffic, leads and sales for a huge amount of businesses across the globe. However, every business is different and the only way to truly tell if it will work for you is by trying it out!

Here are a couple of other useful articles that we have written about Pinterest:
Instagram: An Overview
Just like Pinterest, Instagram first launched back in 2010. Since then, the app has revolutionised the way we share photos! Since its inception the platform grew rapidly, enjoying better growth in the first couple of months than Pinterest with over 1 million people using the app in that short space of time! Find out the benefits and disadvantages of Instagram below to help decide if it's right for your business.
The Benefits
Instagram has lots of benefits, similar to Pinterest. Here are some of the main benefits of the app:
Better Engagement
Posts on Facebook and Twitter can often be overlooked by your followers and prospects. However, on Instagram, this isn't the case. The engagement on Instagram has proven to be far better, providing you have interesting content.
User Generated Content
On Instagram, the majority of the content is user generated. If you don't have any customers on there, posting images of your products or services it is a good idea to prompt them. Ask them to upload photos with hashtags that you can then get their permission to share and reuse on your business account. This benefits both parties as you will get great content that you can use and your customers will feel more connected to your business or brand. This sort of content is also going to appeal to any potential customers as it is more natural and it will resonate with them more. This will result in more traffic, more leads and more customers!
Gender Split
Unlike Pinterest which is predominantly used by females, Instagram has a near even split. Almost half of the active Instagram users are male and the other half female. So no matter what demographic your business or product targets, they're sure to be on Instagram!
Reach A Whole New Audience
If you want to reach a whole new audience, Instagram is the place to do just that! It makes it extremely easy to discover new photos, new businesses and potential customers. Probably the easiest way to do this is through hashtags. On Instagram if you click the hashtag on a post it will let you view all photos that use that hashtag. This is great as you could see what hashtags people are using that are relevant to your business and go out and discover a new audience that could be potential customers!
The Disadvantages
Only Able To Upload From A Mobile Device
Unlike Pinterest where you can upload and save pins on both desktops and mobile devices, on Instagram you are only able to upload photos from a mobile device. However, you can search and view accounts and photos on desktop.
Limited Devices
Instagram is only available to download on iPhone and Android as an app. Therefore, if your target market use a Windows mobile, Blackberry, or Linux it won't work. This means you may miss out on some potential customers.
Is Instagram The Right Platform For You?
Although Instagram has a couple of disadvantages it is still an extremely valuable string to add to your marketing bow! For some businesses, it will work better than others and will generate large amounts of new traffic, leads and customers. However, only you can make the decision to use it or not.
Here are a couple of other useful articles that we have written about Instagram:
Pinterest Vs Instagram – Which One Has Won The Battle For You?
Choosing between Pinterest and Instagram for your business marketing strategy should hopefully be a bit easier now after reading this article. My advice? Test both and use both. If they both work, then great. If one works better than the other then stick with that! They both have their ups and downs but can be extremely effective from a business marketing perspective and if your business isn't using either of the platforms currently then you really are missing out on a potential goldmine!