Digital Marketing Strategy For New Businesses In 10 Easy Steps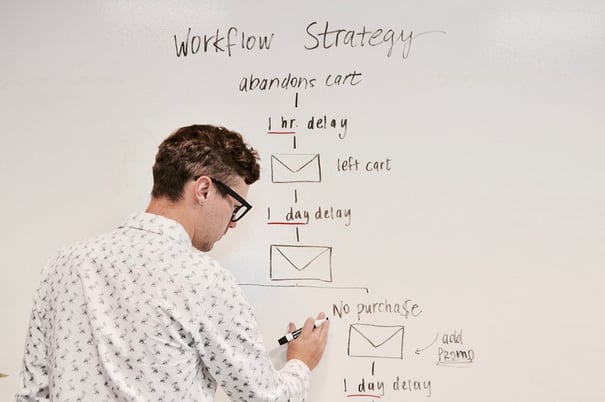 For a business starting out, the prospect of attracting the right type of customers, with the value you need to grow your enterprise, can be daunting. Fortunately, digital technology allows you to target very specific markets with valuable content and highly tailored marketing messages. You no longer have to rely on word of mouth referrals, cold calling or scattergun advertising.
Yet, simply reaching a market is not enough to turn leads into customers.

The appropriate digital marketing strategies need to be implemented in order to nurture your leads and grow your customer base.
If you're new to digital marketing, here's a 10-point guide to start you off:
Step 1 – Create A Brand/Logo
First impressions are very important, especially online, where you can't rely on body language and physical contact to convey your meaning. If you want to stand out from the crowd, having a distinctive and engaging brand and logo conveying exactly what your business is offering is essential to be competitive.
Step 2 – Create A Mobile Responsive Website
As browsing habits evolve, so do the ways of accessing online content. Ensuring your website is easily accessible from different devices and different screen sizes is necessary to reach the widest audience possible. People aren't going to waste much time messing around with a website that isn't designed for mobile accessibility. A mobile responsive website will automatically modify the website's content for smaller mobile devices, eliminating the need to manually create a separate mobile website.
Step 3 – Create Accounts On Google's Suite Of Platforms
Google has a range of marketing platforms such as My Business, Ads (their pay per click advertising service, formerly AdWords) and Places, designed to enable businesses to reach the top of online searches. Employing these services will help your business keep track of how well your online presence is performing in the online market, use paid advertising methods to promote your business online, and control the information you want displayed in search results. Using these platforms in unison will best inform you how to market your new business and give it a competitive edge.
Step 4 – Set Up Social Media Accounts
A large amount of website traffic for businesses comes from social media, so having a presence there is obvious. Maximising your business's presence on social media platforms will allow more direct customer communication, fostering better trust and loyalty. Authoritative social media content can lead to better brand recognition and useful insights gained about your customers, in addition to reaching a wider audience. Also, some leads may come directly through social media – especially Facebook and LinkedIn – rather than via your website. A social media account can be set up and customised in a matter of minutes, so you can get started even before your company website goes live.
Step 5 – Start Building An Email/Contact List
As your business starts accumulating clients and customers, it is important to build a list to stay in contact. Keeping your base informed is important both for growing your business and retaining the loyalty of your clients. Using customer feedback forms, social media posts and incentives to boost your subscriber count are all valid ways to build a list of potential customers.
Step 6 – Set Up An Account On An Email Marketing Platform
With a contact list set up, signing up for an email marketing platform or marketing automation suite should be next. Comprehensive marketing platforms like Hubspot have email marketing tools built in that will allow you to create a multi-tiered marketing campaign that can achieve excellent results for your business. From creating triggers that will automatically send out emails based on a customer's actions on your website, to personalising content specific to each customer based on their profile, email marketing builds your customer base at a relatively low cost, creating a better return on investment (ROI) from your marketing spend. Hubspot offer a really good Free CRM with email capabilities.
Step 7 – Ask For Reviews
Customers will always be willing to share their experiences online. Encouraging and listening to feedback will help your business understand the needs of customers and allow you to respond quickly and constructively. Feedback can come from online reviews, social media posts and direct communication, so having strategies in place for each is important. As a new business, you may wish to build up a portfolio of reviews by offering customers an incentive in return for a written testimonial, such as a small discount or access to exclusive gated content.
Step 8 – Set Up A Blog
Having a blog directly tied to your website is a great way to attract a larger audience. By regularly updating a blog with engaging and informative posts about your business and the wider industry, you can promote your business as an expert in the field, draw more traffic through search results and social media shares – as each blog post is treated as an independent page of your website by Google – ultimately increasing your knowledge base through research which can then be passed on to your customers.
Step 9 – Add Your Site To Business Directories
Another way to feature your business in search results is to list it with a reputable and relevant business directory. This will ensure that your essential contact details like addresses, business hours, etc will appear whenever your business is searched for directly, or when prospects are searching online for businesses like yours. There are many different directories available, so sign up for any applicable to your business.
Step 10 – Promote Initial Offers
Offering incentives to draw in customers will help promote awareness and interest in your new business and create a strong, early customer base. Offers can include discounts, free offers on selected items or services, competitions, and the like. Promotions can be repeated as your business grows to attract even more customers down the line. Tie in your promotions with paid advertising campaigns on Google and social media to draw in a larger customer base.
Setting Up Your Business On Solid Foundations
You've got the skills, ideas and experience to make a start up work. Inbound marketing will help get your services in front of the people and businesses who need them, and get new customers coming to you.
While building a business profile that stands out from the crowd can seem overwhelming, following these marketing tips will set up your new business on a good footing with everything you need to succeed in the industry.
To find out more about how we can help, please call 01332 343281.
Image source: Unsplash