Lead Forensics Vs Hubspot - Which Is Best For B2B Marketing?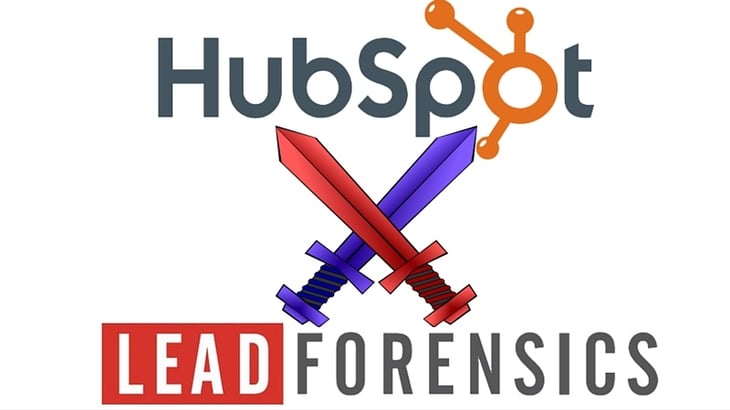 Looking to boost your website sales and foster new business connections? Tools such as Lead Forensics and HubSpot are popular choices, but how do you know which is the best to choose for the company you work for? It might be that you have experience of one and not the other, or perhaps you've stuck to a tried-and-tested formula – using the tool which has always been used. We're here to tell you the difference between the two and help you decide which is the best for your business.
The main differences
Lead forensics often costs as much as HubSpot and you'll generally find that the latter has all the same functionality, with many additional features. Read about 12 online marketing programs HubSpot can replace here: Online Marketing Software Programs You Can Replace With HubSpot. If it's IP lookup alone you're interested in then the quality of data you'll get is superior with Lead Forensics, and often those managing sales teams use Lead Forensics to get more leads from their website. But what are the main differences between the two tools? Let's discuss some of them:
Lead Forensics benefits:
Lead Forensics allows you to:
Identify anonymous website visitor contact information, such as business name and information that could help you turn a lead into a sale
Get the edge over your competition, focusing your sales on only the hottest leads
Manage the complete life cycle of the sales process from scheduling appointments to keeping track of quotations issued
Manage a 'dream list' – so you can keep track of businesses you want to work with and get automatically notified when they visit your site
Lead Forensics is easy to integrate with any existing tools and software you are using and simple to set up – you can even register for a free trial to see if it's for you.
HubSpot Benefits
Inbound marketing software that brings together your whole marketing process under one roof is bound to make life easier for B2B business development directors, and that's exactly what HubSpot does. Here are just a few of its key benefits:
All-in-one software which includes a range of tools for your site, blogging, email, social media, analytics and more
Helps you to understand your customers better and attract visitors to your site
Makes it easy to create landing pages
Lets you monitor the success of results by customers and leads, rather than more complex analytics
You get access to a wide library of webinars to help you understand not only the software but also inbound marketing as a whole, with plenty of help resources if you're struggling
Do these tools really work?
In the Lead Forensics Vs HubSpot debate – the question remains; do either of these tools really benefit your business? It's good to be sceptical when selecting inbound marketing software; you're paying for it so you demand the very best ROI (and why shouldn't you?) Let's look at a few reasons why you might be sceptical about using either of these tools:
You're not sure whether an 'all-in-one' tool will be more effective than your current set-up
It might be that you're currently using a combination of tools such as Gravity Forms, WordPress, MailChimp and so on. But stop right there! All-in-one tools like HubSpot can make it easier not only for you to track leads and sales, but for your whole sales team to stay on top of turning a lead into a qualified sale. Having access at the touch of a button to all the information you need about your website visitors, without complicated analytics to sift through and multiple tools to use, makes your job quicker and easier, which is what we're all looking for really!
You're unsure whether software such as Lead Forensics or HubSpot will work for your business
It's safe to say that this type of software can be beneficial for B2B businesses of all sizes, across a range of industry sectors. Whether your website receives 600 or 60,000 visits a month doesn't matter – the beauty of these tools is that you can customise every element of them to suit your business needs.
The verdict
So which one is right for you? Well, from the perspective of IP lookup alone, you're going to enjoy better quality data with Lead Forensics. But what we recommend is using Lead Forensics to track your website visitors and HubSpot to get more traffic, more inbound enquiries – and ultimately, more sales!
JDR Group are a Platinum HubSpot agency, and one of the leading HubSpot partners in the UK. By working with a certified HubSpot partner you can get the most from HubSpot, and get more traffic, more leads, and more sales for your business.