JDR Attends The Digital Agency Expo In New York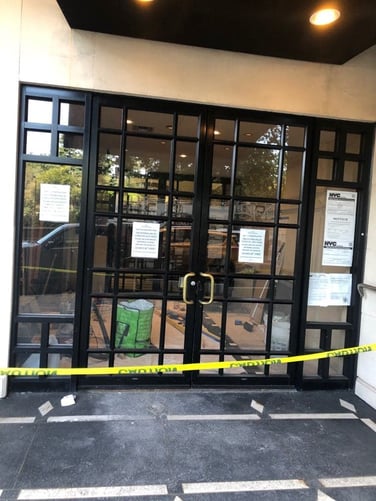 A few weeks ago, I travelled to New York to attend the Digital Agency Expo. It was insightful to be around speakers such as Ryan Deis, Co-Founder & CEO of Digital Marketer; Larry Kim, CEO MobileMonkey; and Gary Vaynerchuk, CEO of VaynerMedia.
It was a productive trip, with lots of information to take in and bring back to our clients. It was a full week of learning; the agenda was too full for me to list all the topics so check them out here.
Despite the packed agenda and studying and working from my hotel room I did manage to fit in a small amount of leisure time. I got to see the Statue of Liberty… well, sort of! And I visited New York's Apple store - those of you who know me know I am a BIG Apple fan, so of course I had to pay it a visit! It was basically just a cube! It had the store underground - a fascinating design and very Apple!
During my travels around New York, I was walking past quite an upscale hotel and I noticed it had a sign on the door. The sign stated, 'this entrance will be closed until Friday.'
It was Saturday, and the sign was still up! So, whose responsibility was it to either update the sign or take the sign down? Considering the deadline had now passed, and the work should have completed it would have been a fair expectation for hotel guests to use the entrance.
To me, this situation looks a whole lot like when agencies take on new clients and expectations aren't aligned with a realistic outcome for success. In my experience, this is a frequent grumble with business owners who seek outside help for their marketing, but expectations aren't aligned, deadlines get missed and their ultimate feeling is, 'this is just another example of marketing that doesn't work.'
On the other hand, if the right people take on the right responsibilities and expectations are managed correctly with all parties involved, you have a greater chance of success, and the business owner doesn't feel that they have been overpromised and underdelivered by a prospective marketing partner. The onus is on the marketing agencies to make sure that they don't keep a sign up when it should have been taken down!
I wanted to tell you this story because if I was a guest at this hotel, I would have been annoyed by the confusing message on the sign. I see too many business owners who are annoyed with their marketing for the wrong reasons. Our job is to make sure that our guests have a great experience and we make sure that we take care of the details so that there's no confusion.
A good marketing agency will do things differently, and they should regularly update their clients with the correct information, so they know what's going to happen next and therefore know what to expect from their marketing. If any unexpected changes occur, a marketing agency should let their clients know immediately - not leave them guessing and unsure about which direction they should go in next.
Call JDR today for help and advice on marketing for your business.