8 Proven Ways To Say 'Thank You' To Customers & Prospects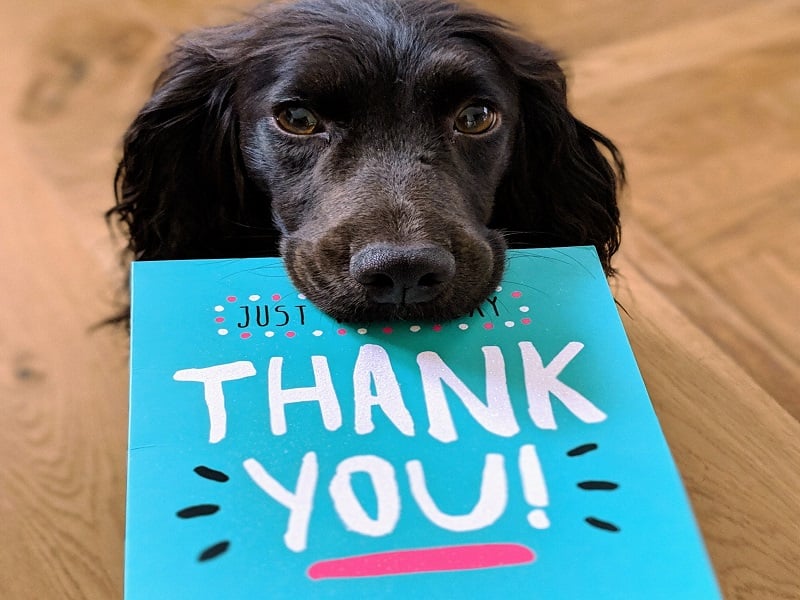 Customers and prospects love to feel that the business they're being asked to deal with – or have already dealt with – sees them as people, not just as numbers on a spreadsheet. Saying thank you is an easy, simple and effective way to achieve this. How you do it depends on the situation, but here are some ideas.

1) Thanks For Your Order
If someone purchases a product or service from you, make sure you show you value their business. Your competitors are waiting to jump in if you don't live up to customer expectations. A simple automated message of appreciation, including the customer's name, can go a long way.

2) Thank You For Subscribing
This one is crucial, because signing up for an email can often be the start of a long-term engagement. You want to get your relationship off on the right foot, so show you aren't taking their interest for granted. Again, a little personalisation will be welcomed.

3) Thanks For Joining Us On Our Journey
Although your main aim is to sell your product or service, pounds and pence are not the only currencies that matter. Making customers feel you're talking with them, not at them, can be a real plus in terms of building loyalty to your brand.

4) Thanks For Your Consideration
Sometimes you have to take the rough with the smooth and accept that the sale you'd hoped for is going to a competitor. In such circumstances, do everything you can to show that you're still grateful to have had the opportunity. The customer is likely to look on you favourably next time. These notes can be hard to get right, so it's worth A/B testing a few variations and measuring your results over time.

5) Thank You For Choosing Us
Now we'll look at when things do go right. You've won the order this time, but there'll be more decisions for your customers in the future. Thanking them for their custom straight away will make them feel comfortable with your business and will up the chances of you being their first choice next time too.

6) Thanks – In Writing!
With so much business communication now online, an easy way to make your thank you special is to go back to a more traditional option. A typed or even handwritten thank you note or postcard to your customers will stand out. However, be careful not to overuse snail mail in an age when many businesses are keen to reduce their dependence on paper communication.

7) Thanks For Your Helpful Feedback
Testimonials, reviews, and word-of-mouth feedback are enormously important, especially for SMEs with limited marketing budgets. Make it clear how much you value any feedback you get, whether positive or negative, whether sent directly or socially shared.

8) A Little Gift To Say Thank You
For a repeat customer, or one who's just placed a large order, there's plenty of mileage in offering them something in return. It doesn't have to be big or flashy, but adding an exclusive deal or discount to your thank you note will make you stick in your customer's mind for all the right reasons.

Get Thanking, Reap The Rewards!
Thank you for taking the time to read this blog. We hope to see you here again soon! In business, as in most other areas of life, a little courtesy goes a long way. Saying 'thank you' to your customers, whether they've chosen you this time or not, costs you nothing but can gain you that crucial edge over your competitors. For more simple and effective marketing communication strategies, please give us a call today!
Image source: Unsplash