Google Analytics Guide For Dummies – 7 Things You Need To Master The Basics

As a business owner in a digital age, your website is your most significant marketing tool. Every second a visitor spends on your website is an opportunity to promote your brand, products and services above your competitors. So how do you know whether your online content is really connecting with your target audience? More importantly, how can you measure which areas of your digital marketing strategy are working and which could be improved? No business wants to waste money and time investing in a strategy that provides little or no return on investment. Analysis of online performance is key to determining the most cost effective use of your marketing budget.
Google Analytics is a free website analytics service which enables the monitoring and evaluation of all visitors to your website. Many businesses simply use Google Analytics to record the number of website visitors and page views; however when utilised to its full capabilities, the service provides a powerful source of marketing data for any business seeking to increase online presence, profitability and market share.
What do I need to get started?
The basic requirements for Google Analytics are either a Google email address or an AdWords account. The next step is to attribute a JavaScript syntax, called the asynchronous tracking code, to each web page. This should be performed by a developer or by someone with knowledge of HTML coding. Google use the code to accurately record the movement and referral source of all web traffic. Adding a privacy policy to your website can help deter web users from blocking or deleting Google Analytics cookies, which would prevent Google from recording the visit.
You're then ready to start using Google Analytics.
1) Set user permissions
To allow different levels of access for staff and managers you can set user access levels for your Google Analytics account. The account can be limited to view only, or full account management.
2) Set Goals
Once you've set up the tracking code for each page, you can set the goals you will use to track conversion rates and identify the key sources of traffic to your website. The goals should be based on the purpose of the website. For example, if your site is primarily used to increase brand awareness, the definition of a successful conversion will differ from an E-Commerce site, where a successful conversion results in a sale. Goals could include sales, lead generation or information downloads.
3) Get to know your dashboards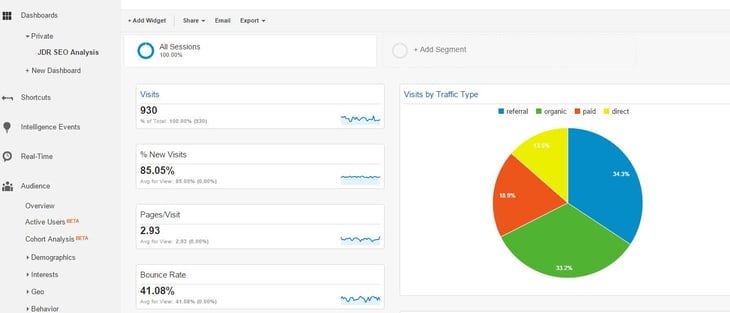 Your data is displayed within dashboards, for ease of access to Dimensions and Metrics. Dimensions are details about your visitors and the journey they take, such as using keywords or an external link. Metrics are the data generated by facts and figures, such as conversion rates, the number of visits and the duration of each visit. The first dashboard provides a general performance overview, providing information about the number of visitors, conversion rates and most visited content. You can then investigate each section in more depth to establish the value of engaged visitors and whether your traffic is being generated successfully across enough channels other than Google. This ensures that your website continues to receive traffic from additional sources should Google change its algorithms. By assessing the keywords which generate the most organic traffic, these can be used to optimise your web content or landing pages to boost your search engine rankings.
4) Create Reports
Alongside standard reports comes the facility to create your own custom reports. Key metrics for your individual business needs can be pulled into your custom reports and then evaluated against your goals to determine which interactions create the most value for your business.
5) Use Event Tracking
Track every click, including external links, so you can evaluate which keywords, content, campaigns, PPC and adverts are successfully engaging with your customers. You can track the length of time visitors spend on your site and see which pages are most frequently visited.
6) Go with the flow
The Visitors Flow Funnel identifies the path visitors followed to reach your site and the length of time spent on each page, helping to identify areas of poor performance. The location of your visitors can also be revealed to assist with market segmentation. Analysis of repeat visitors and which channels encourage repeat visits can provide insights to help determine which changes to implement to increase conversion. Funnel stage reports provide you with a view into how each of your online marketing strategies impacts on the performance of another, to gain a more accurate valuation of each channel and ensure each channel is supporting a consistent message to your customers.
7) Integrate
Google Analytics integrates with many other Google applications including Google Tag Manager, AdSense, AdWords and Google Display Network, to help create additional revenues and link your accounts from one user interface.
Accurate interpretation of the data provided by Google Analytics enables the effective implementation of strategic investment into your online marketing. Add real value to your business, by understanding when and where to prioritise resources into the creation of engaging content and digital campaigns which will drive results and maximise profitability.