Derby's bid to be crowned UK City of Culture makes the JDR Group proud!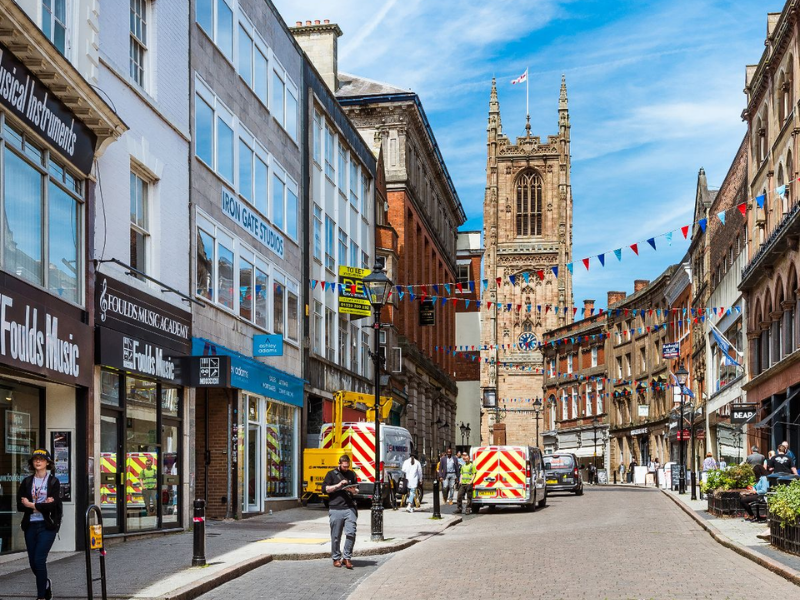 After two years of remote work, we are delighted to be back in our JDR office in Pride Park, Derby. We have been proud to call Derby our home since 2004, and many of our employees and customers are drawn from Derby, Nottingham, Leicester, and the surrounding areas. We've always loved and supported our great city of Derby, and so we're proud to hear of the city's bid to be crowned UK City of Culture for 2025.

Why Derby?
Derby is a vibrant multicultural city with a rich heritage as a regional business and industrial centre. Just a few minutes' walk from our office is Derby Railway Station, with one of the best preserved Victorian 'round houses' in the country – a huge circular building with a rotating platform once used to give maintenance access to steam trains! (The Roundhouse is now a modern events centre and houses the library for Derby College). We are also close to Derby University and the bustling city centre, and can just about see the spire of historic Derby Cathedral from some of our office windows!
It's a great city to live and work. One of the reasons we wanted to put down roots in Derby – at a time in which many businesses are disbanding or downgrading their office presence – is the opportunity it gives us to contribute to the local community. As our business has grown and diversified over the years, we have bought a range of jobs and training opportunities to the city, actively engaging with young people as apprentices.
Our founder and director Dave Roberts runs a non-profit networking group for small business owners in the city and regularly appears on BBC Radio Derby to talk about local causes and ventures.
What the City of Culture means for Derby
A successful City of Culture bid will be a great opportunity to attract inward investment to the city, drawing attention to its great opportunities for growth, its facilities, educational, and transport links. There are bound to be many exciting events throughout the year to celebrate the city's artists, sports people, and entrepreneurs, as well as opportunities to establish a vision for the city as a 21st-century business and cultural hub. The focus of the bid will be the cultural and economic regeneration of the city, with several long-term projects in the pipeline to improve access to education and training opportunities for young people, and to make the city an accessible and enjoyable place to do business in.
Supporting the bid for City of Culture
At JDR, we have worked with and supported many small businesses from Derby through our marketing services, as supply partners, and through our involvement with local charities – and we look forward to what the future will bring for ourselves and the city we call home. We are completely behind the bid and pledge our full support to the men and women pursuing the application. There are currently active bids from cities in all four nations of the UK, and we'll keep you informed of Derby's progress on this blog!
Image Source: Derby Telegraph