How To Do A SWOT Analysis For Your Business Planning
SWOT stands for strengths, weaknesses, opportunities and threats. This analysis can be carried out for a product, a specific project, a whole business or even an entire industry.
The benefits of a SWOT analysis are that it:
Provides a framework to guide you through business planning
Allows you to assess how to stand against your competition
Helps you identify or clarify your USP (unique selling point)
Makes you face up to any problems in your business that you may otherwise be ignoring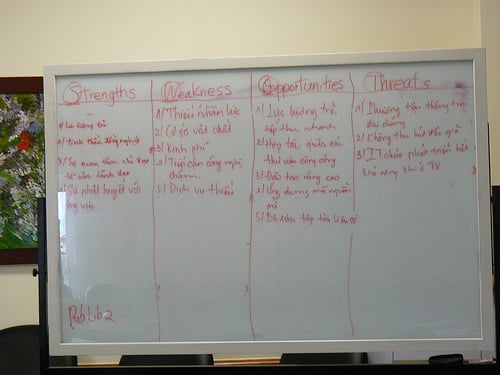 How to Create A SWOT Analysis For Your Business
Whether it's to help you create a business plan for investors, present to a board or for your own personal use, creating a SWOT analysis is a cornerstone of any good business assessment.
There are two parts to a SWOT analysis:
Internal factors – the strengths and weaknesses internal to the organisation
External factors – the opportunities and threats presented by the environment that are external to the organisation
Here's a guideline to building your SWOT analysis – Simply answer the questions.
Strengths:
What advantages does your company have?
What physical assets do you have (e.g. capital, property etc.)?
What other business assets do you have (e.g. personnel, intellectual property etc.)
What advantages does your company have over your competition?
What is your USP (unique selling point)?
Do you have more than one USP?
What do your customers say your strengths are?
Why do your customers choose you over your competition?
Consider your strengths from your own point of view - but then also from the point of view of your customers and people in your market as well to get a fully rounded assessment.
Weaknesses:
How could your business improve?
How could your services or products improve?
What does your business do badly?
What do your customers see as your weaknesses?
Why do some customers choose your competition instead of you?
Again, consider this from an internal and external basis. Its best to be honest and truthful with yourself and your business, the more weaknesses you find, the more ideas you will have to resolve the problems in the list.
Opportunities:
What good opportunities are on the horizon for your business?
What is currently trending in the market?
Are there any promotional opportunities such as an event you can promote your products or services at?
Are there any opportunities in new technology?
Are there potential business partnership opportunities?
Are there any opportunities for funding or investment?
Are there any opportunities where competitors are weak or failing?
Have the government created any policies which may be used as an opportunity?
Threats:
What is slowing down your company growth?
What are your competitors doing that could affect your business?
Are there any issues with your products or services that could affect you in the future?
Are there technological factors which could affect your business?
Do you have company debt or other financial issues?
Is your business over-reliant on any one employee, director or customer?
Could any of your weaknesses seriously threaten your business?
Further SWOT Analysis Tips
If you're using SWOT Analysis as a serious tool, make sure you're rigorous in the way you create and apply it:
Involve your team, customers and/or suppliers when reviewing each section - they may be able to add insight which you hadn't considered
Get as specific as possible - only accept precise, definite statements that can be backed up with facts
Prioritise your lists so that you spend your time thinking about the most significant and important points in your SWOT
Make sure you create action points and follow through once you have completed your SWOT - these can be small points or the creation of a whole new business strategy
Complete numerous SWOTs. You can do a SWOT of your overall company, but you can also do an individual one based on your products, services or even your workforce
You can use the example above as a guideline to creating your own SWOT analysis and remember this is an analysis tool, that's it. Don't think you have to change you whole company strategy on your findings, it's just a guideline so that you can gain a better understanding of where you stand in terms of your long term ambitions.
photo credit:
shihwy1
via
photopin
cc