5 Reasons Why Your Small Business Needs A Mobile App
Mobile Apps For Apples App Store and Google Play - Now Available For Small Business Owners
In December last year, mobile app downloads hit the one billion mark - in one week alone! We see adverts for betting apps during half time in football matches, John Lewis advertise their app on their adverts, and in 2011's 'The Apprentice' one of the tasks was to create an app.
Until recently only big brands have invested in apps, but now you, the small business owner, can have one too.
Here's why you should: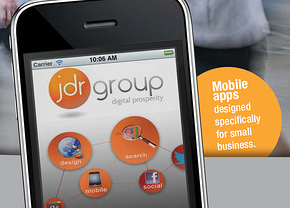 1) Apps are replacing websites - as tablets and smart phones replace traditional computers, apps are replacing websites. We work with hundreds of small and medium sized businesses, and monitor their web traffic - 15-20% of our clients web visitors now come from mobile devices.
2) Your brand is always with them - once someone has downloaded your app, you have a place in their most important posession: their phone. Your customer takes their phone everywhere - and once they have your app, you go with them!
3) 'Push' notifications - what percentage of your emails do you actually open? For most people it's now below 15%. And what percentage of your text messages do you read? Pretty much all of them? Over 95% of text messages are opened within 20 minutes, and you can send push notifications to everyone with your app. These notifications come through like text messages, giving you a direct and effective way of communicating directly with your customers.
4) Social media interaction - the customers that download your app can interact with your social media profiles, read your blog, watch your YouTube videos - all in one place.
5) Improved customer service - with your app, your customers can communicate with you anytime, anywhere and anyway they want. They can get a live map to your location, 'click to call' to ring you, send an email, a tweet. they can leave reviews, post to your Facebook wall, comment on your blog. It makes it much easier for them to find or communicate with you at the touch of a button
We appreciate that this is a new idea, so to learn how your app could work, we have a special offer for you: If you go to https://www.jdrgroup.co.uk/blog and fill in your details, we will actually build a demo app for you, complete with interactive features and a custom design. there is no cost for this service, so go to https://www.jdrgroup.co.uk/blog and complete the form - or call and ask for more information on 01332 343281.
Article by Will Williamson