6 Good Marketing Ideas For Small Businesses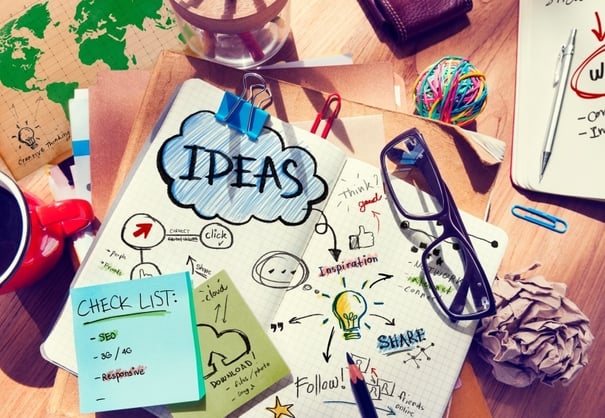 As a small business owner, marketing can be a bit of a dirty word – it can be confusing, frustrating, and seen as an expense. However it is a crucial part of growing your business, so this article is designed to give you some good starting points.
There are hundreds of articles on the Internet about marketing strategies for small businesses, good marketing ideas and so forth. However, most of the businesses I speak to are in business to business (B2B) industries, and feel that most marketing just wouldn't work for their business. The main reasons for this are that they don't generate business in the "traditional" way or that their sales process is too long for marketing to be successful.
So what does this mean for small B2B business owners?
Are there any effective marketing methods that can provide a return on investment?
Below are some of my ideas put together after speaking and working with many business to business companies around the UK. Some of the ideas below you may have tried before, and found that it hasn't worked for you. However when these methods are implemented correctly, and done in the right way, then there won't be any reason why the following strategies cannot work for B2B companies.
1) Social Media Campaigns
Social Media? For business? This is pretty much the reaction I get when I mention this as a potential solution to a small business owner. The fact is every business should be using this method, as there is a social media platform for every business, and every target market.
For most, the best B2B social platform is LinkedIn. You may have an individual profile, but you can go beyond just having a profile to using this platform as a great way of growing contacts and relationships. Not only that, but you can use it to profile suitable companies that you think might be a good fit for your services, as well as participate in industry discussions and groups. Read more about Social Media here
2) Google AdWords
Google AdWords is ideal for small businesses. This is because it is flexible, you can switch it off if you're too busy to handle any new enquiries, invest more when things are quiet, and it is controlled by you. You can set daily limits so you don't run up huge bills, you are in complete control of your marketing.
One of the best features though is that unlike most marketing strategies, you only pay when people decide that they want to visit your website. Gone are the days where you will have to pay up front for advertising space, crippling cash flow before your campaign has even begun. Essentially it is a risk free strategy, because if nobody clicks on your website, it doesn't cost you any money.
Read more about Google AdWords here
3) Display Advertising
This strategy is mainly used by large organisations, but is more suited to small B2B businesses. The reason for this is that you can be heavily targeted in your marketing. Most large organisations will accept an amount of "wastage" in their marketing spend, as they have the capital to back it up. Most of the B2B companies I speak to, on the other hand however, shy away from marketing as they can't afford to have any "wastage" in their marketing.
Display advertising can work in a similar way to Google AdWords, where you are only charged when people click on your advert. The difference here is that a display advert is more visual than the usual text ads you see on Google, which means lots of people will see your logo, images and sales messages for free.
Not only this, but you can use social media to segment even further. Using LinkedIn as a display advertising platform, allows you to target people via the company they work for, their job role, location and industry. It's also a great follow up system for businesses with limited resources as Display Advertising can include remarketing, where your ads 'follow' people who have visited your website specifically – people who have already shown interest and are more likely to convert. Read more about display advertising here
4) Start A Blog
The key to selling any complex or high value product or service for years has been trust, and today is no different. All that has changed is how you portray it to potential clients. Throughout the 80s and 90s, we wouldn't necessarily trust people we have never met, however now I speak to businesses who have never met their clients. How they became clients is down to the fact that their website created enough trust for them to give them a call.
This is what a blog is designed to do. Showcase why people should use you, build trust and credibility by showcasing your knowledge and expertise about subjects.
A blog is different to a news page however, as blog content Is designed to convert visitors into leads. You shouldn't just start a blog for the sake of it. All of your articles should have calls to action embedded in them (like the one just below!), but try not to ask for too much to begin with, as your customers will not like to be rushed.
5) Email Marketing
Email marketing is a tactic that has been used successfully, and unsuccessfully, by businesses for a number of years now. The challenge that faces business owners though, is that so many businesses do email marketing badly, that it has tainted it for the rest of us.
Cold email marketing is statistically proven to have low conversion levels, but creating a segmented opt-in database for each of your buyer personas can be a huge advantage to your business, as no longer are you sending emails out hoping someone is interested in what you've sent them. By doing it this way, you know that the information your sending is something that your prospects are interested in.
If done manually, this will take up a significant amount of time, which is why most of this can be done in an automated way, without human input. To find out more about this, the free ebook above will explain more.
6) Create Really, Really Good Content
As discussed earlier, blogging is a great way of building trust and credibility, but how can you really generate leads from it? This is where content goes up a notch. Creating highly skilled and valuable content that will significantly help a potential customer, will undoubtedly increase your leads if done in the right way. Creating an eBook, a webinar, a case study, a whitepaper, whatever it might be, something that requires a physical download (that requires their email address to access of course) is now a tangible asset for your business. This will not only increase your leads as your customers download it at will, it can also help you convert more clients by giving it prospects to help you in their sales process.
Read more about content marketing here
In Summary
Most marketing companies will have come up with small business marketing ideas at some point, but in the B2B world, you don't have to be too clever. You also don't have to spend thousands on advertising either. Most of the strategies above are not new, or revolutionary, but most B2B companies are not using them effectively at the moment, or even at all. Most of these can be done in house with great training, or with a good provider. It falls down when you leave your markting in the complete hands of other people. You will have to contribute to your marketing, as you know your business better than anyone else does, so don't allow your marketing to let you down.
Article by Shirley Lacey