8 UK Content Marketing Examples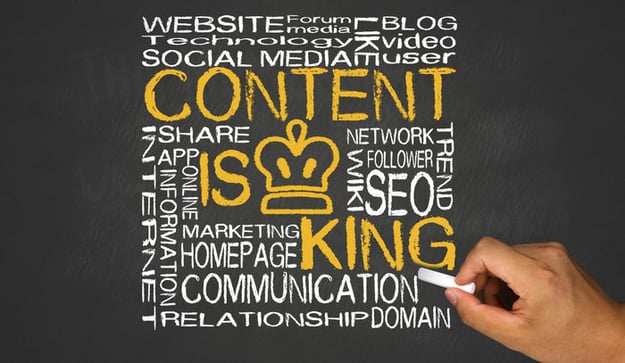 Content Marketing is a much-argued about term. To an SEO agency, content is used as a way of attracting inbound links to boost search engine rankings. To a social media marketing agency, content is the fuel that drives conversations online. And to someone like Joe Peluzzi (founder of the Content Marketing Institute and author of Epic Content), content is a long terms strategy to build and nurture a community, creating trust and attracting more and more leads over time.
However you define the term itself, consistently creating arresting images, educational blog articles, entertaining videos and podcasts, shareable infographics and in-depth reports and eBooks is a fantastic way of growing your business, building your brand and increasing inbound leads.8 UK Content Marketing Examples
If you are struggling for inspiration, or to get your head around the 'how would it work for our business?' question – here are 8 examples of content marketing from right here in the UK.
In picking these examples, I've tried to use a range of different industries, and from small growing companies to the very largest – to show that whatever your industry and whoever your target market are, content marketing can work for you.
1) Simply Business – Business Insurance
Simply Business are the UKs first online insurance broker and target primarily small and medium sized business owners. They have a great 'knowledge and resource centre', and they have a fantastic blog as well as a huge Twitter following.
For me, however, the interesting thing about Simply Business is that in profiling their potential customers they have created a whole series of guides which are not necessarily about insurance, but are designed to be interesting to their audience (small business owners). As such, they have created small business guides on general business topics such as social media, websites and recruitment. An example is their guide to YouTube: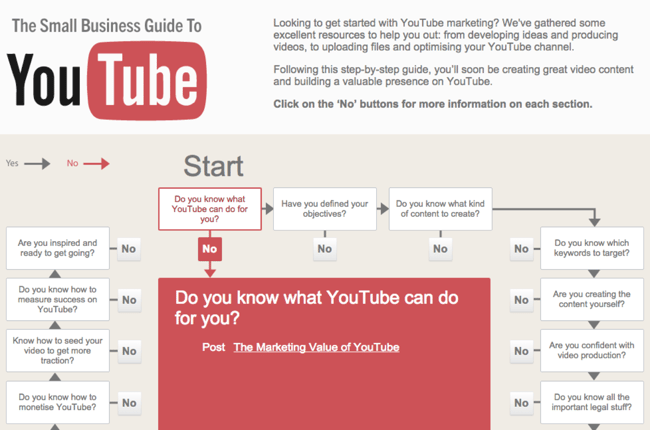 This just shows that even if you are in a 'boring' industry where there 'is nothing much to say', you can create an audience by creating content that will be interesting to your customers, rather than about your product.
2) Kinleigh Folkhard and Hayward – Estate Agents
KFH have created a whole series of in-depth guides for buyers, sellers, tenants and landlords. In addition they have written area guides for each borough of London, and have a fantastic property blog.
They have taken it to another level, however, by creating their own physical magazine www.completelylondon.co.uk/ which has won awards from the Content Marketing Association, the British Society of Magazine Editor Awards - and the online blog was awarded best blog in 2012 by PrimeLocation.com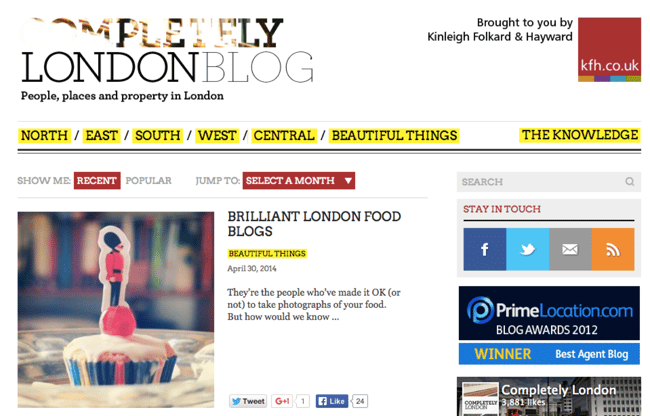 3) Vodafone – Telecommunications
Vodafone have targeted the corporate sector with their Insights section on their website. Using their business experience and huge client base, they have created a series of industry specific insights and also emerging insights into the nature of business, the workplace – the type of content designed to engage and attract senior executives.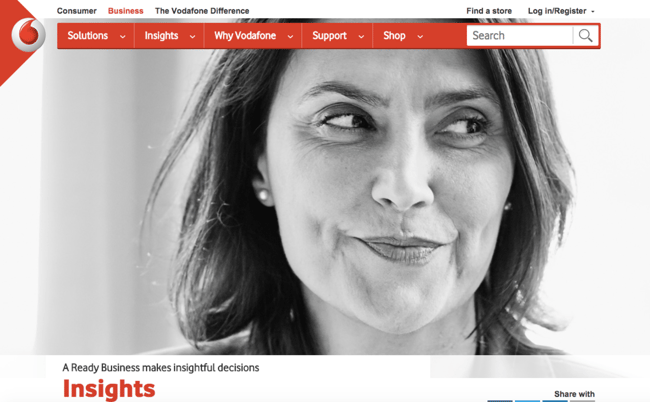 4) Crunch Accounting – Accountancy
A 150-people strong accountancy firm which started in 2007, Crunch are great example of a small business who have taken Content Marketing to heart. They have a fantastic blog, more than 60 well-produced and useful YouTube videos, as well as a series of downloadable guides for small business owners including invoice templates, business guides and various online calculators: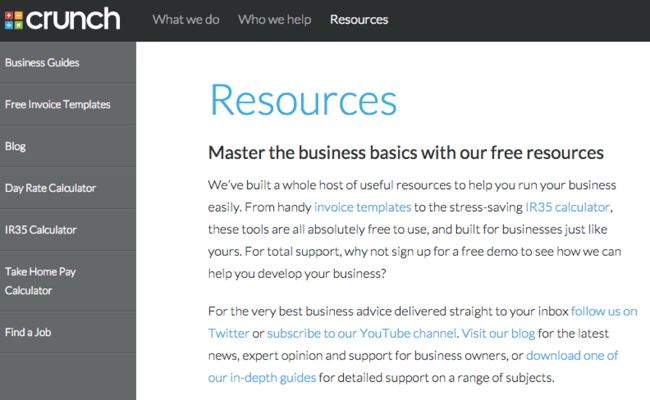 5) Experian – Data and Marketing Services
Targeting marketers, Experian produce a great piece of content every year – their Digital Marketer Report. 'Big' content pieces like this 100-page annual research paper are a great way to generate leads – by giving away a hugely valuable resource in exchange for a few contact details Experian are able to build a huge opt-in database.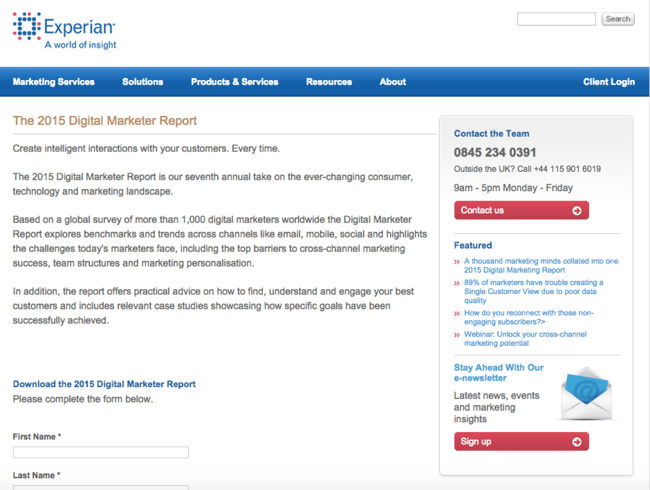 6) Evans Halshaw – Car Dealership
Unlike the example above, this 'big' piece of content was made available to anyone – the aim of this fantastic visual James Bond infographic was to achieve more inbound links (it has 94 referring domains, according to Majestic at the time of writing and links include the Guardian, and the TopGear website) and social shares. This will have had huge SEO benefits for the company website overall.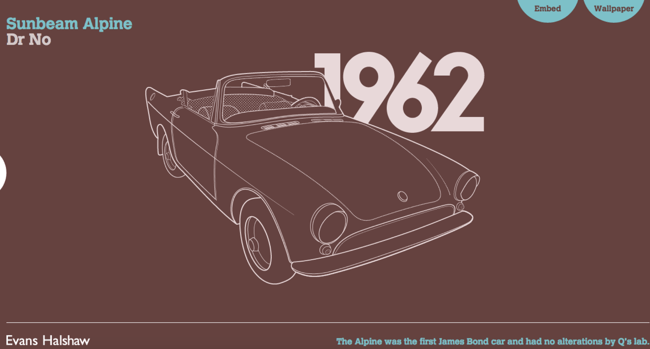 7) Asos – Fashion
Asos was a business that shook many established high street fashion retailers into action with their E-commerce businesses. Much of the growth of Asos has been content-led – from catwalk videos on product pages, to online style guides and the recent 'as seen on me' user generated content campaign. They have also published their own physical magazine: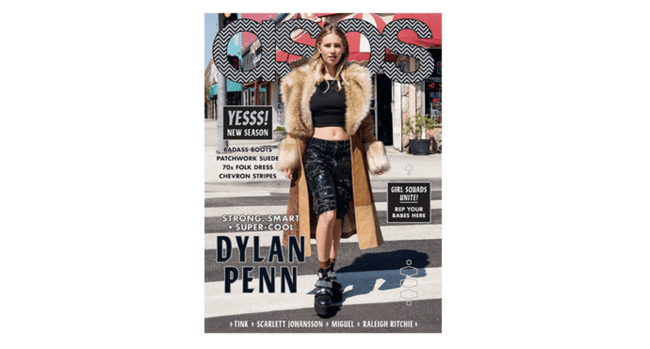 8) Royal Mail – Mail Delivery
One-time nationalised monolith Royal Mail invested in a research study showing the benefit of using regular mail together with mail when marketing – and created a full study guide which you can download. The purpose of this guide is clear – to influence marketers and bring people back to direct mail.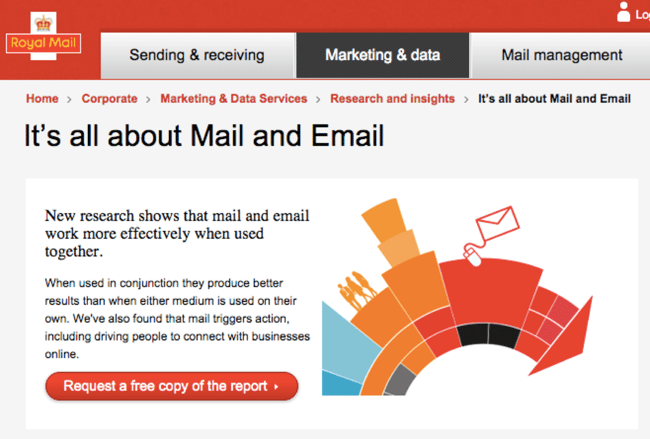 Whether you have a mass-market product or are targeting a very specific niche, whether you sell to consumers or to businesses and whether you are a small growing start-up or an established brand the value of creating compelling online content is clear.
YouTube, Blogs, Podcasts and social media have meant that every business can become their own media company – you can now become a publisher and broadcaster to attract a specific audience, rather than pay to advertise to someone else's audience.
Investing in this type of online content grows your web presence, fuels your social media conversations, raises your online profile in Google, can drive lead generation and ultimately build your reputation and brand online.
How effective is your online content? To have your website and online content reviewed by one of our experts, go to offers.jdrgroup.co.uk/inbound-marketing-audit or call 01332 343281 today.