6 Ways To Get More Targeted, Qualified Leads Using Google Display Network

There is more to Google Adwords than those text ads on the right-hand side of the search results. Adwords is a fantastic free programme that provides different opportunities for targeting users all over the Internet. One of the greatest opportunities is the Google Display Network.

The Google Display Network refers to a huge number of websites that allow Google to display Adwords adverts on their web pages. The ads usually appear at the side of a web page, through an additional Google programme called AdSense. According to preferences in your Google Adwords campaign, your ads could be shown thousands of times per day to Internet users around the world.

The Display Network has evolved very quickly and is now Google's largest player in advertising and their biggest draw of revenue. In fact it's still growing and has taken over online advertising competitors Yahoo! Search Marketing and Bing Ads. The Display Network now reaches 83% of unique Internet users in over 100 countries!

Your ads will be shown in all of the following places:
Google sites

including Search, Shopping, Maps, Images, Groups, when someone types in a keyword you bid on.
Search network websites

that have partnerships with Google to show Adwords ads. The ads will appear next to search results or on the relevant websites.
So now that you understand a bit more about Google's Display Network, you will want to know what's in it for you – as an advertiser. Well you're in luck, because there are plenty of benefits for you and your business to take advantage of.

Flexibility – Like Google Adwords, you pay every time someone clicks on your ad (cost per click), but you can also opt for cost per impression (CPM) or cost per acquisition (CPA) based on your budget, audience size and spending model.
High relevancy – Google stays ahead of the online advertising game by only showing ads on the most relevant search results and websites. This improves audience engagement.
Huge coverage – With so many search partners and a global network reach, Display Network ads are shown on large and niche websites wherever you want them.
Measurable performance – Use Adwords Display campaign metrics and tools such as Placement Performance Reports, Conversion Optimizer and Conversion Tracking to monitor and measure performance. You can improve advertising effectiveness a lot faster.
Campaign transparency – Pin-pointing what's working and what isn't couldn't be easier in this type of campaign. All performance and traffic metrics are clearly displayed in your campaign, through additional campaign tools and Google Analytics.

One of the stand-out benefits of the Display Network is its scope for targeting the most profitable, relevant leads for your ads. This ensures that you improve click-through rate (CTR) and return on investment (ROI). Here are the 6 methods of targeting to try out.
1. Targeting by keyword
In the Display Network tab of your campaign you can alter where your ads are shown based on their "Display keywords". The same match type rules apply with adding keyword targets, for example:
-sandals : your ads won't appear on websites containing the word sandals
men's brogues : your ads will appear on websites containing these or related words
"men's brogues" : your ads will only appear on websites containing this phrase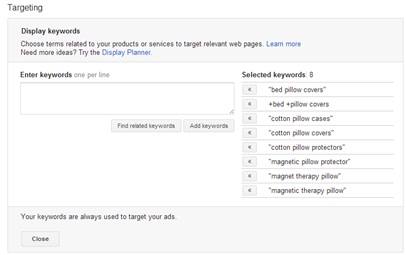 2. Targeting by topic
The Topic targeting option allows you to quickly and accurately include or exclude website topics. This means your Display ads will only show on websites that focus on certain business sectors. You can easily search the topics in Adwords' clear list of categories and subcategories, to target niche industries and receive better CTR.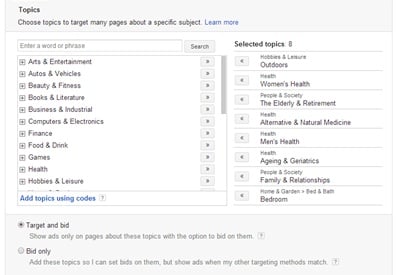 3. Targeting by interest
The Interests targeting tab in your Display campaign has a similar format to the Topics list; you choose categories and subcategories of websites to show ads on. Instead, the categories refer to the interests and hobbies of your most profitable leads; whether you're reaching new ones or attracting ROI. This type of targeting is really effective if you sell consumer products or base your products/services around a customer's lifestyle.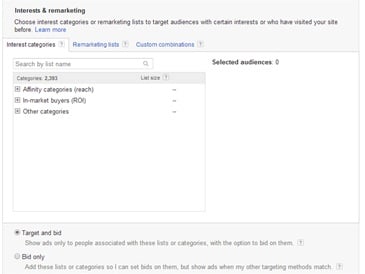 4. Targeting by remarketing
If you go to Shared Library > Audiences you can add a Remarketing List to your Display campaign. Remarketing works by showing your Adwords Display ads to people anywhere on the Google Display Network, providing they have visited your website, viewed your products, bought your products or added an item to your shopping cart. There are other variables that you can add to your "Remarketing list", which will all dramatically increase ROI if done correctly.


Want to learn more about Remarketing? Read this useful article: What is 'Remarketing' In Google Adwords? And Other Questions…
5. Targeting by placements
If you know your audience well enough and which websites they are likely to visit, you can use Placement Targeting to select specific domains for your ads to show up on. However, if you aren't sure of the best websites to place your ads, just type in a word or phrase and Adwords will give you a list of domain suggestions. This is an ideal targeting strategy if you have a small Google Adwords budget and cater to a distinct market.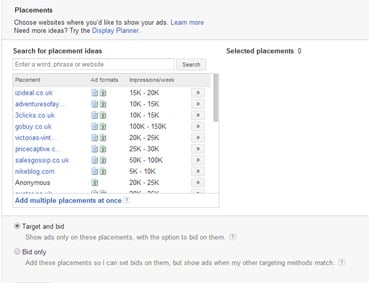 6. Targeting by demographics
Under the Display Network tab there is a final targeting method to try out; age and gender demographics. You can ensure certain ad groups in your campaign reach males or females in different age brackets. To help you make the right demographics decision, Adwords provides the performance metrics of your ad groups for each age bracket and gender.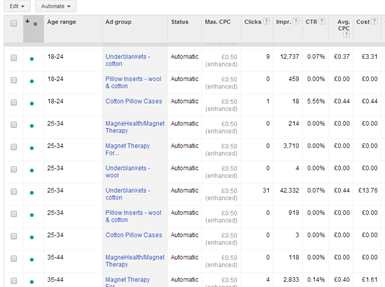 As well as the wealth of advertising benefits on the Google Display Network as a whole, targeting is fantastic for pushing clicks, CTR, conversion rate, ROI and almost all of your Display campaign metrics. Each targeting method offers different opportunities for attracting relevant, qualified leads and can be combined in any way you want. So give Display targeting a go and notice the rewards for yourself!
Article by Laura Wootton