Why We Love HubSpot (And Why You Should Too!)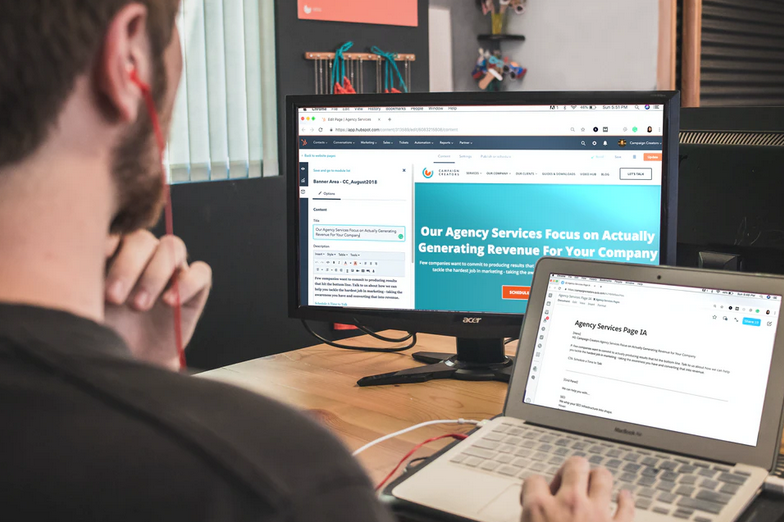 HubSpot is the industry-leading marketing automation platform, and we love it. As a Certified HubSpot Platinum Partner Agency, it's fair to say we're biased – but there's a good reason for this. Using HubSpot has transformed the way inbound marketing works, making it more predictable, less labour intensive, and more effective at building revenue and bringing in more sales. HubSpot is a powerful tool, and over the years we've seen customers meet and exceed revenue targets – while using fewer resources – time and time again. It could do the same for your business, too.

What Is HubSpot?
HubSpot is a multi-faceted, modular software platform that lets you manage every aspect of inbound marketing from a single dashboard, while automating repetitive manual tasks. It can help your business bring visitors to your website, convert leads who are already there, and close out to convert them to customers. It features a wide range of tools for building landing pages, blog articles and email marketing campaigns. You'll also be able to manage interactions, and track and analyse their effectiveness.

The Benefits Of HubSpot
You'll get access to many powerful features without having to invest a fortune on separate applications, but you'll also benefit from:
Ease of use – Get up and running with HubSpot fastened FREE, without having to learn complex configuration processes. (And its even easier when using HubSpot through an agency partner…)
All-in-one – Say goodbye to the need to juggle with multiple applications and platforms.
Great support – HubSpot's support team, together with its in-depth knowledge base, gives you advice and help whenever you need it.
Produces great results – HubSpot's tools reach people, not repel them, letting you leverage the power of inbound marketing.
Friendly community – Other HubSpot users are ready to engage and assist – helping you build more relationships. There is also an active online user and developer community, supported by a number of useful forums and wikis.

HubSpot's Key Features
What can HubSpot actually do for you?
Email tracking and logging – Install a simple extension and use Outlook, Outlook 365 or Gmail and you'll be alerted when emails are opened.
Email templates – Save time and effort by starting with a pre-made template and customising it to your needs.
CRM – HubSpot's advanced CRM facilities let you automate processes, letting you improve targeting and boost customer retention rates.
CMS – Benefits of the HubSpot CMS include a fully integrated design, high quality analysis and tracking tools, plus built-in security features, like SSL.
Blog editing – Intuitive and quick to learn, HubSpot's blog editor can produce professional blog articles ready to go live.
Social media automation - Schedule posts in advance, access to all social analytics including interactions and clicks. Social monitoring features which allow you to get a notification every time your keywords are mentioned.
One-stop shop – Engage with people at every stage of their journey – strangers, prospects, customers or promoters.
JDR Group are UK HubSpot Partners, and can provide HubSpot CRM Implementation and HubSpot Sales Enablement services.

Comparing HubSpot To Other Management Systems
Of course, HubSpot isn't the only management system available. It's a competitive market, and you may be tempted to try some other products. Before you do, consider how they measure up. For example, Marketo requires custom code for mobile optimisation, whereas HubSpot comes with this as standard. Marketo also doesn't support pop-up forms or social media monitoring. Another option, Salesforce, has an impressive range of features – but you only get a 30-day free trial. HubSpot is always free, unless you choose to upgrade to its premium features.

Does HubSpot Really Work?
It's understandable to be sceptical about a package like HubSpot – but the results speak for themselves. Research found that, when respondents used HubSpot, website visitors and leads more than doubled within one year, while seven out of ten customers saw an increase in conversion rate. Mention reported a landing page conversion rate of 55%, while a remarkable 13% of their website's visitors either signed up or supplied contact details.

Next Steps…
With so much available in one place, HubSpot is the perfect fit for your marketing strategy. It's comprehensive, intuitive, capable, and fast, helping you grow your business and increase sales. To discuss your options with one of our Hubspot experts, please call 01332 343281, or email info@jdrgroup.co.uk today.
Image source: Unsplash