How Much Does A Website Cost?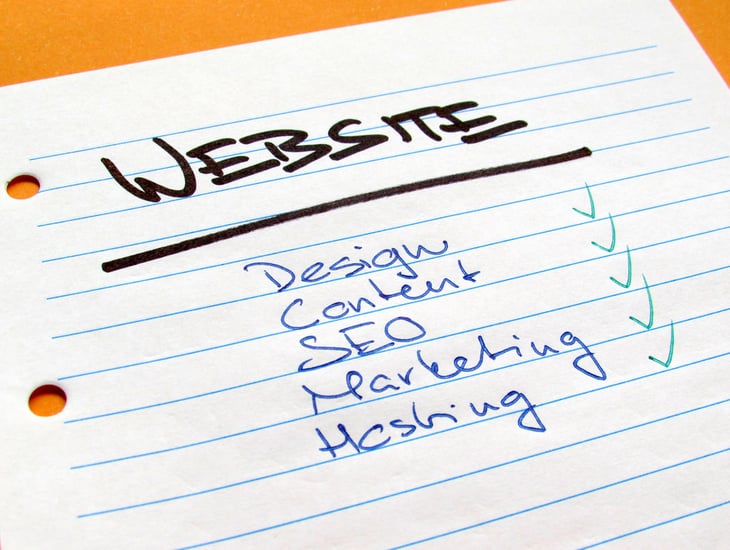 Websites can be built for amounts ranging from the negligible to the astronomical. Every business needs one, but the question of how much a website should cost is wide open for debate. Most businesses have a finite budget to spend on their website and ongoing costs, which sets limits to the size and features they can expect. There are also goals that the website should achieve, especially in terms of business development.
Realistic Budgeting
It is possible to set up a website very cheaply indeed. Template sites such as Square space and 1and1 are popular with many individuals and some micro-businesses. Website templates compatible with WordPress or Joomla! can be bought for as little as £25, although this excludes costs such as hosting and customisation. We have even seen website templates being sold for as little as £5 on five squids.com. Likewise, a small agency or freelance web designer might build you a basic site for £1,000 or less. At the other end of the scale, bespoke ecommerce websites and large corporate sites can cost tens of thousands of pounds. Bargain basement websites don't usually offer value for money, but do you need to break the bank in order to make a website? We suggest not. It's all about what works best for you.
The aim of this article is to explain the process of web development and the different kinds of websites available, so you can get the best value for money on your website.
What Constitutes Value In A Website?
The criteria that defines value will be different from business to business. For instance, a website that works great for a B2B services company will not perform very well at all for an e-commerce business. Small businesses may only need a shop window or brochure style website. From a business development perspective, we believe that a website offers value if it effectively generates new leads and sales. So you should be prepared to pay a sufficient amount to enable your website to achieve this. Beyond this, your options are almost endless.
Elements Of A Web Design Project
Almost all web developers use a variation of a six-point workflow when building a website. Understanding these elements explains why companies charge what they do for websites. Designing and developing a site is a labour-intensive process that can occupy several members of staff, so this will need to be taken into account in your quote. Likewise, specialist applications and features require expert knowledge and additional programming time.
This Is The Process We Follow At JDR:
1) Initial Brief: In dialogue with you, we establish what you want to achieve from your website. This will depend on the nature of your business, but at the end of the conversation we will be able to put together an initial brief or proposal that sets out the parameters of the project, the size of your website and what your KPIs will be.
2) Structural Framework: The first part of the development process is to set out the structure of your website, often referred to as the wireframe. This will establish the core functions of your site, as well as important factors such as its navigation tree and responsivity to mobile devices.
3) Design: This is often the fun bit from a designer's perspective, and is the stage most non-developers associate with web design. The design creates the visual elements of your website, tying it in with your brand identity.
4) Back End and Front End Development: The development phase takes the design and the structure and melds them together to create a working website. There are two stages to this process, involving different coding specialists. Front-end development deals with the visible face of your website that your customers see, while back-end developers work behind the scenes to make sure your databases, plug-ins and servers are working properly.
5) Testing: No website is ready to go live before it's been thoroughly tested. Firstly, all your features and apps need to be tested to make sure they work. This includes cross-browser compatibility and making sure your website looks great on all devices. Secondly, we need to test your website UI to make sure it is accessible and easy to use. Based on these results, there may be a stage of refinements and tweaking before…
6) Launch: When your website goes live, it is not the end of the story. A website is an ongoing dialogue between you and your target market, so there is always room for improvement and expansion. As you continually analyse your website performance, you may need to add new landing pages, reorganise your content or install new plug-ins for additional functions. At JDR, we see web development as an ongoing process, so actively work with you to make sure your website is delivering as much value as possible.
What Else Affects Budget?
The cost isn't just about the labour that goes into a website. Other factors will affect your budget, for instance:
Website Size: Larger websites are always more expensive than smaller ones. Hosting Services: including web hosting, which can cost between £5 and £60 per month, and the purchase of domain name(s).
Graphic design: You may need custom graphics or logos designed, and may need to purchase images for your website. Many sites also make use of animations and custom banners.
Content: including copywriting, videos and infographics.
Plug-ins and apps: This category covers all interactive features embedded in your website.
Business systems: including accounting apps, ecommerce systems and CRMs.
Additional features: including multiple language support, cloud storage, or customer forums.
Ongoing services: such as marketing, SEO, content development, social media marketing, PPC etc.
Price Estimates For Different Websites:
With this process in mind, the following are market averages for different kinds of website. It's important to remember that web development is a service, rather than a product. You should therefore expect considerable differences in quotes between providers, even for services that appear to be similar.
Note: Don't take these figures as gospel; for a truly bespoke quote tailored to your needs, we encourage you to get in touch with our web development team at JDR.
Small Business Website: A website for a small B2B business will typically have between 10 and 20 pages. Unless ecommerce is involved, it won't need many plug-ins or additional features. You can expect to pay between £1,000 and £4,000 for a basic small business website.
SME Website: A larger SME will often need extra pages and features, such as expanded 'back-office' and additional apps. They will also be larger, incorporating more service pages and sub- pages, as well as landing pages. Market averages range from £2,000-£7,000 for this kind of site
Large Corporate Website: A large business or well-established brand will need a commensurately big website with extensive functions. You want a web present that works as hard as you do to achieve growth for your business. Expect to pay anything from £2,500-£12,000.

What Makes A Good Website?
A website is only as good as how well it lives up to its KPIs, so what makes a good website? For us, the gold standard of great, cost-effective web design is how well it generates leads and increases business revenue. To maximise this potential, a good website should first of all be mobile responsive, meaning that it looks great on any screen size.
Your written content should include plenty of calls to action that encourage visitors to get in touch - and be sure to make it easy to communicate with you by building intuitive contact forms. Your images should be optimised so your site loads quickly and your copy should be concise, exciting and convincing. Finally, you should have a modern CMS system to power your website, backed up by first rate support and ongoing marketing service. This is why we position our web development service as an ongoing relationship between JDR and your business – as website performance and conversion is a long-term, rather than a one-off process.
Why A Website Is More Than Just A Website
In the last paragraph we touched on an important factor that doesn't usually get considered when talking about what a website costs. Namely, for your website to be cost-effective you need to have an ongoing strategy of how to use it. There are two elements to this:
1) Business development strategy: How you position your website within your market and the kind of customers you target.
2) Web marketing: A website is entirely useless if it doesn't attract visitors. Therefore, web marketing should be an essential, long-term component of your web development strategy. This starts in the development and design stage, setting your website up to be optimised for search engine visibility from day one. It also continues in the form of ongoing content marketing, email marketing and conversion rate optimisation.
At JDR, our web development services are an integral part of our marketing solutions, not something we offer as a stand-alone product. We want to build you a website that generates lots of new business, and to do that we need to create a custom strategy that promotes your website in a targeted way. This is where we feel we stand apart from many of our competitors and is why we would love to chat with you about your goals for your business; and how we can transform your website into a tool that lets you reach them.
Get Your FREE Website Conversion Rate Checklist
Our FREE Website Conversion Rate Checklist is a great place to start if you want to analyse how well your current website is performing. As the purpose of your website is ultimately to bring in leads and sales, focusing on conversion rate optimisation is an essential part of meeting your business development goals. Claim a free copy of the checklist today by clicking here.