Google Analytics For Mobile Apps & Websites: What You Need To Know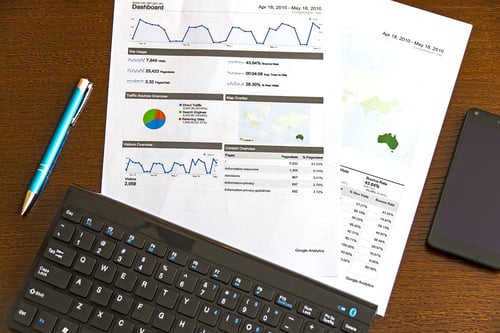 Google Analytics offers businesses an extremely effective way to keep track of the traffic to their website and mobile apps. While the service will be free to most businesses, setting up an effective system requires some skill. The implementation will vary depending on what you want to keep track of, and how complex your web presence is.
Your Options
When it comes to keeping track of what is happening on your website, Google Analytics offers you a huge range of options. In a recent update to the Google Analytics program, the ability to combine all web and mobile traffic in a single reporting view was announced. This is a significant change in how Google Analytics views web traffic, and it gives you a good idea of all the traffic that is coming to your site. You are still able to view web and mobile users separately, but you now have to create a filter to do so.
The key actions that you can track are:
Menu selections
Mobile ad clicks
Swipes or other gestures
Button clicks
Video plays
By using these actions to create use profiles on your website or app, you can better gauge what people love about your content and what just doesn't get much use.
See What Works
A big part of using analytics is seeing where your traffic comes from, and what users do once they arrive at your site. Google Analytics gives you the option to track users from the time they click on an ad or link, so you can get the most out of your marketing budget.

These are some of the things that Google Analytics will let you do:
Advertising efforts on AdWords or AdMob
Search results on Google Play or the App Store
Links from referring websites
Social shares
Figuring out what drives your traffic is a big part of optimising your online presence. Google Analytics will allow you to find out what your marketing budget is best spent on and cut what doesn't generate a good ROI. A/B testing with Google Analytics is a snap, and you can easily see what strategies are working for you. The time frames you can test your strategies with are almost limitless, but Google Analytics generally offers you mobile traffic data with a lag on an hour or so.
Track What You Want
With so many options for data collection, it is very important to know what you want to measure before you design your Google Analytics filters. One of the downsides to this system is that it doesn't feature any kind of customer support, so while free, it isn't necessarily easy to use. It also requires that you create all your filters (they call them funnels) prior to the data being recorded. This means that retroactive analysis with new parameters is impossible.

Google documentation gets a bad rap for being hard to understand, but with the depth of tools that Google Analytics offers it would be difficult to create simple instructions. Working with our experienced data analysts to set up the right tracking filters will go a long way towards making sure that you are getting the data you need. With no recurring costs to use the software once it is set-up, a little bit of spend on some professional help is well worth it, and will increase the value you get from the application.
Improve ROI
The biggest benefit that analytics offers you is the ability to create a clean online presence that gets results. JDR can help you to integrate your analytics with online marketing efforts, and make sure that your adverts are getting you traffic that converts. Being able to keep a close eye on the kinds of promotions that create interest in your mobile apps and website will let you boost your ROI, with solid data to support marketing decisions.

Isolating the best tactics for generating the results you want to see is much easier today than it was a decade ago, with mobile technology giving users a non-stop connection to the internet. No matter what market segment you are operating in, keeping track of your traffic will give you valuable information that will make your mobile app more visible and bring in more leads.